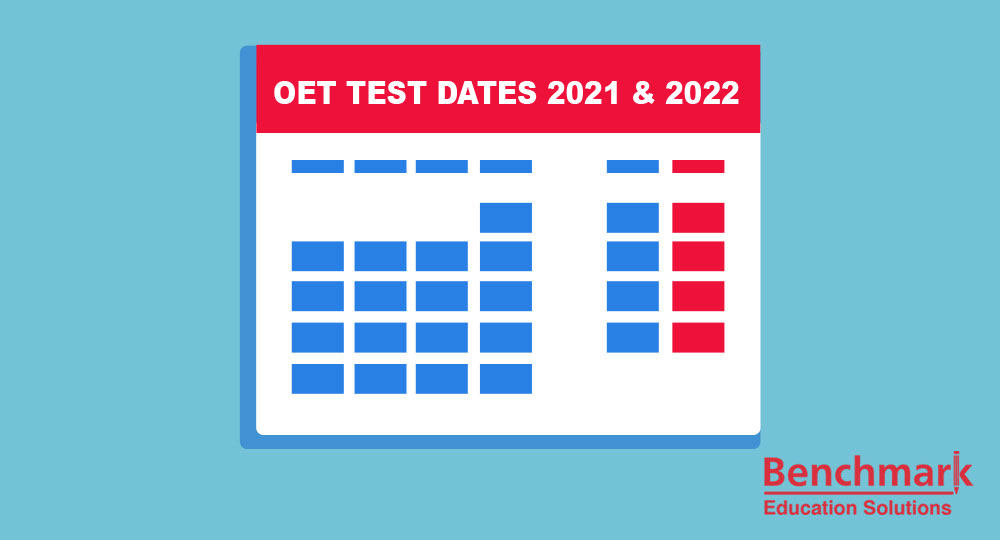 OET Test Dates for 2022 & 2023: All You Need to Know
The following article will give you all the information you will need regarding OET test dates, registration times, results publication and which professions can apply for each of the upcoming OET tests. OET tests are held about twice a month. You can apply, not just for the next test coming up, but also for any of the next three tests if you want to give yourself some more preparation time. It is a good idea to apply with plenty of time before your preferred test date to ensure that you get a place, and you must apply at least three weeks before the day of the test. See the tables below for a detailed overview.
You can book OET on Paper or OET on Computer based on your preference. It's important to note that the format of both tests is the same.
Registrations will close 10 days before the test day
Bangladesh
Computer Based
Registrations will close 10 days before the test day
Brazil
Computer Based
Brasilia
Rio de janeiro
Sao Paulo
Registrations will close 10 days before the test day
Canada
Computer Based
Calgary
Dartmouth
Edmonton
Hamilton ON
London
Mississauga
Ottawa
Pointe-Claire
Toronto
Vancouver
Registrations will close 10 days before the test day
Chile
Computer Based
Registrations will close 10 days before the test day
Colombia
Computer Based
Registrations will close 10 days before the test day
Egypt
Computer Based
Registrations will close 10 days before the test day
Germany
Computer Based
Registrations will close 10 days before the test day
Ghana
Computer Based
Registrations will close 10 days before the test day
Greece
Computer Based
Registrations will close 10 days before the test day
India
Computer Based
Ahmedabad
Bangalore
Chennai
Gurgaon
Hyderabad
Kolkata
Mumbai
Thiruvananthapuram
Registrations will close 10 days before the test day
Italy
Computer Based
Registrations will close 10 days before the test day
Japan
Computer Based
Registrations will close 10 days before the test day
Kuwait
Computer Based
Registrations will close 10 days before the test day
Malaysia
Computer Based
Registrations will close 10 days before the test day
Mexico
Computer Based
Registrations will close 10 days before the test day
Nepal
Computer Based
Registrations will close 10 days before the test day
Pakistan
Computer Based
Registrations will close 10 days before the test day
Philippines
Computer Based
Registrations will close 10 days before the test day
Poland
Computer Based
Registrations will close 10 days before the test day
Puerto Rico
Computer Based
Registrations will close 10 days before the test day
Romania
Computer Based
Registrations will close 10 days before the test day
Saudi Arabia
Computer Based
Registrations will close 10 days before the test day
Singapore
Computer Based
Registrations will close 10 days before the test day
South Africa
Computer Based
Registrations will close 10 days before the test day
South Korea
Computer Based
Registrations will close 10 days before the test day
Spain
Computer Based
Registrations will close 10 days before the test day
Sri Lanka
Computer Based
Sri Jayawardenepura Kotte
Registrations will close 10 days before the test day
Taiwan
Computer Based
Registrations will close 10 days before the test day
Thailand
Computer Based
Registrations will close 10 days before the test day
United Arab Emirates
Computer Based
Registrations will close 10 days before the test day
United Kingdom
Computer Based
Registrations will close 10 days before the test day
United Kingdom
Computer Based
Registrations will close 10 days before the test day
USA
Computer Based
Alameda
Albany Ny
Allentown Pa
Anaheim
Ann Arbor Mi
Atlanta Ga
Augusta Ga
Austin Tx
Bakersfield Ca
Bloomington
Boca Raton
Boston Ma
Brockton
Brooklyn
Burlington Vt
Chicago Il
Cincinnati Oh
Clark
Cleveland Oh
College Station Tx
Columbia Sc
Culver City
Dallas Tx
Daytona Fl
Detroit Mi
Diamond Bar
East Syracuse
Fair Lawn
Fair Oaks
Fairlawn
Falls Church
Fort Lauderdale Fl
Fresno Ca
Gainesville Fl
Gardena
Glastonbury
Glendale
Goodyear
Grand Rapids Mi
Greensboro Nc
Hamilton Township
Harrisburg Pa
Houston Tx
Jacksonville Fl
Joliet
King Of Prussia
Lake Forest
Laurel Springs
Livonia
Lombard
Longwood
Louisville Ky
Lowell
Mcallen Tx
Mentor
Metairie
Miami Fl
Middleburg Heights
Monroeville
Mountlake Terrace
Nashville Tn
New Haven Ct
New York
Philadelphia Pa
Phoenix Az
Portland Or
Poughkeepsie Ny
Queens
Raleigh Nc
Rancho Cucamonga
Rochester Ny
San Antonio Tx
San Bruno
San Diego Ca
San Francisco Ca
San Jose Ca
Smyrna
St Louis Mo
Tampa Fl
Tempe
Toledo Oh
Towson
Troy
Waco Tx
Washington Dc
West Palm Beach Fl
Worcester Ma
Worthington
OET Test Dates 2023
| OET Test Date | Registration Window | Results Available | Occupations |
| --- | --- | --- | --- |
| Saturday, 14 January 2023 | First Date: 15 July 2022Last Date: 10 December 2022 | 3 February 2023 | |
| Saturday, 28 January 2023 | First Date: 15 July 2022 Last Date: 02 January 2023 | 17 February 2023 | |
| Saturday, 11 February 2023 | First Date: 15 July 2022 Last Date: 18 January 2023 | 02 March 2023 | Nursing Medicine Dentistry Pharmacy Radiography PhysiotherapyDietetics Podiatry Vet ScienceOccupational Therapy OptometrySpeech Pathology |
| Saturday, 25 February 2023 | First Date: 15 July 2022 Last Date: 01 February 2023 | 16 March 2023 | |
| Saturday, 11 March 2023 | First Date: 15 July 2022 Last Date: 15 February 2023 | 31 March 2023 | |
| Saturday, 25 March 2023 | First Date: 15 July 2022 Last Date: 01 March 2023 | 19 April 2023 | |
| Saturday, 15 April 2023 | First Date: 30 November 2022 Last Date: 22 March 2023 | 03 May 2023 | Nursing Medicine Dentistry Pharmacy Radiography Physiotherapy Dietetics Podiatry Vet Science Occupational Therapy Optometry Speech Pathology |
| Saturday, 29 April 2023 | First Date: 30 November 2022 Last Date: 03 April 2023 | 16 May 2023 | |
| Saturday, 13 May 2023 | First Date: 02 February 2023 Last Date: 17 April 2023 | 31 May 2023 | Nursing Medicine Dentistry Pharmacy Radiography Physiotherapy Dietetics Podiatry Vet Science Occupational Therapy Optometry Speech Pathology |
| Saturday, 27 May 2023 | First Date: 02 February 2023 Last Date: 03 May 2023 | 14 June 2023 | |
| Saturday, 10 Jun 2023 | First Date: 02 February 2023 Last Date: 15 May 2023 | 27 June 2023 | |
| Saturday, 24 Jun 2023 | First Date: 02 February 2023 Last Date: 31 May 2023 | 11 July 2023 | |
| Saturday, 08 Jul 2023 | First Date: 02 February 2023 Last Date: 14 June 2023 | 25 July 2023 | |
| Saturday, 22 Jul 2023 | First Date: 02 February 2023 Last Date: 28 June 2023 | 08 August 2023 | |
| Saturday, 05 Aug 2023 | First Date: 13 February 2023 Last Date: 12 July 2023 | 22 August 2023 | Nursing MedicineDentistryDieteticsOccupational TherapyOptometryPharmacyPhysiotherapyPodiatryRadiographySpeech PathologyVeterinary Science |
| Saturday, 19 Aug 2023 | First Date: 13 February 2023 Last Date: 26 July 2023 | 05 September 2023 | |
| Saturday, 02 Sep 2023 | First Date: 13 February 2023 Last Date: 09 August 2023 | 19 September 2023 | |
| Saturday, 16 Sep 2023 | First Date: 13 February 2023 Last Date: 22 August 2023 | 03 October 2023 | |
| Saturday, 30 Sep 2023 | First Date: 13 February 2023 Last Date: 06 September 2023 | 17 October 2023 | Nursing Medicine Dentistry Dietetics Occupational Therapy Optometry Pharmacy Physiotherapy Podiatry Radiography Speech Pathology Veterinary Science |
| Saturday, 14 Oct 2023 | First Date: 13 February 2023 Last Date: 20 September 2023 | 31 October 2023 | |
| Saturday, 28 Oct 2023 | First Date: 13 February 2023 Last Date: 04 October 2023 | 14 November 2023 | |
| Saturday, 11 Nov 2023 | First Date: 13 February 2023 Last Date: 18 October 2023 | 28 November 2023 | |
| Saturday, 02 Dec 2023 | First Date: 13 February 2023 Last Date: 07 November 2023 | 09 January 2024 | Nursing MedicineDentistry DieteticsOccupational Therapy Optometry Pharmacy Physiotherapy Podiatry Radiography Speech Pathology Veterinary Science |
| Saturday, 16 Dec 2023 | First Date: 13 February 2023 Last Date: 22 November 2023 | 16 January 2024 | |
| OET Test Date | Registration Window | Results Available | Occupations |
| --- | --- | --- | --- |
| Saturday, 13 January 2023 | First Date: 15 July 2022Last Date: 9 December 2022 | 3 February 2023 | |
| Saturday, 27 January 2023 | First Date: 15 July 2022 Last Date: 01 January 2023 | 17 February 2023 | |
| Saturday, 10 February 2023 | First Date: 15 July 2022 Last Date: 17 January 2023 | 02 March 2023 | Nursing Medicine Dentistry Pharmacy Radiography PhysiotherapyDietetics Podiatry Vet ScienceOccupational Therapy OptometrySpeech Pathology |
| Saturday, 24 February 2023 | First Date: 15 July 2022 Last Date: 31 January 2023 | 16 March 2023 | |
| Saturday, 10 March 2023 | First Date: 15 July 2022 Last Date: 14 February 2023 | 31 March 2023 | |
| Saturday, 24 March 2023 | First Date: 15 July 2022 Last Date: 28 February 2023 | 19 April 2023 | |
| Saturday, 14 April 2023 | First Date: 30 November 2022 Last Date: 21 March 2023 | 05 May 2023 | Nursing Medicine Dentistry Pharmacy Radiography Physiotherapy Dietetics Podiatry Vet Science Occupational Therapy Optometry Speech Pathology |
| Saturday, 28 April 2023 | First Date: 30 November 2022 Last Date: 02 April 2023 | 19 May 2023 | |
| Saturday, 12 May 2023 | First Date: 02 February 2023 Last Date: 16 April 2023 | 31 May 2023 | Nursing Medicine Dentistry Pharmacy Radiography Physiotherapy Dietetics Podiatry Vet Science Occupational Therapy Optometry Speech Pathology |
| Saturday, 26 May 2023 | First Date: 02 February 2023 Last Date: 02 May 2023 | 14 June 2023 | |
| Saturday, 09 Jun 2023 | First Date: 02 February 2023 Last Date: 14 May 2023 | 27 June 2023 | |
| Saturday, 23 Jun 2023 | First Date: 02 February 2023 Last Date: 30 May 2023 | 11 July 2023 | |
| Saturday, 09 Jul 2023 | First Date: 02 February 2023 Last Date: 13 June 2023 | 25 July 2023 | |
| Saturday, 21 Jul 2023 | First Date: 02 February 2023 Last Date: 27 June 2023 | 08 August 2023 | |
| Saturday, 04 Aug 2023 | First Date: 13 February 2023 Last Date: 11 July 2023 | 22 August 2023 | Nursing MedicineDentistryDieteticsOccupational TherapyOptometryPharmacyPhysiotherapyPodiatryRadiographySpeech PathologyVeterinary Science |
| Saturday, 18 Aug 2023 | First Date: 13 February 2023 Last Date: 25 July 2023 | 05 September 2023 | |
| Saturday, 01 Sep 2023 | First Date: 13 February 2023 Last Date: 08 August 2023 | 19 September 2023 | |
| Saturday, 15 Sep 2023 | First Date: 13 February 2023 Last Date: 20 August 2023 | 03 October 2023 | |
| Saturday, 29 Sep 2023 | First Date: 13 February 2023 Last Date: 05 September 2023 | 17 October 2023 | Nursing Medicine Dentistry Dietetics Occupational Therapy Optometry Pharmacy Physiotherapy Podiatry Radiography Speech Pathology Veterinary Science |
| Saturday, 13 Oct 2023 | First Date: 13 February 2023 Last Date: 19 September 2023 | 31 October 2023 | |
| Saturday, 27 Oct 2023 | First Date: 13 February 2023 Last Date: 03 October 2023 | 14 November 2023 | |
| Saturday, 10 Nov 2023 | First Date: 13 February 2023 Last Date: 17 October 2023 | 28 November 2023 | |
| Saturday, 01 Dec 2023 | First Date: 13 February 2023 Last Date: 06 November 2023 | 09 January 2024 | Nursing MedicineDentistry DieteticsOccupational Therapy Optometry Pharmacy Physiotherapy Podiatry Radiography Speech Pathology Veterinary Science |
| Saturday, 15 Dec 2023 | First Date: 13 February 2023 Last Date: 21 November 2023 | 16 January 2024 | |
| OET Test Date | Registration Window | Results Available | Occupations |
| --- | --- | --- | --- |
| Saturday, 8 January 2022 | First Date: 9 August 2021Last Date: 3 December 2021 | 28 January 2022 | |
| Saturday, 22 January 2022 | First Date: 9 August 2021 Last Date: 10 December 2021 | 11 February 2022 | |
| Saturday, 5 February 2022 | First Date: 9 August 2021 Last Date: 10 January 2022 | 24 February 2022 | Nursing Medicine Dentistry Pharmacy Radiography PhysiotherapyDietetics Podiatry Vet ScienceOccupational Therapy OptometrySpeech Pathology |
| Saturday, 19 February 2022 | First Date: 9 August 2021 Last Date: 24 January 2022 | 10 March 2022 | |
| Saturday, 5 March 2022 | First Date: 9 August 2021 Last Date: 7 February 2022 | 25 March 2022 | |
| Saturday, 19 March 2022 | First Date: 9 August 2021 Last Date: 21 February 2022 | 7 April 2022 | |
| Saturday, 9 April 2022 | First Date: 9 August 2021 Last Date: 14 March 2022 | 2 May 2022 | Nursing Medicine Dentistry Pharmacy Radiography Physiotherapy Dietetics Podiatry Vet Science Occupational TherapyOptometry Speech Pathology |
| Saturday, 23 April 2022 | First Date: 9 August 2021 Last Date: 22 March 2022 | 13 May 2022 | |
| Sunday, 7 May 2022 | First Date: 9 August 2021 Last Date: 11 April 2022 | 26 May 2022 | Nursing Medicine Dentistry Pharmacy Radiography Physiotherapy Dietetics Podiatry Vet Science Occupational Therapy Optometry Speech Pathology |
| Saturday, 28 May 2022 | First Date: 9 August 2021 Last Date: 2 May 2022 | 17 June 2022 | |
| Saturday, 11 June 2022 | First Date: 9 August 2021 Last Date: 16 May 2022 | 1 July 2022 | |
| Saturday, 25 June 2022 | First Date: 9 August 2021 Last Date: 30 May 2022 | 14 July 2022 | |
| Saturday, 9 July 2022 | First Date: 9 August 2021 Last Date: 13 June 2022 | 26 July 2022 | |
| Saturday, 23 July 2022 | First Date: 9 August 2021 Last Date: 27 June 2022 | 9 August 2022 | |
| Saturday, 6 August 2022 | First Date: 9 August 2021 Last Date: 13 July 2022 | 23 August 2022 | Nursing Medicine Dentistry Pharmacy Radiography PhysiotherapyDietetics Podiatry Vet Science Occupational Therapy Optometry Speech Pathology |
| Saturday, 27 August 2022 | First Date: 9 August 2021 Last Date: 3 August 2022 | 13 September 2022 | |
| Saturday, 10 September 2022 | First Date: 9 August 2021 Last Date: 17 August 2022 | 27 September 2022 | |
| Saturday, 24 September 2022 | First Date: 9 August 2021 Last Date: 31 August 2022 | 12 October 2022 | |
| Saturday, 8 October 2022 | First Date: 9 August 2021 Last Date: 14 September 2022 | 25 October 2022 | Nursing Medicine Dentistry Pharmacy Radiography Physiotherapy Dietetics Podiatry Vet ScienceOccupational TherapyOptometrySpeech Pathology |
| Saturday, 22 October 2022 | First Date: 9 August 2021 Last Date: 28 September 2022 | 9 November 2022 | |
| Saturday, 5 November 2022 | First Date: 9 August 2021 Last Date: 12 October 2022 | 22 November 2022 | |
| Saturday, 19 November 2022 | First Date: 9 August 2021 Last Date: 26 October 2022 | 6 December 2022 | |
| Saturday, 3 December 2022 | First Date: 9 August 2021 Last Date: 9 November 2022 | 3 January 2023 | Nursing Medicine Dentistry Pharmacy Radiography Physiotherapy Dietetics Podiatry Vet ScienceOccupationalTherapyOptometrySpeech Pathology |
| Saturday, 17 December 2022 | First Date: 9 August 2021 Last Date: 23 November 2022 | 18 January 2023 | |
| OET Test Date | Registration Window | Results Available | Occupations |
| --- | --- | --- | --- |
| Saturday, 7 January 2022 | First Date: 9 August 2021Last Date: 3 December 2021 | 28 January 2022 | |
| Saturday, 21 January 2022 | First Date: 9 August 2021 Last Date: 10 December 2021 | 11 February 2022 | |
| Saturday, 4 February 2022 | First Date: 9 August 2021 Last Date: 10 January 2022 | 24 February 2022 | Nursing Medicine Dentistry Pharmacy Radiography PhysiotherapyDietetics Podiatry Vet ScienceOccupational Therapy OptometrySpeech Pathology |
| Saturday, 18 February 2022 | First Date: 9 August 2021 Last Date: 24 January 2022 | 10 March 2022 | |
| Saturday, 4 March 2022 | First Date: 9 August 2021 Last Date: 7 February 2022 | 25 March 2022 | |
| Saturday, 18 March 2022 | First Date: 9 August 2021 Last Date: 21 February 2022 | 7 April 2022 | |
| Saturday, 8 April 2022 | First Date: 9 August 2021 Last Date: 14 March 2022 | 2 May 2022 | Nursing Medicine Dentistry Pharmacy Radiography Physiotherapy Dietetics Podiatry Vet Science Occupational TherapyOptometry Speech Pathology |
| Saturday, 22 April 2022 | First Date: 9 August 2021 Last Date: 22 March 2022 | 13 May 2022 | |
| Sunday, 6 May 2022 | First Date: 9 August 2021 Last Date: 11 April 2022 | 26 May 2022 | Nursing Medicine Dentistry Pharmacy Radiography Physiotherapy Dietetics Podiatry Vet Science Occupational Therapy Optometry Speech Pathology |
| Saturday, 27 May 2022 | First Date: 9 August 2021 Last Date: 2 May 2022 | 17 June 2022 | |
| Saturday, 10 June 2022 | First Date: 9 August 2021 Last Date: 15 May 2022 | 1 July 2022 | |
| Saturday, 24 June 2022 | First Date: 9 August 2021 Last Date: 29 May 2022 | 14 July 2022 | |
| Saturday, 8 July 2022 | First Date: 9 August 2021 Last Date: 12 June 2022 | 26 July 2022 | |
| Saturday, 22 July 2022 | First Date: 9 August 2021 Last Date: 26 June 2022 | 9 August 2022 | |
| Saturday, 5 August 2022 | First Date: 9 August 2021 Last Date: 12 July 2022 | 23 August 2022 | Nursing Medicine Dentistry Pharmacy Radiography PhysiotherapyDietetics Podiatry Vet Science Occupational Therapy Optometry Speech Pathology |
| Saturday, 26 August 2022 | First Date: 9 August 2021 Last Date: 2 August 2022 | 13 September 2022 | |
| Saturday, 9 September 2022 | First Date: 9 August 2021 Last Date: 16 August 2022 | 27 September 2022 | |
| Saturday, 23 September 2022 | First Date: 9 August 2021 Last Date: 30 August 2022 | 12 October 2022 | |
| Saturday, 7 October 2022 | First Date: 9 August 2021 Last Date: 13 September 2022 | 25 October 2022 | Nursing Medicine Dentistry Pharmacy Radiography Physiotherapy Dietetics Podiatry Vet ScienceOccupational TherapyOptometrySpeech Pathology |
| Saturday, 21 October 2022 | First Date: 9 August 2021 Last Date: 27 September 2022 | 9 November 2022 | |
| Saturday, 4 November 2022 | First Date: 9 August 2021 Last Date: 11 October 2022 | 22 November 2022 | |
| Saturday, 18 November 2022 | First Date: 9 August 2021 Last Date: 25 October 2022 | 6 December 2022 | |
| Saturday, 2 December 2022 | First Date: 9 August 2021 Last Date: 8 November 2022 | 3 January 2023 | Nursing Medicine Dentistry Pharmacy Radiography Physiotherapy Dietetics Podiatry Vet ScienceOccupationalTherapyOptometrySpeech Pathology |
| Saturday, 16 December 2022 | First Date: 9 August 2021 Last Date: 22 November 2022 | 18 January 2023 | |
*Americas Region include, but not limited to, the USA and Canada
new23
OET Exam in India+
OET Exam in the UK+
OET Exam in the USA+
OET Exam in Saudi Arabia +
OET Exam in Hong Kong +
OET Exam in Singapore +
OET Exam in Pakistan +
OET Exam in Philippines +
OET Exam in South Korea +
OET Exam in Oman +
OET Exam in Egypt +
OET Exam in United Arab Emirates +
OET Exam in Australia +
OET Exam in Vietnam +