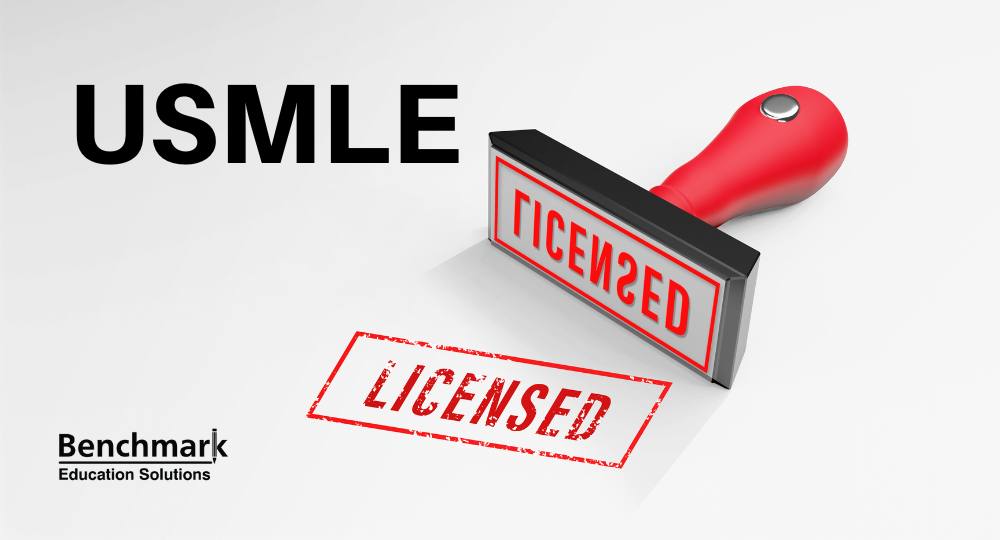 2022 USMLE Registration Guide to US Medical Licensing
Rich, famous, prestigious with a great quality of life, that is what pops up in our minds when we think about doctors in the USA. For those reasons, medical students around the world seek to become US licensed physicians.
Doctors can get confused when it comes to  steps that should be taken to become a fully licensed medical doctor in America.
The following guide from Benchmark OET  will help you with clear, updated steps to make your confusion go away.
A short brief would be, you need to finish USMLE to be able to apply for residency program, then you can become a doctor in the USA. After finishing your residency, you should succeed in your American board exam to be certified as a specialist, and get promoted to an attending position.
In the following 10 steps, I will outline all you need to know to become a US licensed physician:
1. USMLE Step 1
(The United States Medical Licensing Examination)
USMLE Step 1costs around $965
Was a numerical score test, starting Jan 2022, changed to pass/fail test
Passing score 196 instead of 194 in the past
Needs about 7-month preparation and study
Test important concepts of basic science preclinical knowledge, as microbiology, anatomy physiology, Parasitology, and biochemistry
Exam duration: One day test, 8 hours, 7 blocks each block 40 questions total 280 questions
1 Hour, 15 min orientation & 45 min. break
For more information about eligibility, application, test dates, resources, you can check 2022 Bulletin of information offered by official USMLE website
2. USMLE Step 2
It is divided into Step2 CK and Step 2 CS
USMLE Step 2 Clinical Knowledge (CK):
You apply through online ECFMG registration.
USMLE Step 2 costs around $965
Assesses your ability to apply medical clinical knowledge and skills in different medical specialties as: OB GYN, internal medicine, pediatrics, surgery, and some basic sciences as well.
Testing foundation aims at ensuring the candidates' ability to apply all medical required knowledge and skills under supervision to ensure patients' safety and optimum medical care.
Numerical test results, the higher, the better your chances are in matching.
About 5-month average preparation time
Exam duration: One day test, 9 hours, 8 blocks each 60 min, total 318 questions, one-hour break as step 1.
Former USMLE Step 2 Clinical Skills (CS):
Used to cost $1600
Suspended by the USMLE program early 2020 due to COVID outbreak.
Used to be the way to assess clinical and communication skills.
ECFMG offered alternative pathway, OET is replacing step 2 CS till further notice.
3. OET (Occupational English Test) medicine
It is now a requirement to obtain ECFMG Certification for candidates aiming at 2022 match.
OET costs $587 AUD / $455 USD
Test assesses ability of candidate to communicate with physicians in clinical health care matters competently using medical English terms.
Available in Paper and Computer delivery methods
All applicants must satisfy the required score, whatever their nationality or native language is.
Required minimum score of 350 (Grade B) to pass, in each of the 4 subtests, all in one test administration.
Subtests are Listening, Reading, Writing, and Speaking.
You can retake the test as many times as needed, no limits.
Taking a course to prepare would be a great idea, saving you time and money instead of retaking the test.
4. Apply for ECFMG certification
ECFMG (Educational Commission For Foreign Medical Graduates).
It helps international medical graduates (IMGs) practice medicine in the US.
Application cost $145
Acquiring this certificate means you are as prepared as American medical graduates for medical training.
Requirements for 2022 certification: Step 1 & Step 2 CK score, OET and Medical degree from your home country.
You need to pass all exams required for ECFMG Certification within a seven-year period.
5. Apply for NRMP
(National Resident Matching Program)
Application costs $85.
NRMP contacts ECFMG regularly to confirm the IMG candidate has passed certification requirements and is eligible to apply for residency programs.
6. Apply for ERAS
(Electronic Residency Application Service)
ERAS Application costs $130
ERAS is a separate organization that requires separate registration, you need to register in both ERAS & NRMP to be able to access services offered by them.
Requirements of application to match for residency through both NRMP & ERAS:
ECFMG certification.
Professional medical experience (US and home country experience)
Volunteer experience
Research experience, especially team research is recommended, not required, but still is very essential for competitive programs such as surgery.
Personal statements: Expressing yourself, telling your life story, why you would prefer this specialty or this specific program, write about your motivation and your ultimate goals, discuss your future plans, etc.
LOR (Letter of recommendation):
US or home country LOR written by a specialist or attending vouching for your skills, professionalism and your communication skills.
US LOR are more valuable, you can get them by doing clinical rotations in the US.
Maximum 4 LOR in one application.
MSPE (Medical school performance evaluation).
Medical school transcripts: your grades in different exams during medical school.
7. Interviews
About 4 months.
From October to January.
Winning interviews relies upon programs liking your application.
Candidates take flying trips to meet with the Interview committee which usually consists of 3 individuals: Program director, chief resident & a professor.
They test your English, medical skills and personality to make sure you fit in their program.
Programs choose candidates based on their scoring and other qualifications.
8. ROL

(Rank Order List)
In February.
Programs and applicants make their ROL, each program ranks their applicants, and each applicant lists their most favorable programs in order.
9. Matching process:
Match date, often in March.
Costs between $4200-$4800.
Algorithms match applicants and programs.
Monday to Friday, Monday candidates know if matched or not, Friday they know which program they got accepted into.
If unmatched on Monday, apply for SOAP (supplemental offer and acceptance program).
If you are matched to a program, you get to start and complete your residency there.
10. USMLE Step 3
USMLE costs $895
It is the last exam in the USMLE sequence, finishing it would mean you are ready to practice medicine unsupervised, and would qualify you to become a licensed general medical practitioner.
Not required for matching, you can do it after, but it would increase your chances to match if you have done it.
A Two-day exam:
■ First day: Foundations of Independent Practice (FIP)
MCQs, total 7 hours long, 6 blocks exam total 232 questions with 1-hour break
■ Second day: Advanced Clinical Medicine (ACM)
MCQs and computer based simulations
About 9 hours, 6 blocks of multiple choice items total 180 MCQs then,
13 case simulations, each 10-20 min, testing ability of history taking, physical examination and delivering patient care.
11. USA versus UK
Whether you are a Middle Eastern doctor or you work in a European country, shifting your medical career to the USA would offer huge benefits to you.
Short training pathways in the USA, 3-5 years training in residency instead of 5-10 years in the UK. You would probably favor the shorter pathway. Mid-twenties to early thirties are valuable years when you would mostly need to start a family, save for a house or have a social life in general.
After completing training years, you have full autonomy to change your schedule whenever it fits you, freedom indeed, you would be able to do that a few years earlier in the US than in the UK
Huge difference in salaries: US attending doctors make twice or three times more money than UK consultant or attending, regardless of short training years in the favor of the US
12. Important tips in your journey to become a licensed USA physician
Be aware of deadlines.
Don't take too much time to prepare.
No guarantees, you can do everything by the book and still don't match, or you can get accepted for one unique point you have as your personality or English proficiency.
Boost your CV, make it more appealing, fill it with variant experiences.
Search for information regarding the visa required for each program you apply for.
Total cost of US pathway: from $17000-$20000. It would be wise to start financial planning.
Final word of advice, The one skill you need to cultivate that can help get you closer to fulfilling your dreams would be English proficiency. So own up your future and start mastering English now!