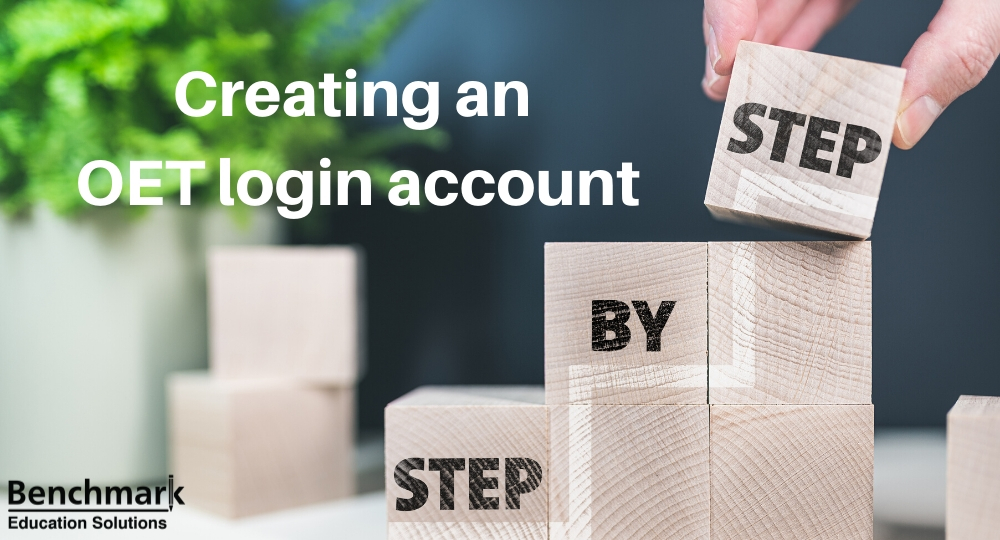 Congratulations on taking the FIRST STEP towards getting your Occupational English Test (OET) certificate. In this article, we will walk you through how you can create an OET login account. The OET login account is called myOET and can be created online at the convenience of your home. It is safe and will be the platform from where you can apply for your OET test, defer your test, check your results and even print your Statement of Results.
Let's get started!
STEP 1 – IDENTIFICATION DOCUMENT
The first thing you need to do is determine what IDENTIFICATION DOCUMENT (ID) you are going to use when you sit for the OET test. Many candidates take this for granted and wind up in trouble on test day
IMPORTANT INFORMATION!!
Your ID which you use to create your account MUST:
HAVE a photograph
STILL be valid on the day you sit for the test
be the SAME as the one you will bring to the test centre on test day
You can sit for OET in 40 different countries. First, you need to determine if you are going to sit for OET in your own country of origin or outside your country of origin. (You can browse all the test centre locations here. )
Sitting for the test IN your own country of origin
What this means is, for example, you are a citizen of Nepal and you plan to sit for the test in Nepal. In this case, you have 2 options as there are 2 test centres in Nepal – in Bharatpur and in Kathmandu. If you are sitting for OET in your own country, you have 2 options when it comes to identification documents – you can either use your international passport OR a local identification document of your country (such as an identity card). However, it's always better to use passport to avoid any ambiguity on the test day.
Sitting for the test OUTSIDE your own country of origin
Only your original valid passport is acceptable.
Sitting for the test in Australia
Only your original valid passport is acceptable.
OUR ADVICE
If you are using an ID which has an expiry date (such as a passport), please MAKE SURE that you have ample time left in the passport validity (i.e. BEFORE it EXPIRES). This is to give you some room in case you choose to defer your OET or if your OET test is postponed for some reason (such as during the Covid-19 lockdown in some countries). It will also give you time to plan a resit of the test in case you do not pass all the components during your first attempt.
STEP 2 – PHOTO
When you create a login account, you will need to upload a photograph. It is a good idea to get a photograph ready before you attempt to create a login account. There are some requirements when it comes to uploading a valid photograph.
PHOTO REQUIREMENTS
Passport sized, in colour, with a white background
Recent photograph – less than 3 months old
Show only the head (neck and collars are fine), face must be facing the camera directly
If a head covering is used, it should be plain coloured and must not obscure the face (i.e. the face must be clearly visible from chin to the top of the forehead, to the edges of the face)
Image must show neutral expression and mouth must be closed (this means no smiles, frowns, or raised eyebrows)
Image must be clear and sharp, no shadows should be visible
No red eye should be visible
Soft copy format: JPG or PNG only
Soft copy size: 200kb to 2MB
If your photo does not meet the requirements, you will not be able to proceed further in creating your online OET account. You can take the photo on your mobile phone itself by simply choosing the right background and meeting rest of the requirements as well.
STEP 3 – NOW, GO ONLINE AND CREATE YOUR LOGIN ACCOUNT
Now, you are ready to create your login account. Visit the official OET website . Click 'login' on the top right hand corner of the page. That will open up another window. In this window, click 'Apply/Resit'.
You will then come to a page that asks for your login details. However, since you have not created a login account yet, please click 'Register' instead. A page will pop up to ask you for personal information. Fill in all the information required. Those areas marked with an * are mandatory and MUST be filled in.
Here are some guidelines for you.
Name
Fill in your given name, middle name (if any, or you can leave middle name blank) and family name.
Gender
Select a gender from the dropdown button.
Date of birth
When you click this, a calendar will appear. Simply choose your date of birth from this calendar. Make sure you have selected the correct YEAR!
Photo
This is where you upload the photo which you have prepared in Step 2 above.
Profession
This is where you need to be very CAREFUL. There are 12 professions under OET and you need to select the one which you want to register for because you will need to sit for the RIGHT OET test profession, especially if you want to register at the professional healthcare board. For instance, if you are a nurse and you want to register with the Nursing and Midwifery Council (NMC) in the UK, you will need to check with NMC first to see which OET test profession is acceptable to them. In this case, it is 'Nursing'. For your information, there are 12 professions under OET and you will need to key in one of these in the field 'profession'.
| | | | | | |
| --- | --- | --- | --- | --- | --- |
| Dentistry | Dietetics | Medicine | Nursing | Occupational Therapy | Optometry |
| Pharmacy | Physiotherapy | Podiatry | Radiography | Speech Pathology | Veterinary Science |
Address
Fill in your address.
City
Fill in the city of your address.
Country/Territory
Select a country or territory from the dropdown button.
State/Region
Select a state/region from the dropdown button. If there is only one option available (i.e. 'not applicable') then just click that.
Postcode
Fill in your postcode if applicable.
Contact number
Fill in your contact number by country code, area code and phone number.
ID type
This is where you select your ID type which you have already determined in Step 1 above. There is dropdown button and the only 3 options are passport, national ID, or alternative ID.
ID number
Fill in the ID number for the right ID type you keyed in earlier. DOUBLE CHECK that you've filled this in correctly.
Nationality
Select a nationality from the dropdown button.
First language
Select a first language from the dropdown button.
Email
Key in your email and key it in again at the 'confirm email' section. REMEMBER this email address as this is where all you will get updates about your OET test.
OUR ADVICE
CHECK everything you have keyed in before you click 'Next'
If you click 'Next' and your photo does not meet the OET requirement, you will not be able to proceed. Instead, a notice will appear that says 'The uploaded photo does not meet the requirement' or 'File size must be greater than 200.00 kB and less than 2.00 MB' (and so on, depending on problems with your uploaded photo). You will then need to upload another photo.
STEP 4 – TERMS AND CONDITIONS
The next stage is the terms and conditions. Read them and click 'I agree – Next'
STEP 5 – SECURITY ANSWER
In this section, you will need to create a user name, password and security question.
User name
You can create your own user name.
You need a MINIMUM of 6 characters for the user name.
However, if someone else has already created or used that name, you will not be able to proceed when you click 'next'. The computer will then prompt you with a message saying that the user name has been taken. You must then try another user name until you get one that has not been taken yet.
Password
Create your password and confirm it. If your password does not meet the criteria, then when you click 'Next', the computer will give you a message about it such as 'Password must contain at least 1 capital character' or 'Password must contain at least 3 lower case characters' and so on. Just follow the prompts and create a password that the computer will accept.
Security question
You then need to select a security question from the dropdown button. For instance, 'In which city did you meet your spouse?' You must then provide your own answer to that question. Remember your question and response.
OUR ADVICE
WRITE down your user name and password somewhere so that you will remember them. Keep these safe and do not reveal them to anyone. You can even email your login details to yourself as well.
If you are uncomfortable about keeping a record of your user name and password, please DO NOT FORGET your user name. This is because if you forget your password, you may still be able to request to retrieve your password using your user name (and a message will be sent to the email address which you keyed in earlier).
STEP 6 – ADDITIONAL INFORMATION
You will then be taken to the last step in the registration process. OET will ask you a few questions.
Why are you taking OET?
This is one of the questions you need to answer. You can multi select from the options given, which are:
Migration / Visa purposes
Registration with healthcare board or council
Study (entrance or exit – tertiary course)
Gain employment within a healthcare profession
Professional development
Have you taken an English language test before?
Just answer 'yes' or 'no' to this question.
What is your most recent professional qualification?
Fill in the 'type' (e.g. diploma in nursing), 'institution' and 'country' (select from a dropdown button).
I am not a robot
Click this.
**
Then click FINISH and you would have completed the process of creating your own myOET login account.