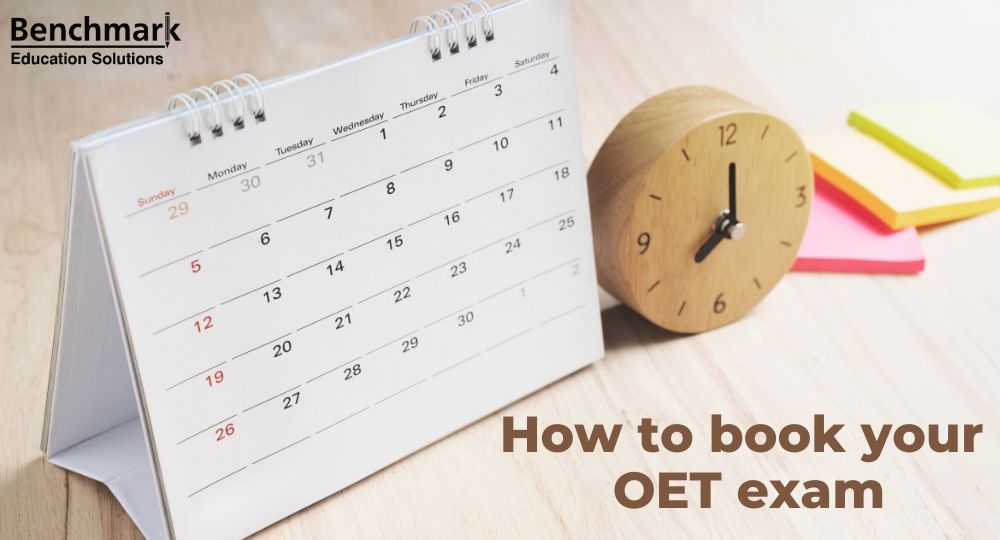 Well done! You've made the all-important decision that you are going to sit for the Occupational English Test (OET). Now, you need to book your exam. Sounds simple enough, but there are some things you need to be aware of before you make any bookings. It is also possible to get someone else to help you book the exam, but in this article, we will assume that you are doing it yourself.
First of all, OET is offered in 40 countries around the world. If you live in a country where there is an OET test centre (or more), that is good.  However, if you do not have an OET test centre in your country, you may need to sit for the test in another country nearby.
What about test dates? While OET test dates are planned for an entire year and you can see all the test dates for the whole year, there may be times when certain test locations may not be accepting any more candidates because they are already full.
Here is our advice on how to book an OET exam. Read on and get a clear understanding of the things you should be aware of before booking the exam. We will also take you through the steps on how to make the actual test booking online.
STEP 1 – DETERMINE WHAT YOU NEED YOUR OET TEST FOR
You need to be sure about what you need your OET test for – migration, further studies, registration with a healthcare board, etc. You have to find out the minimum score you need for your test as well as any other conditions. For instance, different healthcare boards around the world will have their own conditions. Some may allow you to combine your results from 2 OET test sittings, while others may not. You can find out more about combining OET test results here.
Next, take note that there are 12 professions under OET and you will need to decide which one you are going to register under. Here are the 12 OET professions. Make sure you choose the correct one for your purpose.
| | | | | | |
| --- | --- | --- | --- | --- | --- |
| Dentistry | Dietetics | Medicine | Nursing | Occupational Therapy | Optometry |
| Pharmacy | Physiotherapy | Podiatry | Radiography | Speech Pathology | Veterinary Science |
OUR ADVICE
Contact the registration board, immigration department, university, etc where you will be submitting your OET results to. Make sure that you know exactly what their terms are so that you can book your OET test with that in mind.
STEP 2 – CHOOSE AN OET TEST LOCATION AND DATE
Look for an OET test centre near you, or at a place convenient to you. Look at all the dates available for the OET exam as well. You need to be aware that not all the 12 OET test professions are available for test sittings in every location on every date. Make sure that you check carefully.
OUR ADVICE
Select at least 3 dates for your OET test because the first date you wish to book for may no longer be available if the test centre is already full. Also, be ready to sit for the test again in case you do not achieve the score you want during the first sitting. It is therefore good to have a few dates in mind.
STEP 3 – CHECK THAT TEST LOCATIONS ARE NOT AT CAPACITY
It is also important for you to check that your OET test location is not already full (or at capacity) at a certain test date. Do not assume that all the test dates are readily available for you to book. You can get information about OET test locations that are already at capacity or are going to be full soon.
STEP 4 – ENSURE THAT YOU ARE ABLE TO MAKE PAYMENT
Payment is made in Australian dollars. The fee for an OET test is AUD$587 (inclusive of AUD$7 as booking fee).
OET accepts payment in 3 ways:
Credit card (MasterCard or VISA)
Bank cheque or money order (this will need to be mailed to OET together with your online booking form. Get the OET postal address here )
Third party payment (this is only for cases where a government department or organisation is paying on your behalf)
STEP 5 – CREATE A myOET LOGIN ACCOUNT
You will need to create a myOET login account in order to book your test. Read more about how to create an OET login account.
STEP 6 – NOW, GO ONLINE AND BOOK YOUR OET EXAM
Once you have gone through Step 1 to Step 5 above, you are in a better position to book an OET exam. Go to the official OET webpage and login to your myOET account.
Make sure you read and understand all of the OET terms and conditions and test regulations .
You can use your myOET account to book a test for the first time, apply for a resit, manage your applications, and check your results. Just follow the prompts on the page.
STEP 7 – CHECK YOUR EMAIL REGULARLY
You need to remember which email address you used when you created your myOET login account because all correspondence from OET will be sent there. Make sure you check your email regularly, not just Inbox, but also Spam & Junk folders, in case there are any changes to your test due to COVID-19.
**
And that's it! All you need to do now is make sure that you prepare well and are ready for the test.
Read our next article on making changes to your OET exam booking (such as withdrawing from the exam, deferring your exam to another date, changing the test venue and not showing up for the exam on test day).