OET Reading Practice Tests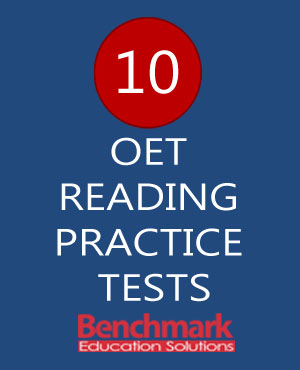 A high proportion of OET test takers fail to get their registration due to reading module. Many of them struggle as they do not have the right materials to practice or they prepared using reading test that do not meet OET exam standards. Well – not anymore!
Our reading practice tests really work, and you will see a significant improvement in your accurate after using these reading tests. These tests have worked for hundreds of OET test takers and we are confident that you will have a similar experience. We are sure these tests will work for you!
Full Reading Practice Tests – covering both Part A and B.
The tests are of the same format as the real OET exam – so you will be fully prepared when you take the real exam.
Their difficulty level is similar to what you can in the OET exam.
All reading topics are related to medical field. Besides, they are highly relevant and engaging. You will also be able to enrich your vocabulary by reading them.
Answers are conveniently laid out and are self-explanatory.
Locations of answers are also mentioned in the passage.
The tests can be printed so as to simulate the exam-like conditions.
The tests can be downloaded and accessed without any internet connection after that.
Download OET Reading Tests
| Package | Price | Download |
| --- | --- | --- |
| Practice Tests, Set 1 (Tests 1-3) | Just $10 | Pay Now |
| Practice Tests, Set 2 (Tests 4-6) | Just $10 | Pay Now |
| Practice Tests, Set 3 (Tests 7-9) | Just $10 | Pay Now |
| Set 1 + 2 + 3 (Tests 1 - 9) 1 Extra Test Free | Just $25 | Pay Now |
Make most of the reading tests before the pattern changes in September 2018!