The two pie charts below show some employment patterns in Great Britain in 1992.
Summarise the information by selecting and reporting the main features, and make comparisons where relevant.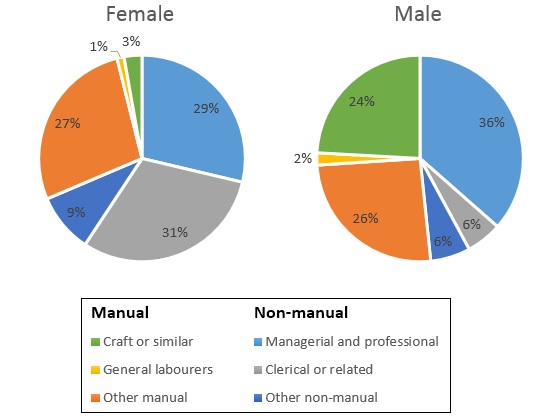 The pie charts demonstrate the percentage of females and males participated in manual and non- manual occupations in Great Britain in the year 1992.Overall, it can be seen that more males occupied manual vacancies, while non-manual jobs appealed more to females.
In regard to manual jobs, more males than females were employed in these occupations, at 52% and 31% respectively. Almost equal proportion of males joined craft or similar occupation and other manual jobs, at around 24% and 26%. For women the pattern was slightly different, since the vast majority of them joined other manual jobs at 27%, while a minority was attracted to craft or similar and general labourers at 3% and 1% respectively. Around 2% of males are engaged as general labourers.
On the other hand, non- manual occupations were more popular among women, at 69% in contrast to 48% among their males counterpart. However, it is interesting to note that more males were positioned in managerial and professional vacancies than women, 36% and 29% respectively. Nevertheless, the proportion of females in clerical or related occupations exceeded that of men tremendously, at 31% and 6%. Almost equal proportion of males and females occupied other non-manual occupations at 6% and 9% respectively.