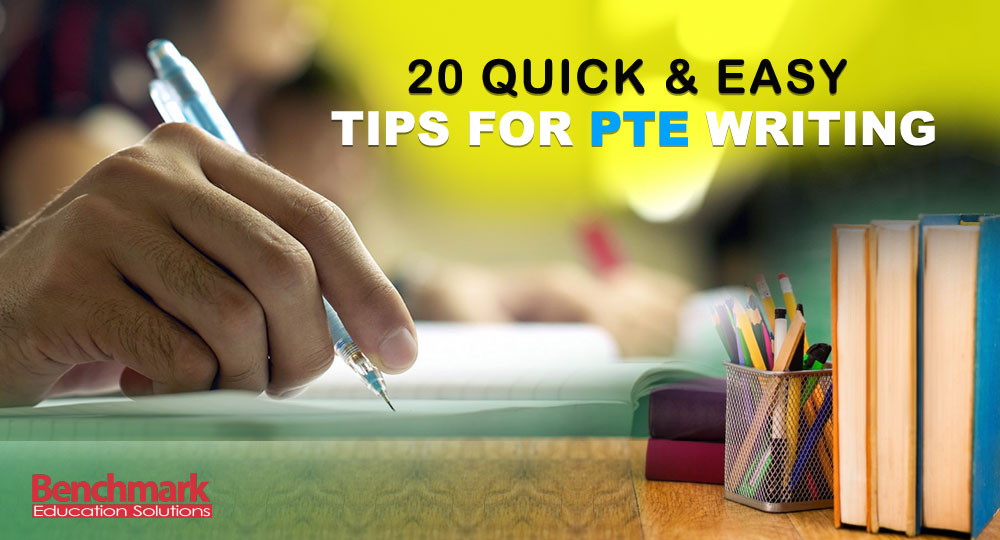 For the writing section of the PTE test, you will be assessed on two tasks. One section asks you to summarize a written text and the other to write an essay. Read on for a simple summary of each task and a quick and easy list of handy tips for both tasks!
Summarize Written Text:
The text summary tasks ask you to summarize a passage of one or more paragraphs of text in one sentence. Comprehension is key as well as the ability to write in a succinct manner, condensing information while getting across the gist of the topic and the important points. You are given 10 minutes to complete the task.
Top 10 Tips:
Find key words and topic words to locate important information.
Look for repeated words as they are likely to be relevant.
Use your own words by thinking of synonyms and rephrasing.
Write the summary in the third person.
Stick to a timing structure: Read and plan (3 minutes) Write (5 minutes) Check (2 minutes).
Remember to start the sentence with a capital letter and end it with a full stop.
Only write one sentence. If you have used 2 full stops, this is more than one sentence.
Stick to the facts; not explanations, inference or examples.
Accuracy is key – focus on the grammar, spelling and punctuation of your answer.
Write your sentence in 30 words if possible and don't exceed 50 words.
The PTE Essay
You will be asked to write a 200 -300 words argumentative essay in response to a prompt. You will have 20 minutes to complete the task.
Top 10 Tips:
Give yourself some thinking time about the topic. What do you already know?
Check what type of essay it is; opinion/ balanced argument/ problem and solution etc.
Use a tried and tested essay structure: E.g. Introduction, 2 body paragraphs, conclusion.
Use a variety of sentence structures and a range of punctuation.
Include examples, research or statistics in the body paragraphs.
Keep track of time: E.g. Read and plan (4 minutes) Write (13 minutes) Check (3 minutes).
Know your grammar weaknesses and be aware of them: E.g. articles, tense, etc.
Write in full sentences and avoid note form.
Use synonyms to avoid repetition of words.
Always proofread your work.
Good luck using our 20 top tips and check out our other PTE writing articles for a more in depth look at achieving success in this section of the PTE test. Now apply these tips and get your writings evaluated using our PTE Writing Correction service.