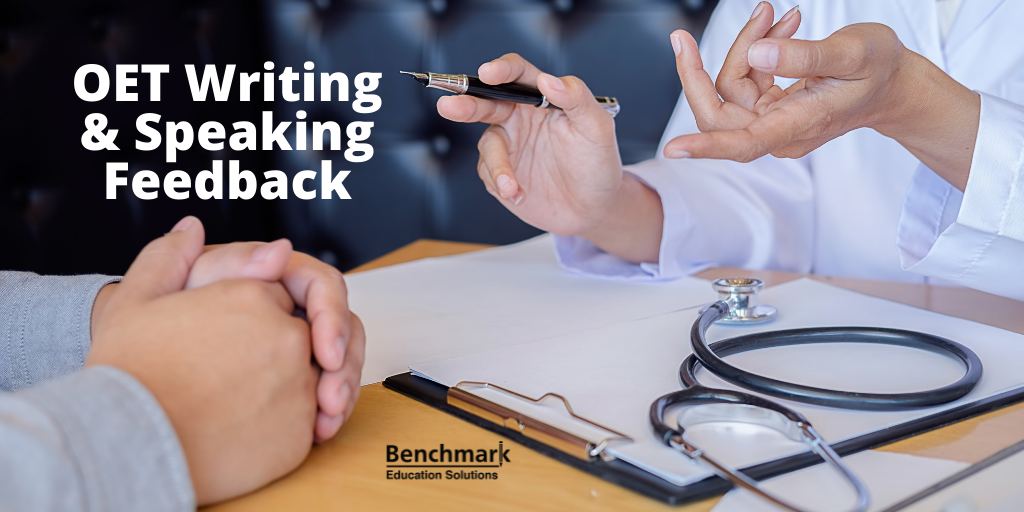 It's easy to take an OET practice test in Reading and Listening, then check the answers to see how you scored. But what's the best way to get feedback for the sample OET letters you write? How can you find someone who is familiar with OET requirements to check them for you?
Also, what do you do with your OET role plays? You can find sample role play cards online, but you need someone to tell you if you followed all the criteria, and coach you in how you can do better.
Let's talk about the kind of feedback you need, and specific services you will need to find. First, let's talk about your OET Writing task.
1. What Kind of Feedback Do You Need for Your OET Letter?
You need detailed feedback for your letter, including information about the following:
How to choose the necessary information from the case notes and discard information that is not important
How to use the correct structure to compose a business letter
How to fix any grammatical mistakes you have made, and why they are incorrect
How to avoid common spelling mistakes you may have made
How to say everything you need to say in 180-200 words
With this kind of feedback, you can focus on what you need to do to improve! But who can give you this kind of feedback?
2. Where Can You Find Good Feedback for Your Letter?
There are many services on the Internet that you can use to get feedback for your letter. They offer different services at different prices, however, so you need to get the most you can for your money. Here are some things you should look for when choosing a writing correction service.
2.1 Time Frame for the Return of Your Letter
It's very typical for writing correction services to offer you a standard turn-around time for one price, and a faster turn-around time at a higher price. It will be easier on your pocketbook if you can use a less expensive service and wait a few days for your results. Try and leave enough time to study and complete several practice letters before you book your official exam.
2.2 They Speak Native-Level English
Some services may not employ native English speakers. They can probably offer you good grammar correction and suggestions for content, but it's possible they may miss small errors that could cost you points.
2.3 The Technical Details of Your Letter Are As Important As Using Good Grammar
Business letters have a specific format, and OET letters are no exception. Writing correction services should be able to look at the form of your letter and give you advice on how to structure your letter correctly for maximum points.
2.4 Understand Why Parts of Your Letter Need to Be Fixed
With a subjective skill like writing, it's not enough to simply know what was incorrect. Good writing correction services will help you understand the reason why it was wrong and how to fix it, so you can learn from it and not make the same mistake again.
2.5 Your Correction Service Should Know the Specific Criteria OET Requires
You need to find a correction service that is trained and experienced in helping you understand the criteria that OET uses to score your letter. They can tell you the specific details you neglected to include in your letter, or which details you included that were not necessary.   You can read OET scoring criteria online, but an experienced OET trainer can personalize his or her tips based on the way you write, and give you constructive, individualized feedback that will help you study smarter, not harder.
2.6 It's Difficult to Catch Mistakes in Your Own Writing
When we read our own writing, our brain naturally substitutes what we wanted to say for what we actually wrote. That's why even professional writers, whose native language is English, ask trusted editors and proofreaders to look over their materials.
2.7 Time Limits on Your Letter
Since you have a limited amount of time to write, you may feel pressured to finish your letter in time and run out of time for proofreading. Your OET trainer can give you some standard vocabulary and phrases to remember for certain parts of your letter that will make it easier to complete your letter in time.   Getting your OET letter professionally corrected by an experienced OET trainer is invaluable for your OET preparation!
3. Benchmark's Professional Writing Correction Service
At Benchmark OET, our team of doctors, nurses, pharmacists and experienced ESL tutors will read your letter as an OET examiner would. We can determine your projected grade based on factors including interpretation and selection of case notes, grammatical accuracy, clarity, language, style, layout and lexical resource.
3.1 Personalized Feedback for Your Writing Style
In addition, they give you specific, personalized feedback and tips on any errors you might make in the use of prepositions, tenses, passive voice, word choice, sentence structure, interpretation of the case notes, and more. You will receive your referral letter back with detailed corrections and feedback, enabling you to study and work on exactly the writing problems with which you struggle most.
3.2 Learn How to Interpret the Case Notes
It's not just about fixing mistakes in English grammar, however! All our students learn not only what they're doing wrong, but also how they can improve through our individualized tips for different case notes. With our
OET writing course, students will learn how to identify the chief complaint of the patient, purpose of writing the letter, and structure their entire letter to address the case notes and impress the examiner.
When you see your writing sub-test improve with every submitted letter, your confidence as an OET candidate will increase tenfold.
4. What Do You Get Back When You Submit Your Letter to Benchmark OET?
All of your written errors highlighted and corrected
Detailed comments and feedback on your writing, with suggestions and tips on how to avoid committing the same mistakes twice.
Trainers familiar with the new OET scoring system grade your letter and provide you an estimated OET grade.
A detailed explanation of your estimated score.
Suggestions on how you can further improve your writing sub-test and minimize your future mistakes in your English.
5. What Kind of Feedback Do You Need for Your OET Letter?
You need clear and concise feedback for your role play, including information about the following:
How to keep the conversation moving so you can cover as many points as possible
How to use standard phrases to open and close your role play
How to fix any grammatical mistakes you have made, and why they are incorrect
How to increase your fluency and pronunciation
How to create structure for your conversation
How to use idioms effectively
These points are crucial to scoring well on your role play. Where can you find this kind of help?
6. Where Can You Find Good Feedback for Your OET Speaking Role Play?
When it comes to your OET role play, look for these things when you are booking an OET Speaking mock test:
6.1 The Teacher Understands Your Specific Role Play Needs
You should find a teacher who can practice the kind of role play you need for your specific discipline, whether you are a doctor, a nurse, a physical therapist, a veterinarian, etc.
6.2 The Teacher Should Know How an OET Interlocutor Conducts a Speaking Test
A good tutor for your speaking mock test will know what they can and cannot do to help you, just like an OET Interlocutor would, so you can get a real experience of what your official exam will be like.
6.3 The Teacher Should Understand How OET Will Score Your Speaking Test
Your speaking partner should be an expert in how OET will score your speaking test, so they can give you individualized tips on how you can improve. They should be able to help you with clarity, fluency, choice of words, grammar skills, professional approach to the speaking task, and much more.
They should be able to tell you why you did or did not achieve the most points possible. Ask them to talk you through the scoring criteria, so you know exactly what is expected of you for top scores.
6.4 Your Teacher Should Inspire Confidence!
Perhaps the most important thing you need to do well on your Speaking test is confidence, so you can think clearly and perform your role play the same way you would speak with a real patient in your hospital or clinic. Trained OET teachers will tell you all the things you did right, so you can gain confidence with every small improvement.
7. Can I Find Help on the OET Website?
Unfortunately, the official OET website only offers complete practice tests for reading and listening. Speaking role plays are specific to your profession and are very detailed in their scoring. OET does not have the capability to offer a practice role play with a live tutor, which is necessary for evaluation because the scoring is not simply right or wrong. It takes a tutor in real time to give you a projected grade you can use for your continued studies.
8. Other Online Services
There are many online services that provide feedback for your OET Speaking role play. Before choosing one, here is a list of what you should look for before you book.
Your speaking service should be reliable and easy to use. Find a service where booking a speaking session is easy and quick, offering you an easy way to re-book and take the test again once you have worked through the initial
suggestions.
It can be extremely helpful to find a service that provides a recording of your roleplay, so you can review it. Seeing how you improve over time will build your confidence.
9. Benchmark's Comprehensive Speaking Mock Test Service
Here at Benchmark, we provide a comprehensive and affordable Speaking Mock Test service that will give you an experience very similar to actual testing conditions, especially if you choose to take the OET on Computer.
9.1 Your Tutor Will Analyze Your Performance and Give You Tips
You'll speak with one of our trained OET providers for at least 20 minutes and practice with two different role play cards.  Your teacher knows how to perform the Interlocutor role, and will analyze your performance based on the OET speaking assessment segments, Linguistic Criteria and Clinical Communication Criteria.
9.2 Learn How to Take Charge of the Role Play Scenario
Our experienced OET trainers can coach you on how to take charge of the role play, which is critical for a passing score. Through one-on-one personalized feedback, they can determine your projected grade based on your professional approach and level of engagement. You'll ensure a positive outcome by focusing on the patient's needs.   When you see your speaking performance improve with every role play card, your confidence will increase to match!
10. A Successful Role Play is a Skill That Can Be Learned
Remember, acing an OET role play is a skill, not a talent. You can improve with practice, guidance, and reliable feedback. You will get more valuable input from taking a speaking mock test, and more quickly, with an OET trainer than you would from any amount of self-study, or by watching endless YouTube videos. Click here to book your OET Speaking Mock Test today!