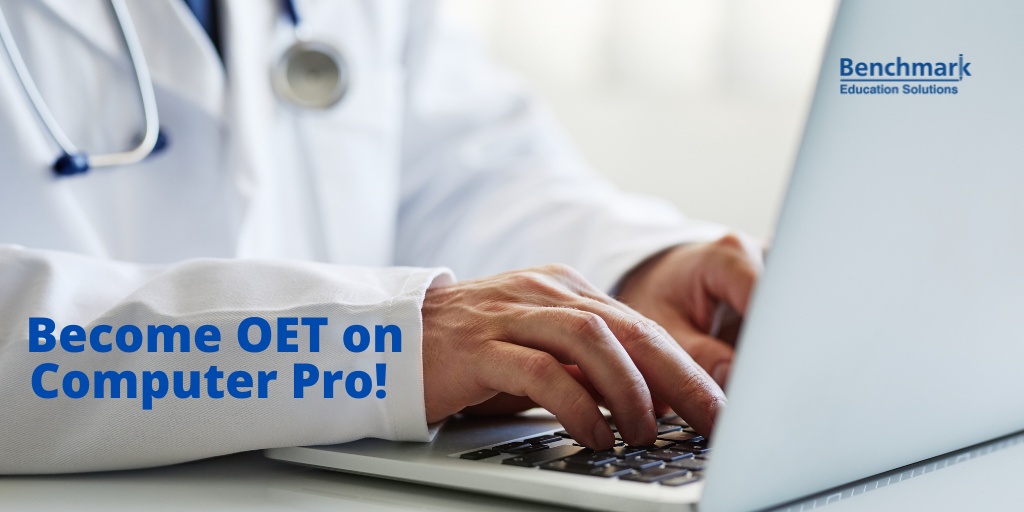 Quick Links
Have you considered taking your OET exam on a computer, instead of taking the traditional paper-based OET? Even if your computer skills aren't great, OET on Computer & OET at home are  great options for OET candidates. Let's take a look at ways you can use a computer effectively for each section of your exam.
How does the OET on Computer Test work?
First, let's quickly review the format of computer-based OET exams,  namely OET on Computer and OET at home. If you choose to take OET on Computer, you will only take the Listening, Reading and Writing sections at the test venue. You will take the Speaking test at home (or any other chosen location), using Zoom on a computer or tablet. We'll talk about this more in a bit. However, in case of OET at home, you will be able to take the test from non-test venue, mainly your home.
Advantages to taking OET on Computer or OET at home
There are many advantages to taking the OET on Computer.
The pace of the exam is very comfortable, and you know exactly what you are being asked to do.
It's very efficient.
The test is the same as the paper-based OET, and is scored exactly the same way – so there are no surprises!
You can highlight text in the reading samples and the test questions, for easy reference.
There is a word-counting function you can use when you write your OET letter.
You can book your exam up to 10 days before the test, much shorter than with the paper-based test.
You can take a test in countries and cities where paper-based OET may not have been available previously.
Sample tests are readily available.
Before your OET test starts, you will have 10 minutes to read the information about the text structure, and how to complete your answers and move through the test. A clock is always available at the top of your screen, so take advantage of this and use the entire 10 minutes to make sure you understand how the test works.  You will have an optional 10-minute break after Reading Part A. If you choose to step away from the computer, for example, if you need to use the restroom, you will need to complete security checks again before you continue with the test.
How to Navigate Through the Test
OET on Computer uses many of the standard navigation buttons you will find in other computer programs.
At the bottom of the screen, you will see "back" and "next" buttons to move through the pages.
You can move to the next section by clicking the button at the bottom of the page. Make sure you have finished proofreading your answers, because you will not be able to return to that section. We recommend using all the time available to you to complete the section and proofread your answers.
If your page requires scrolling, you will have a notification on your screen that reminds you to scroll down and view the rest of the page.
Now let's take a look at advantages of OET on Computer as well as OET at home for each of the 4 exam sections, starting with Reading.
OET Reading on Computer
You are probably already familiar with some of the text editing tools that are used when you type on a computer. Knowing how these tools work – or learning how to use them effectively – will help you quickly finish the Reading section and easily check your answers. If you are not familiar with these tools, taking time to practice with them will be an efficient and practical use of your time.
Split Screen Allows Faster Reading
One convenient feature of OET on Computer is that your screen will be divided into two sections. On the left, you will see the reading texts, and on the right, you will see the answer screen. It's very easy to look back and forth between the windows.   Before the test, make sure the screen resolution on your computer is correct, so you can view both windows in the reading and writing tests side by side, as intended. The computers at the testing center should be set correctly, but check before your test begins and ask the test proctor for help if you need it.   If you accidentally close the window that contains your reading text, it's very easy to just click the document icon that appears at the bottom of the right hand screen with the questions, to open the reading document again.
Increase/Decrease Font Size for Better Readability
Above the reading texts, you will see a plus button and a minus button. Use these buttons to quickly increase and decrease the size of the text. You can also use a dropdown menu that has pre-set text sizes.
Faster Scrolling
Next to these buttons, you will see another button with a hand. If you click on it, your cursor will change into a hand tool that you can use the to grab the reading texts (by clicking and holding the mouse button down) and scroll through them quickly by sliding the mouse up and down.
Highlight Important Words and Phrases
When the hand feature is turned off, you will be able to use your mouse to highlight portions of the reading text and keywords in the questions. You should practice taking notes in this way, since you won't be allowed to use a pen and paper during the computer portion of the test.
Move Quickly Through the Answer Boxes
You can also use your computer's tab key to move quickly through the answer boxes when the window with the answers is active.
Countdown Timers and Reminders for Time Management
For Reading section A, and Reading sections B and C together, you will see a countdown timer at the top of your computer screen that shows how much time you have left. The countdown timer works for both the instruction time and the actual time for answering the questions. It will also pop up a reminder at the top of your screen when you have 30 minutes, 15 minutes, and 5 minutes left. This is a great feature for helping you stay calm and in control, as you will not have access to your watch, or any other way to know what time it is.
Quick Navigation Buttons for Reading Parts B and C
When you are working on Reading parts B and C, you will see buttons for each question on the left side of your computer screen. If you want to do the questions in a different order, or skip one and come back to it, it's very easy to jump between questions by clicking on the buttons. The computer will keep track of which questions you have answered by changing the appearance of the button.   If you forget to come back to a particular question you have skipped,and try to move on to the next section, the computer will remind you that you haven't answered all the questions. This is very helpful, so you don't lose a point by accident!
OET Listening on Computer
The Listening section uses some of the same features as the Reading section. Let's take a look.
Highlight Key Words in the Questions
The highlighting function works for the listening section, too. Highlight key words in the questions that you want to listen for in the audio.
Use the Strikeout Feature to Eliminate Incorrect Answers
As you are reading your answer options, you can use the right mouse button to access the strikeout feature, crossing out answers you know are incorrect. Using the strikeout feature is optional, but it can help you use the process of elimination to find the right answer.
Quicker Navigation to Next Question using Tab Button
Just like in the Reading section, you can also use the computer's tab key to move quickly between boxes on the listening answer page. Once you are in the correct box, just type, or quickly highlight the text and retype it. This is much faster than erasing and rewriting your answer on paper! Also, the entire answer will fit into the space provided.
Proofreading Time for Each Section
If you do the Listening section on paper-based OET, you have a 2-minute proofreading time after you finish all the Listening parts, A, B, and C. When you take it on a computer, this 2-minute proofreading time is divided. You will have 20 seconds to proofread after each section of Listening part A, after all of the part B audios, and after each Part C audio. OET has set this up because in the computer-based test, you will not be able to return to previous parts of the Listening section once you have completed them.
Better Concentration through Headphones
It's quite possible that using computer-based testing will make the testing centers quieter. Some testing venues will play the audio for the listening test through the computer's speakers. If you are taking OET on Computer, the audio will be played through your headset.
OET Writing on Computer
One of the best ways OET on Computer can help you is when it's time to write your OET letter.
Highlight Important Parts of the Case Notes
During your 5 minutes of reading time, you won't be able to highlight anything in your case notes, but when it is finished, you can highlight any parts you decide to include in your letter. You won't be allowed to take notes on paper during the writing test; however, highlighting your chosen text with the click of a mouse is much faster than writing it by hand.
Use Text Editing Buttons to Zoom and Scroll
Use the buttons at the top of your screen to increase or decrease the type size of the case notes, or scroll rapidly through them with the hand tool.
How to Easily and Quickly Edit Your Letter
You may not think you have good typing skills, but once you have written a draft of your practice letter with all the information you have decided to include, it's much easier to make changes. Simply re-type the sentence you want to move into its new location, then highlight the old sentence and hit the delete key.
Built-In Word Counting Feature
Unfortunately, there isn't a spell-checking function you can use, but the word counting function is available to you. You can easily check to see how many words you have written – 180 to 200 in the body of your letter, and if you are counting every word, including the opening and closing parts of your letter, you should have between 230 and 250 words.
The Assessors Can Easily Read Your Typed Letter
By typing instead of writing, you won't have a problem with the assessors being able to read your handwriting. If you don't think you can type very well, or very fast, it might be a good idea to learn before you take the OET exam. It's very easy to find programs online that will help you practice typing, and using the English keyboard.
How Does the Speaking Test on Zoom Work?
You won't take the Speaking test at the test venue. Here's how the Speaking test works:
Make a Separate Appointment
When you book your exam, you will make a separate appointment to take your speaking test through the video conferencing tool Zoom, either at your home or at another location that is convenient for you. Just keep in mind that you are not allowed to use a mobile phone to take your Speaking sub-test.
Your Speaking Test Can Be on a Different Day
Even if you can't get a booking for the Speaking test on the same day as your computer test at the testing venue, don't worry. It's treated as part of the same test by the test regulators, even if it is before or after your Listening, Reading, and Writing tests.
Tech Requirements
You will need to have a good Internet connection and a webcam. If you don't have a webcam on your device, you won't be able to take OET on Computer.
Make sure the screen on your device is large enough to allow you to view the speaking role play card This is another reason why using a mobile phone to take your test isn't allowed.
You are not allowed to use headphones for the Speaking test on Zoom, so make sure the settings for your computer's built-in microphone and speakers are correct and they work well.
Will I Talk with an Interlocutor on Zoom?
The Speaking sub-test will involve an OET Speaking interlocutor conducting the role play through Zoom, exactly as they do in person when you take OET on paper. Make sure you download Zoom and become familiar with it, so that you can concentrate on your speaking tasks, not technology issues, during your role plays.
How to Prepare Your Desk for the Speaking Role Play
The interlocutor will need to see your identification, and he or she will also ask you to use your webcam to see the room you are in.   The only things that are allowed on your desk are your computer, one piece of blank paper and a pen to take notes from the roleplay cards, your identification documents, and a clear bottle of water without a label, if you desire. Make sure you have closed all other websites, files, and folders on your computer desktop.
But What If I Can't Type?
There are advantages to taking OET on Computer, even if you don't type well. Check out this guide for more information about typing skills and the OET on Computer.
Learn With a Typing Tutor Program
Try using a typing tutor program to practice and improve your typing skills, since you will be using these skills more and more often as you continue to work in medicine.
Take a Sample Test
We also suggest that you try a sample test, in both paper and computer formats, to see which test works best for you. Click OET sample test to take it – make sure you feel comfortable on test day with whichever option you choose.
How can I study OET at home?
Preparing for OET at home can be easily achieved by simply joining an OET training program with Benchmark. We offer well-researched training programs which include full practice tests with answers and explanation, training videos, letter corrections and one-on-one speaking mock test services. This way  you won't have to worry about gathering resources or looking for teacher support as everything will be available under one student account.
Do I have to use OET on Computer?
It's still completely optional to complete your OET test on a computer. If you don't feel confident using a computer, you should sign up for a paper-based test. You can still find many practice tests online for the paper-based test. You don't have to do the computer-based exam if you don't want to.   There's no question that the world is changing because of the coronavirus pandemic. Moving the OET Exam to a computer format is one way to keep up with all the changes, and help OET facilitate medical interactions globally. Soon, OET on Computer may be offered in countries where testing is currently not available. Take an OET on Computer sample test with Benchmark OET today!