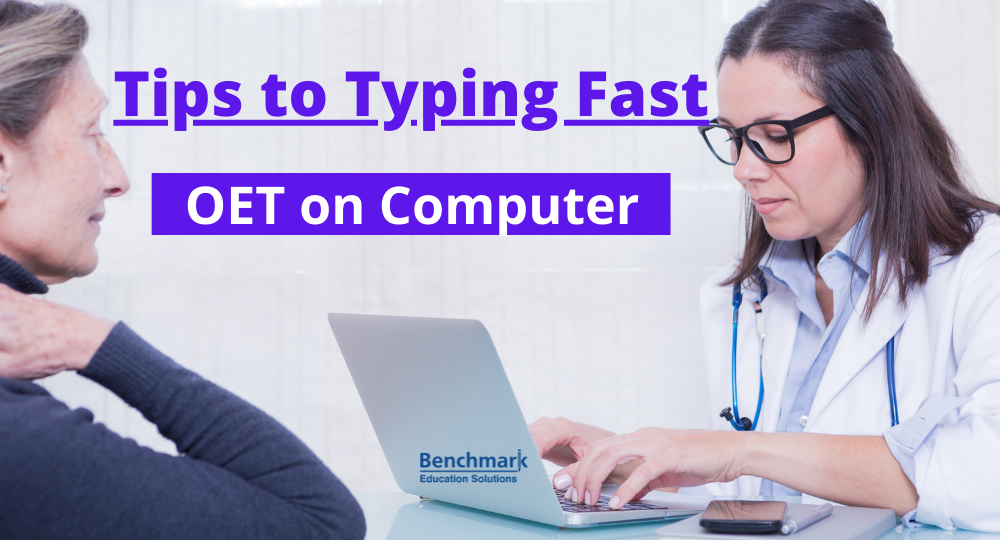 Computer-based OET and OET at Home have brought a new opportunity for the OET candidates to take their OET exam on a computer rather than having the OET on paper. While most OET test takers fear computer-based OET simply due to poor typing speed, what they forget is that it is so much common these days to type on a computer as compared to writing in pen or pencil in general. In fact, people find it hard to write in pen, whereas typing can be much faster and flexible.
Quick Links
Questions Involving Typing
Let's have a look at the OET question types which involve some sort of typing in computer-based OET.
Listening
Part A – 1 – Q1 to 12
Part A – 2 – Q13 to 24
Reading Part A
Writing
Letter – 180 to 200 words
Benefits of Typing over Writing in Pen/Pencil in OET
It's much easier to edit or delete text on a computer than trying to erase and write in pencil
It is possible to move a sentence from one location to another. This might help to improve coherence and maintain

organisation

of information in case you typed a sentence at a wrong location initially.
Poor handwriting is no longer an issue in OET on Computer and OET at Home.
As editing or deleting text is very fast, considerable time is saved which otherwise would have gone into erasing text and writing on top of if you are sitting for a paper-based OET
Word counter in OET computer-based writing sub-set continues to show you how many words you have typed effectively giving you an idea about additional number of words to write to meet the minimum word-length requirements.
Typing Tips for OET on Computer and OET at Home
Listening Part A
Answers in the OET Listening Part A -1 and Listening Part A – 2 are generally one word or a short phrase (2-3 words on average). Typing these ones is not challenging but the real skill is to type fast and maintain pace with the conversation audio. Often times, candidates start searching for the keys on the keyboard and lose precious seconds.
Follow the tips below to speed up in Listening Part A – 1 & 2
Make sure you already point the cursor where the blank is so you can start typing immediately
Learn basic keyboard layout and if possible, practice typing using a typing tutor software. If you are a Mac user, make yourself comfortable with the following keyboard layout:

Do not worry about capitalisation as both capital and small letters are acceptable
Use tab feature to jump from one blank to the next one, thereby saving precious time. So, after you have finished writing an answer, press the tab button immediately to bring cursor to the next gap for you to start typing at appropriate time.
As spelling mistakes are acceptable to some extent, don't try to correct too much and if you believe the answer makes sense, move to the next question and avoid correcting the spelling.
Reading Part A
Only Questions 8 to 20 require typing the answers. While most of the answers are one word, a few may require writing a short phrase involving numbers as well.
Tricks for Reading Part A
Unlike listening section, spelling mistakes are not acceptable. So, you will have to type the correct spelling.
Tab button also works in OET Reading Part A questions but using a mouse to scroll reading texts up and down and highlight text is common. Hence, it may not be ideal to use Tab key.
Effective approach to typing the answer here is to first highlight the word in the text and then type it. Use of copy-paste may not work, so try to type your answer accurately.
As Reading Part A is only 15 minutes long, you may not find time in the end to review your answers. So, the best strategy is to double check the answer typed before proceeding to the next question.
Writing
OET Writing Subset is the only section where you will be doing bulk of your typing. Note that, even though the OET Writing Task asks you to write 180 to 200 words, this is basically the body part of the letter, whereas date, address, greeting and complimentary close need to be written as well. Therefore, in total, you would be typing roughly between 230 and 250 words.
The average slowest speed as per Wikipedia is 23 words per minute, which means it is possible to type the entire letter in 10-15 mins and still have time to review it. Since this is a hypothetical scenario, in reality, candidates write one to two sentences at a time before reviewing the case notes again and forming sentences in mind. Despite that, poor typing speed would not become a barrier to finish a letter and still have some time to review at the end.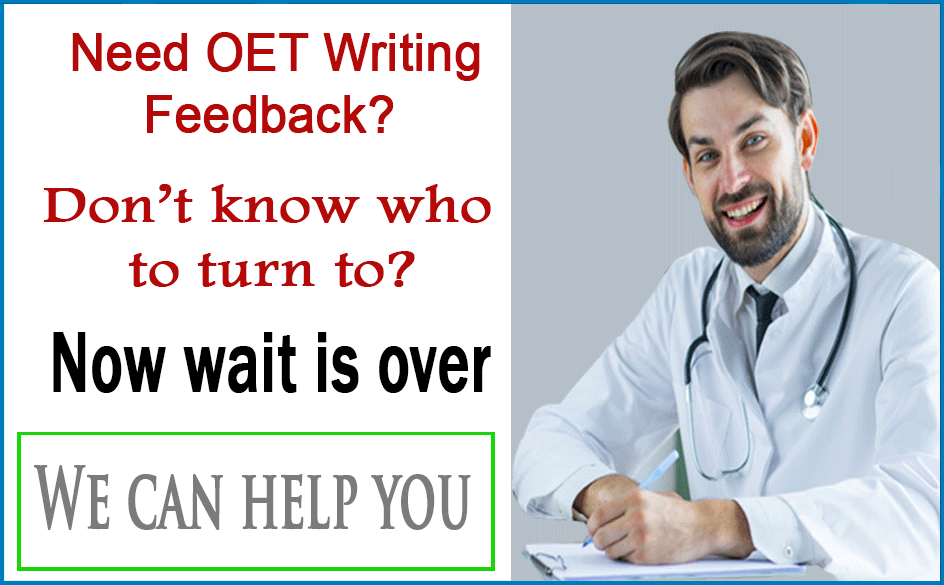 Tips to speeding up in the letter writing
Practice typing with both hands
Don't look down your hands and try to look at the screen as much as possible. This may take some practice but it helps improve speed and accuracy as you will be able to see what you are typing along.
Write Date, Greetings, Re: and Complementary Close (Yours sincerely / faithfully) soon after the writing time starts. This will ensure that your letter is not incomplete even if time runs out.
One of the most common time-management issues OET test takers face is running out of time when they are writing their last sentence but fail to write complementary close as the invigilator takes the writing sheet back.
An arguably effective approach is to write the thank you sentence before you start writing introduction. Some common template sentences are:

Please feel free to contact me for further information.

For more information, do not hesitate to contact.

Thank you for agreeing to assist in this matter.
Practice typing a lot of OET sample letters to feel at home and have control over the keyboard. This will also enable you to memorise some common phrases to be used in the OET letter.
Learn the following keyboard shortcuts, such as

Shift+ Left Arrow (←) – To select a word or a phrase and overwrite it
Shift + Right Arrow (→) – To select a word or a phrase and overwrite it
Ctrl + Up Arrow (↑) – To jump from existing paragraph/line to the next one
CTRL + Down Arrow (↓) – To jump from existing paragraph/line to the previous one
CTRL + Z – To undo any mistake. For example, if you deleted some text by mistake, you can recover that by simply pressing this key combination.
That's it! Follow the advice above and you will no longer fear typing on a computer during your OET preparation as well as on the OET exam day. At Benchmark OET, we offer plenty of paper-based and computer-based OET sample tests and OET on Computer mock tests, which you can use to be ready for the real exam. So, don't want much time and visit our service pages to get started.