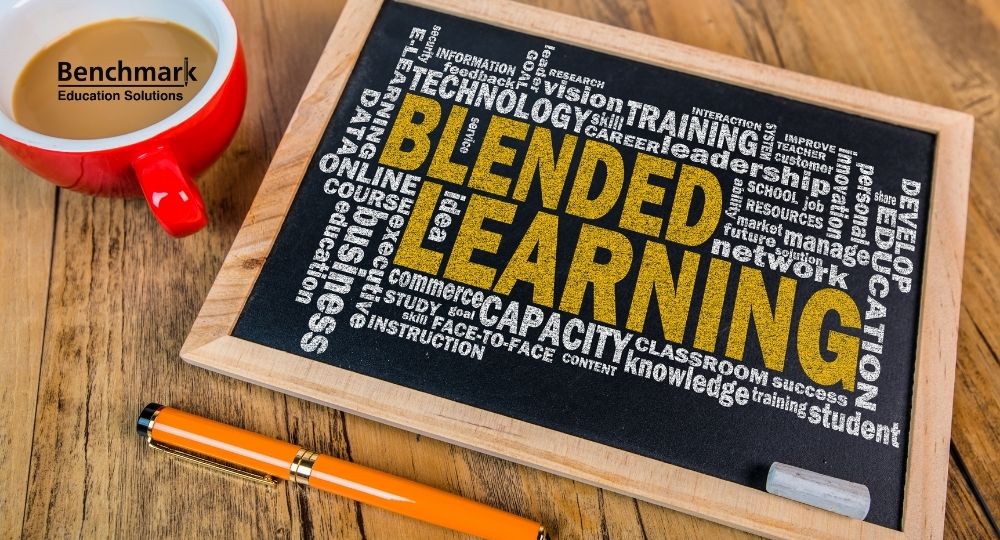 Blended learning is fast becoming a favored teaching tactic. It works not only for students in a conventional learning setup but also for those preparing for language exams like the PTE Academic test.
Since the PTE exam is computer-based, it makes sense to use blended learning to hone your English skills.
Blended learning merges digital tools, materials, and techniques with the physical classroom setting. PTE aspirants can view lectures, access content, complete assignments, and ask questions.
Still hesitant about this hybrid option? Here are some insights into the benefits of blended learning for those taking the PTE test.
Why Blended Learning Works for PTE Academic Exam Preparation
1.  Engaging Interaction
Maintaining a disciplined routine can be somewhat challenging when it comes to learning. That's why an instructor-student relationship is essential. Based on your learning habits, a trained instructor or PTE mentor at Benchmark PTE can develop a customized schedule for you.
In a conventional classroom setup, everyone must partake in a similar program, and instructors can't give personalized attention to each student. When doing PTE practice, blended learning will come in handy because you'll enjoy an engaging experience from other locations.
2.  Unparalleled Flexibility
Learning shouldn't have to be monotonous even if you're preparing for a crucial PTE-A exam. Life can get in the way, so the more flexibility you have in terms of time and location, the better.
Online methods allow you to study English on your terms. This will help you maximize the preparation for PTE Academics. Flexible scheduling makes it more convenient and enjoyable to learn all the aspects required by PTE.
3.  Accommodates Various Learning Styles
Instructors recognize that every learner is unique in their learning preferences and styles. Traditional learning implements logical and linguistic teaching techniques, which may not suit everybody.
Blended learning allows you to prepare for PTE in a way that is more effective for your learning style – without distracting other people. Moreover, instructors at Benchmark PTE can respond easily to different learning styles by capitalizing on the strengths of different environments.
4.  Interactive Input
Blended learning provides interactive media such as audio, video, and visuals. They all offer meaningful content that is relevant to your interests and needs. You can either discover these materials while researching online, or they might be preselected by your PTE teacher.
You also get the opportunity to engage with people, not just materials, with this approach. You can get the answer to your queries or any advice you need by posting on online forums or discussion rooms.
5.  Improved Access to Study Materials
A blended PTE learning approach gives you a centralized location for accessing learning materials, such as Benchmark PTE Login Dashboard. In a traditional setup, students must take notes to access the information later. Although note-taking can help you organize and recall what you've learned, it can distract you from the PTE content.
Learners who do not have note-taking skills could easily fall behind. In contrast, online learning allows you to evaluate material at your own pace. You will still want to take notes while engaging in an online class, but you'll be able to rewatch the media and refresh your memory whenever you want.
Conclusion
Preparing for the PTE exam can be quite demanding, so you need all the resources to ensure you're fully equipped. That's where blended learning comes in. Take advantage of technology to get the highest score possible on your PTE Academic test.