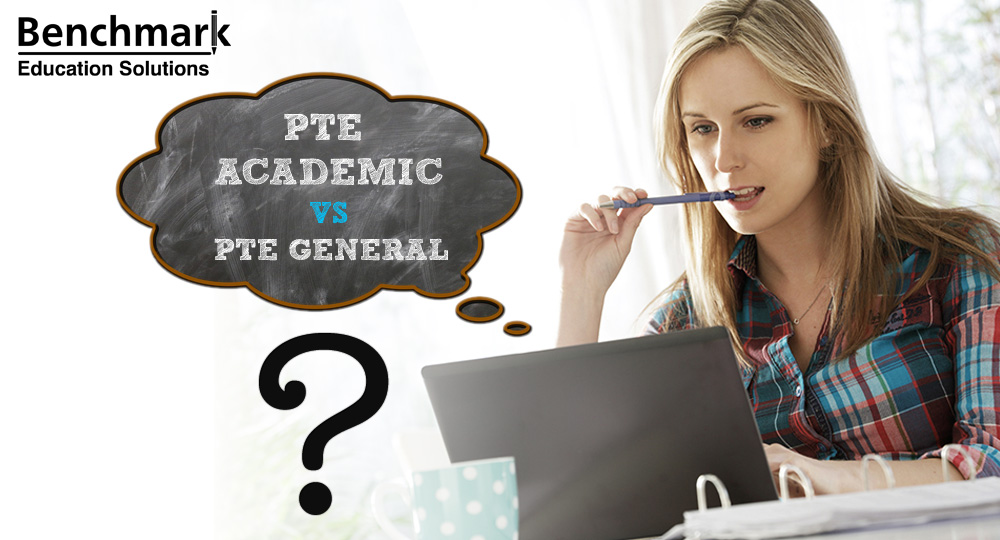 Pearson offer two different English language tests, the PTE General and the PTE Academic. If you are considering taking one the Pearson English proficiency tests but you are unsure which test will be best suited to you, the following article will give you all the information that you need to make your decision.

There are various similarities and differences between the two tests which we will look at in detail so that you can be sure that you choose the test that is right for you. As a student of English, you will have your own reasons for taking an English proficiency test and the test must suit your needs.
What is the purpose of each test and where is it accepted?
PTE Academic
As the title of the test suggests, the PTE Academic is designed to prepare students for study in an English-speaking country. Many colleges and universities will require proof of English proficiency to show that students will be able to access their course materials in terms of language skills. Australia, and New Zealand are examples of countries that will often request or accept the Pearson Academic test. There is one other main purpose of the PTE Academic which is to support work and immigration visa applications for Australia and New Zealand. Success in this test is recognised by hundreds of colleges and universities, among which are some of the most highly reputable institutions.

PTE General
The Pearson General English proficiency test can also be used as proof of language skills for educational or work purposes, but it is more likely to be accepted by non-English speaking European countries. Here is a list of countries whose governments and ministries accept the PTE as proof of English proficiency for work or higher education:
Albania, Colombia, Czech Republic, Ecuador, Greece, Italy, Latvia, Lithuania, Mexico, Poland, Spain, Switzerland, UK, Ukraine and Estonia.

The PTE General can also be used by individuals who wish to use English for travel or for personal purposes as a way of seeing where they are at with their English language skills, what level they are currently using English at and where they need to focus their attention as they continue to advance their language development.
How long is the test result valid?
PTE Academic
Your results from the PTE Academic will be valid for 2 years. At this point, if you have not used your test results for your desired purpose and submitted them to an institution, ministry or body, they will expire. This is worth bearing in mind when deciding on your time-frame for taking the test and the next steps regarding education, work or visas.

PTE General
The PTE General certificates, on the other hand, last forever. Once you have completed the test, you will not have to re-take it at any point and you can use your certificate at any time in your life. If you are uncertain about your future plans but want to get an English qualification under your belt, this could be the test for you.
When are the test dates?
PTE Academic
One advantage of the PTE Academic is the availability of test dates. It is nearly always possible to take the test whenever you like as it is set up over 360 days each year and there are also many centres where you can take the test; more than 200. Accessibility-wise, this is great, and you won't need to plan so carefully regarding revision time, time off work and study etc.

PTE General
The PTE General, however is not as easily available. With three set exam time-slots in May, June and December, you will need to prepare and book your test days in advance. Don't let this put you off, it just means that you need to be more structured with your time.
How do I register for the test?
PTE Academic
For the Pearson Academic Test, you can register online at the Pearson official website.

PTE General
For the Pearson General English test, you can register online using the Edexcel Online system.
Who conducts and endorses the tests?
PTE Academic
The PTE Academic is conducted by Pearson Language Tests. The test is endorsed by the Graduate Management Admission Council (GMAC). This body is linked to the Common European Framework of Reference for Languages (CEF of CEFR).

PTE General
The PTE General is also conducted by Pearson Language Tests, but for this test, Pearson are partnered with Edexcel Limited who also endorse the test. They are a UK-based awarding body for vocational and academic qualifications; the biggest body of this kind in the UK.
What is the format of the exam?
PTE Academic
The PTE Academic covers the 4 main areas of language leaning: reading, listening, speaking and writing. All sections of the test are taken on the computer, with a head-set and microphone included to help with the speaking and listening section. The test is scored by computer algorithms that have been designed using 1000's of human-marked tests. The test is one-level only.

PTE General
The PTE General is structured quite differently, and it is not computerized. It is split into two parts: a spoken interview and a written paper. The written paper includes the reading, listening and writing sections. There are six levels to the test; the levels are set using the CEFR levels. You can take the test at the level you are at and gradually move through the tests as you advance your English proficiency.

How long will the test last?
PTE Academic
The Pearson Academic lasts for 3 hours.

PTE General
The duration of the PTE General depends on the level of the test that you are taking. The minimum time is 90 minutes and the maximum time is 3 hours.
You should now have all the information that you need to decide which of the Pearson English tests is best suited to you. Primarily, you will need to begin by looking at your purpose for taking the test, then you can use the other points to help make your final decision and to help you to know what to expect. Either way, Pearson provides excellent tests that are respected world-wide and they are a great English proficiency test option.