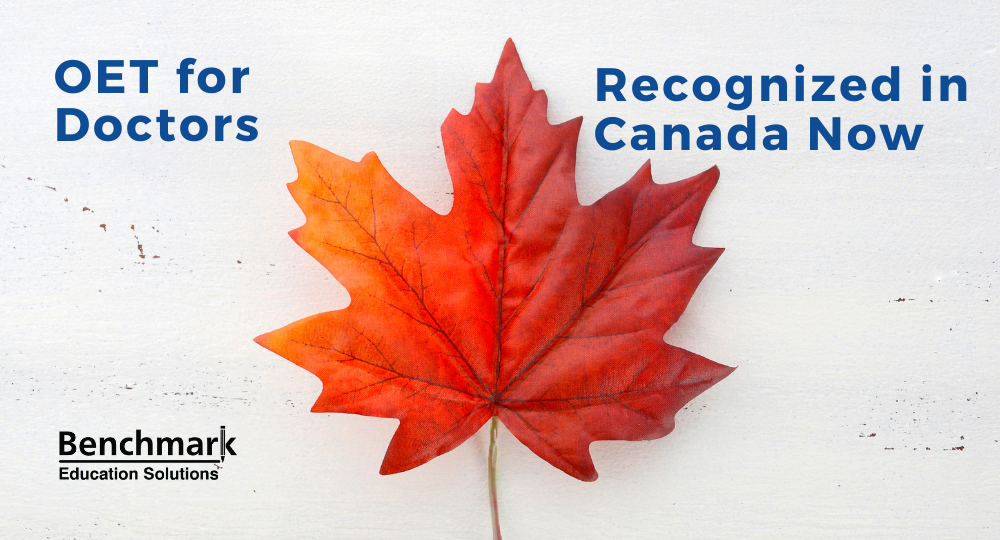 OET for Doctors Recognzed in Canada
The most common question among OET candidates has been this – Is OET applicable for Canada? The answer in short is YES, it is now!
There's good news today for international doctors trained overseas as Occupational English Test (OET) would be accepted as proof of English competency for doctors wishing to migrate to Canada.
According to a press release published on July 20th by OET, two medical boards in Canada have begun accepting OET results when considering applications from foreign applicants. These are the College of Physicians and Surgeons of British Columbia (CPSBC) and the College of Physicians and Surgeons of Newfoundland and Labrador (CPSNL).
It states on the OET website that the CPSBC will accept OET results from all kinds of test format, which include OET Paper-based, OET on Computer and OET at Home, and that the CPSNL will accept both OET on Paper and OET Computer tests conducted at test venues. On the CPSBC website, it says that a minimum of B grade (350 marks out of 500) is required for each of the four sub-tests in order to be accepted but no data is yet given by CPSNL. The minimum of a grade B is a common criterion among organisations that accept OET results. Although not yet known, it is most likely that B grades in Reading, Listening, Writing and Speaking would be needed in one sitting as is the case for doctors in countries such as the UK and the USA. OET test would be valid for 2 years.
OET will be a welcome choice for International Medical Graduates (IMGs), who previously had to choose between the IELTS and CELPIP testing systems. IELTS is notoriously difficult, particularly for the reading and writing sections, and OET is considered a better option for IMGs as it offers a more career-specific English test.
OET is generally considered a good option for IMGs and employers as it ensures that the candidates' English skills are strong when set within a realistic medical context. As such, this development is positive for both IMGs and the Canadian healthcare system.
There is no update on acceptance of OET for nurses in Canada yet, but we hope the official would be working hard to secure recognition for nurses as well.
Benchmark OET offers plenty of popular training packages for OET ranging from a week to several months. Find out everything about OET score calculator here.