Venue: Adelaide, South Australia
It was a rather simple nursing letter with no real complexity. Purpose and diagnosis were clear and discharge plan was easy to write. The scenario required writing a letter to a community nurse issues in addition to having some health concerns.

Below are some of the case notes reproduced from our students' memory. These may not be complete but fully capture the essence of what OET Writing section was about on 6th April exam in Adelaide, Australia.

You can use Benchmark Writing Correction Service to get your letter corrected for mistakes and OET writing tips.
You are a nurse in a hospital.
Name: Mark Johns
Age: 45 years
Gender: Male
Diagnosis: Subarachnoid Hemorrhage
Admitted to Emergency Department
Family History
• Married
• 2 children
• Works on a farm
• Wife full time teacher
• Smoker
• Heavy drinker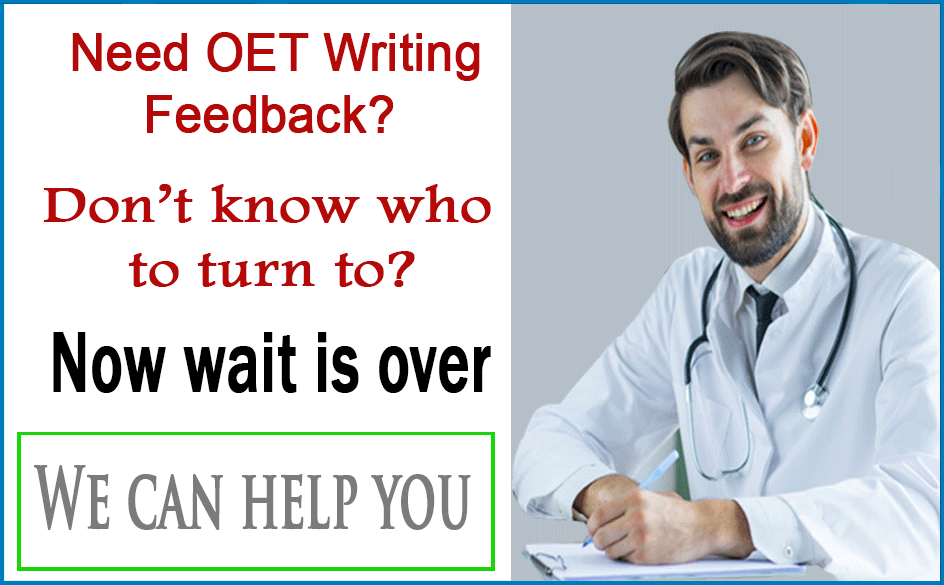 Nursing Management and Progress
• Admitted due to severe headache, nausea
• Diagnosed with hemorrhage
• Urgent surgery
• Seizures, confusion after surgery
• Anticonvulsant drugs given
• Diagnosed with alcohol withdrawal syndrome
• Stable to go home

Discharge Plan
• Require long-term anticonvulsant medicine
• Continuous monitoring for above medication
• Exercise necessary
• Cannot work for short time
• Mental health observation necessary
• Contact social work for managing work and finances
• Encourage reduce use of alcohol and cigarettes
• Referral for occupational therapy
Write a referral letter to Sarah Halls, Community Nurse requesting help for Mark Johns following his discharge.
In your answer:
• Expand on the relevant case notes into complete sentences.
  Do not use note form.
• Use letter format

The body of the letter should be approximately 180-200 words.
Need feedback on your writing – CLICK HERE