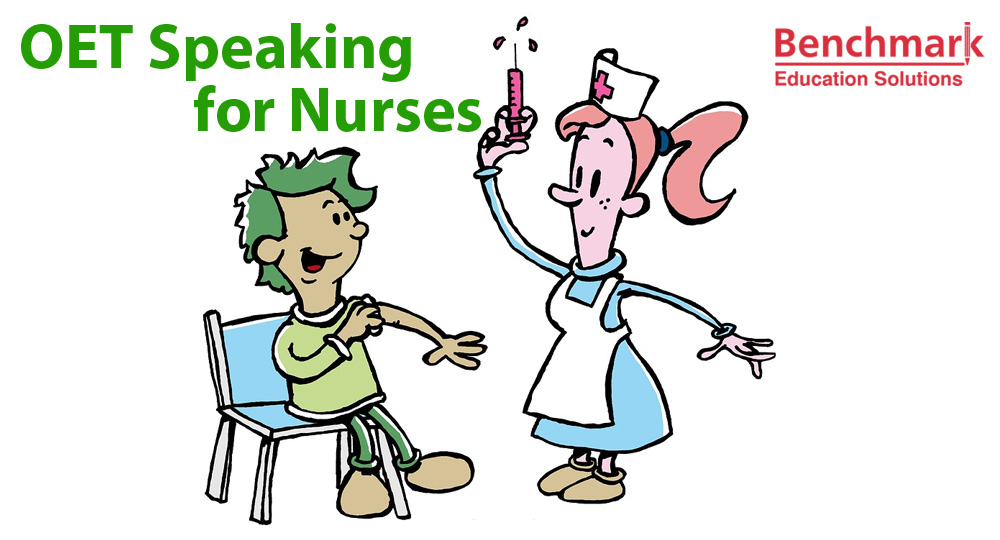 Are you a nurse who is going to take the OET test soon? Worried about the speaking component?
Concerned would-be test takers often ask whether we can predict speaking topics for the OET Speaking sub-test. The answer is no, we cannot predict the speaking topics. However, if you understand how OET Speaking works, you can prepare better for it. You can be rest assured that whatever task you are given in the speaking test, it will be reasonable and will not be beyond your capacity to handle it as a nurse.
What is an OET Role Play?
The OET Speaking sub-test requires you to participate in a role play with an examiner (called an interlocutor) who will play the role of a patient or a patient's next-of-kin. For the nursing exam, the candidate should act out the role of a nurse and deal with whatever situation is presented on the role play card.
You will be given a role play card with the situation and your task and you will have 3 minutes to prepare for it. During the actual role play, you will have to act out a conversation for about 5 minutes. The language, then, is sort of spontaneous and you are not expected to prepare mechanically for it. However, you can anticipate the sort of questions people may ask nurses or the sort of situations nurses may find themselves in because the OET is designed to simulate real-life healthcare situations. So, you can prepare some practical responses based on these. Read on.
Some Common Nursing Topics for OET
Of course, there are some common topics that can be expected to appear from time to time. Although it certainly cannot be guaranteed that any of them will arise in future, there are some fairly common patient inquiries or complaints within the nursing profession that you can reasonably expect to get as a possible situation during the speaking test. As such, perhaps these are useful to know in preparation for your own exam.
Here is a list of 15 common nursing topics:
Abdominal pain
Asthma
Baby care issues
Back pain
Blood pressure
Chicken pox
Cholesterol
Diabetes
Eczema
Injuries (lacerations and fractions)
Lifestyle issues
Medication change
Lifestyle issues
Sinus problems
Wound dressing
So how can this help you? Well, for a start, these are all common medical situations that nurses around the world deal with every day. You should feel confident then that, as a trained nurse, you will be able to deal with any of these situations in English, and therefore you should not worry about facing them during the OET speaking test.
How to Practice OET Role Plays?
In addition, you can use these situations to plan out your OET preparation. For example, you can find a friend to practice with and use these topics to guide you. One person will play the role of a patient and the other can be a nurse. Then you can discuss a topic from the list above and try to keep it as realistic as possible, which is how these will be presented in the exam. Don't discuss it too much beforehand and just let the situation unfold naturally. This will let you practice dealing with any of these situations, allowing you to feel more prepared for the real test.
It is useful to practice in this way because sometimes you may find that a part of the conversation arises that is hard to deal with. Perhaps it is a language problem (such as a word that you cannot think of at the spur of the moment in English). You can then go and look it up before you sit for the actual OET Speaking sub-test. This is very useful as it can help you find out problems that you did not know existed in your English skills.
Importance of Grammar & Vocabulary
Hopefully, as a nurse, you will already have a basic working knowledge of basic vocabulary associated with common situations, but you should also be aware of grammar and particular elements of language related to using the right tone of voice when dealing with patients. By practicing with these example topics, you can prepare better for your OET Speaking sub-test. You can even add to the list by thinking about other situations a nurse is likely to encounter on a daily basis at work. If you can think of it, chances are, a test setter could have thought of it as well.
If you still need help with practicing, you can find out more here