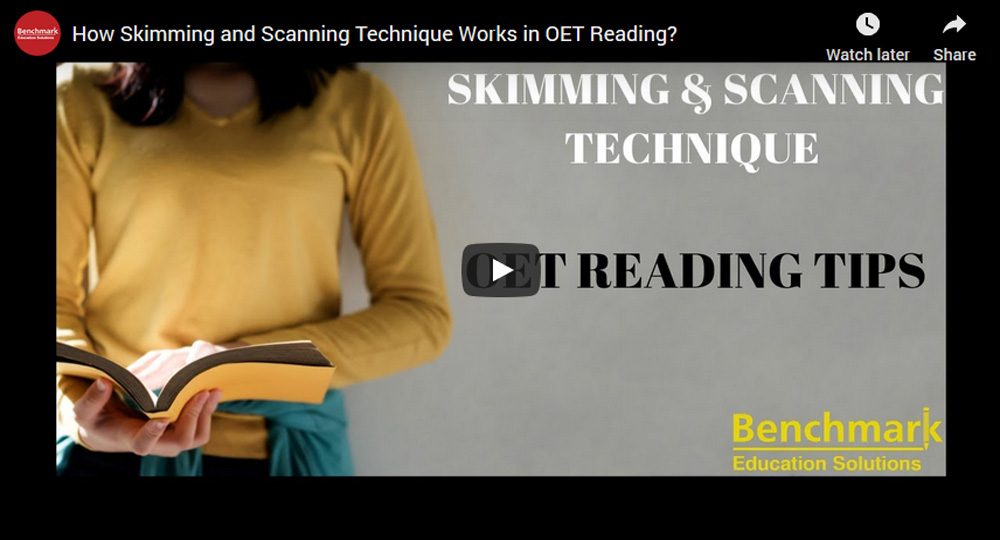 Knowing how to use skimming and scanning techniques in reading can help you when you sit for the OET Reading sub-test. In this test, there are three parts, Part A, B and C. In Part A, you will be presented with 4 short texts. Questions 1-7 are matching questions and you will need to identify which of the 4 texts contain the information identified in the question. Here are some examples of this type of question:
For each question, 1-7, decide which text (A, B, C or D) the information comes from. You may use any letter more than once. In which text can you find information about
procedures for delivering pain relief??
complications from the disease?
Etc…
You just need to identify which text (A, B, C or D)contains the information. It is a good idea to read all the questions first prior to actually reading the texts. That should give you an idea of what to look out for. When you are ready, you can skim and scan the four texts for the answer.
Skimming means reading through quickly without reading every single word. Move your eyes quickly over the page and take note of typographical features such as headings and sub-headings, bullet points, headings to tables and footnotes. This should give you a good idea of the main information contained in each text. Most of the time, you should be able to find the answers to questions 1-7 this way.
You should be able to get through questions 1-7 of Part A quickly this way and move on to questions 8-20. Bear in mind that you have 20 questions in total for Part A and just 15 minutes to complete it. Practise reading sample tests at home and you should be able to get the hang of skimming and scanning. It will save you time and help get you through the OET Reading sub-test. If you need Reading practice materials, you can click this link for some extra help.