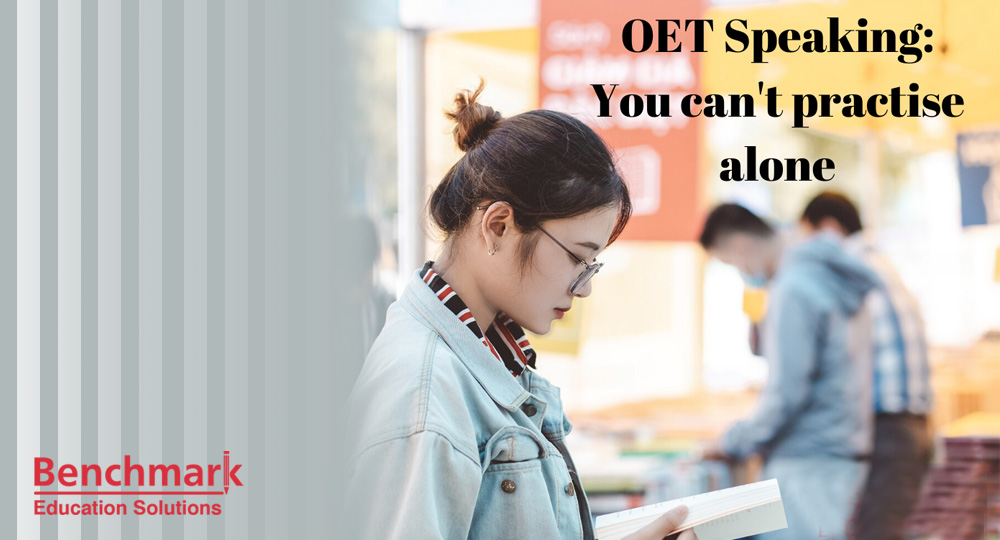 The Best Way to Practice OET Speaking
Everyone knows that the best way to improve at a language is to practice it. This is true even at the highest levels, when you already know all the basic stuff and you are trying to perfect your grammar or tone for a high-level examination.
Of course, at this stage it can be difficult to get adequate practice. You might find, for example, that your friends don't really have the skill to help you with this difficult material. They might not have the right level of expertise to give feedback on OET speaking. You may not be able to find a teacher, either, or maybe you just can't afford one.
But don't worry. There are plenty of ways to get valuable practice in preparation for your OET speaking sub-test. In this article, I'm going to talk about one of them and show you how you can use it to get the best OET speaking practice.
Why you need a Speaking Partner
Let's face it: You need a speaking partner when you are preparing for OET. Perhaps this seems obvious, but that's only because it's the best way to get better at speaking a language. It's much easier when you are just doing general English practice, but you might have found it harder to get proper OET practice through this method. One problem is that you may not know anyone in your specialty that is training for OET exam. This can be a big obstacle, but it doesn't need to be.
Although have an OET expert play the role of an interlocutor is the best scenario,if you have a friend whose English is at a reasonable level, you can work fine with them. This is because you just need someone who is capable of following instructions and using basic English. Even if their side of the conversation is not perfect, you can still maintain a professional disposition and ask them all the right types of question. Remember that in this situation, it is you who needs the practice.
Of course, it is better if your partner is at a high level and can give you some feedback, but even if they can't then the practice is very valuable in terms of building your own fluency and confidence. It can also help you to anticipate strange turns in the conversation, or skills like diverting the conversation to address a task.
If you really want feedback on your performance, you can always record your conversation and then ask someone to help you. Perhaps you have someone who knows English or OET very well but who didn't have time to actually practice a role play with you. They might have time to listen to the five minute recording and then offer some advice.
In any case, all of this adds up to one important fact: With a speaking partner, you are getting essential and invaluable OET practice that will build your skill and confidence and put you in the right mind for doing the real test.
How to Find a Speaking Partner
It can seem frustrating sometimes trying to find someone who has the same goals as you. Perhaps you are a veterinarian and none of your colleagues want to do OET, but your OET friends are all studying for the OET nursing test. This can be a difficult situation because you just can't get the right sort of practice.
Well, there is hope. First of all, you can always enlist your veterinarian friends to help you. I'm sure that a few of them would be able to spare fifteen minutes to run through a couple of practice role plays with you. And it's also worthwhile asking those nursing friends to help. You could play a patient for them and they could act as your interlocutor, too. Neither of you need to be experts in the other person's field to make it work. The important thing is that you can follow a role play card and chat fluently for a while to allow the person being the nurse or vet to get the necessary practice.
If you really can't do this, then you should look online. The internet has brought us all together so that you can find people in other countries who might be willing to help you. Websites like Reddit and Facebook are great places to meet other people, and there are thousands of forums and chat rooms all over the web where OET candidates hang out. You can definitely meet some people there and get the chance to practice with them.
Once you have found someone who is willing to practice, you should establish a way of communicating that is convenient for you both. Skype and Zoom are useful, as are WeChat, WhatsApp, and Messenger. You should arrange what you want to happen before the date, such as agreeing upon a role play card or discussing who will play the patient first. This will help things to go smoothly and avoid any misunderstanding.
Remember that you should be a good partner as well as just getting practice for yourself. When your partner is being the doctor or nurse, you should listen carefully and offer genuinely feedback if you notice something. Perhaps they were being too serious or pronounced a word incorrectly. Any feedback like that can help guide them, and hopefully they will do the same for you.
Obviously, everyone wants to have a native speaker as a partner but it's not 100% necessary. A talented, professional person from any place can be a good speaker. If you really want the best, though, you might have to pay for it. This could be a worthwhile investment if the person is really able to give you some excellent feedback on your performance. So consider the possibility of making that investment in your future.
Conclusion
There is a saying in English: "Practice makes perfect." Indeed, if you don't get enough practice, it is very hard to improve your language skills or really make headway in your preparation for OET. You should consider the above advice seriously and put real effort into finding a speaking partner to help you get ready for your test.