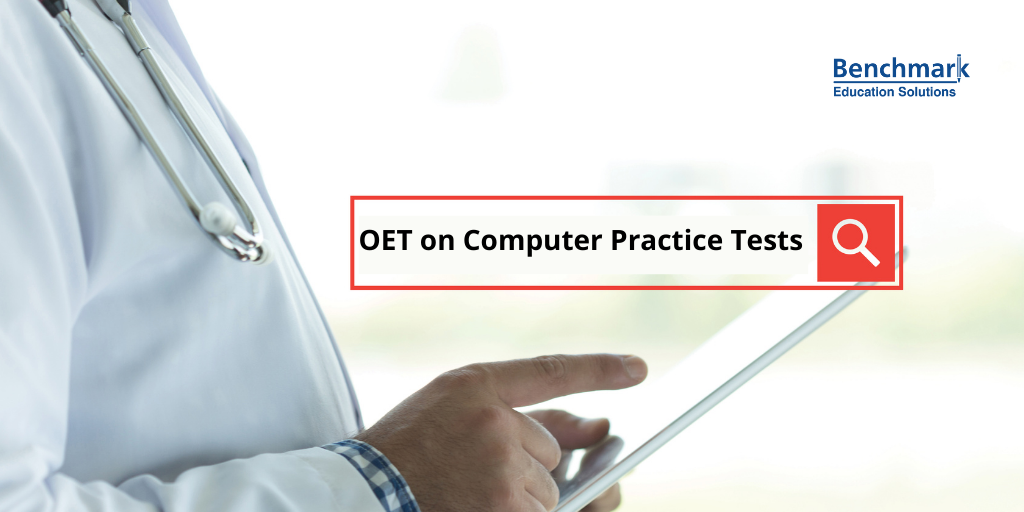 It's time! You've studied hard, learned about the computer-based OET at home or OET on Computer exam, and even gotten help online with sample role plays and OET letters. It's time to try a practice test.   Where can you find the best online sample tests?
Let's look at the availability of sample tests, both on computer and on paper, for each of the 12 OET disciplines.
1. The Official OET Website
Working through sample tests on the OET website is a great way to practice. You will find many different sample tests, and they are divided into three sections: OET on paper, OET on Computer, and OET at home.
OET on Paper
First, let's look at the tests for OET on paper.
Reading and Listening
All 12 OET medical disciplines use the same reading and listening tests. OET provides three different sample tests for reading and three for listening. Use these practice tests if you are a doctor, nurse, pharmacist, veterinarian, physical therapist, or any of the other medical disciplines.
Speaking
For the Speaking test, each discipline will have 5 different sets of practice role play cards uniquely suited to their profession. For example, dentists will have 5 cards, as will optometrists, etc.   You will see two cards in each set. One will be your card, as the OET candidate, and you will also see the card the Interlocutor would use. Use these two cards together to get an idea of how the speaking test is structured and the best way to proceed through the conversation.
Writing
Each discipline also has 4 different writing assignments on the OET website, geared specifically to their own profession. Do one, or do them all! And don't forget to take advantage of Benchmark's Writing Correction Service. Send us the sample letter you wrote, and we'll give you personalized suggestions for how to improve it.
OET on Computer and OET at home
The OET website also offers sample OET on Computer tests. Currently, you can only take these computer tests if you are in Nursing or Medicine. The other medical disciplines will be added when OET can assure the computer tests will be accepted by the registering organizations.
Reading and Listening
There are two sample OET on Computer Reading and Listening tests for Nursing, and one for Medicine. However, these two tests are the same for all the disciplines, so anyone can use them. Only the Writing portion of these sample tests is specific to Medicine or Nursing.
How Do the Online Tests Work?
When you click on the link to take a sample test on computer, you will see a pop-up window that asks you to enter your 8-character HTML keycode. The box is pre-populated with a code, so just click on the OK button to proceed. There is also an option to check the settings on your computer to make sure you can take the test successfully.   You'll also see a document that contains the answers, so you can check your work.
Writing
The Writing section is included in the computer test, but as it is specific to your profession, there isn't a computer-based writing test for disciplines other than Nursing and Medicine. You can use the sample Writing tests from OET on paper, which are geared toward individual professions.   However, anyone can try the sample letters for Medicine and Nursing. If you are a dentist, for example, you may still want to try a writing test for medicine, just to learn what writing your OET letter on a computer involves.   When you write your sample OET letter on your computer, just remember that during the actual test you will not have a spell-checking function, and you won't be able to copy text and move it around. To move a sentence during the official exam, for example, you will have to re-type it where you want it to go, then select and delete it from the old location.
Speaking
Since the Speaking portion of OET on Computer is done with an Interlocutor via Zoom, sample speaking tests are the same as the sample speaking tests for OET on Paper. You will find the same sample tests for all 12 disciplines, both speaking and writing. Click here to visit the OET website and view the sample tests.
2. Edubenchmark.com
Benchmark OET at edubenchmark.com also offers many unique sample oet tests written by our expert OET trainers and based on extensive research. Positive feedback from our students assures you that our practice tests are as close to the actual OET test as possible.
Benchmark's Listening Sample Tests
Our listening tests are brand new. The speakers you will hear are native English speakers, and the difficulty of the questions is the same as in the actual OET exam. During practice, you can listen to the audio as many times as you like, since we understand that the listening test can be quite challenging. Just remember that in the actual test, you will only be able to hear the audio once. Click here to learn more about Benchmark's listening practice tests.
Benchmark's Reading Sample Tests
Our 20 sample reading tests are more than adequately challenging, and suitable for both first-time test takers and those who have taken the test before. All the tests are timed and simulate the true OET exam experience. We also have an online video course that includes tips on how to approach the various types of questions you will find in Reading parts A, B, and C. This online course includes extra features such as vocabulary exercises and a downloadable reading ebook. Click here to learn more about Benchmark's reading practice tests.
Benchmark's Writing Correction Service
Writing is a skill, not a talent, so you can definitely improve with practice and preparation! Our professional writing evaluation team has read thousands of OET referral, transfer, discharge and emergency letters for nurses, doctors, and pharmacists. We know what material the OET examiners look for in your letter. We can show you where you've done a great job, and where you need to improve, so you can study smarter, not harder. Click here to learn more about Benchmark's Writing Correction Service.
Benchmark's OET Speaking Mock Test
Our professional speaking evaluation team has a strong record of organizing hundreds of classroom OET speaking interviews, acting as interlocutors to give you reliable, personalized feedback. Nurses, doctors, and pharmacists can all improve OET speaking with practice, guidance, preparation and reliable evaluation. Click here to learn more about Benchmark's OET Speaking Mock Test.
Take the Tests As Many Times As You Like
One great feature of our tests is that you can take the same test as many times as you like, within the time frame of the package you purchase. The answers, as well as detailed explanations, are included. This is extremely helpful to you as you identify areas of weakness, to help you target specific areas of improvement and maximize your study time.
3. Other Online Tests
You will find other sample test materials online for both OET on Computer and OET on paper. However, you need to be careful that they are up-to-date and reflect any current changes OET has made to their tests. Watch for these things:
See if the format of the sample test is different than the format of the actual OET exam. Though the sample questions may help you, it's best to take sample tests that simulate the actual testing environment. This way, you'll feel less confused by the practice test, and more comfortable with the actual structure of the exam on test day.
You will also want to be sure that the English used in the sample tests is grammatically accurate and reflects the way native speakers actually use the language.
Make sure that any grading or scoring of your sample test is done using actual OET scoring criteria.
Sample tests can help you learn your strengths and weaknesses
Taking a sample test, either computer-based OET or paper-based OET, can be a great way to discover the areas you need to work on most. Then, you can spend your study time improving the skills you are weak in, so you can achieve the OET score you need. Knowing that you've improved your weak areas will give you more confidence as you take the OET exam for the first, or maybe the second, time. Stay calm and trust in all the hard work you have put in, and you will do
well!