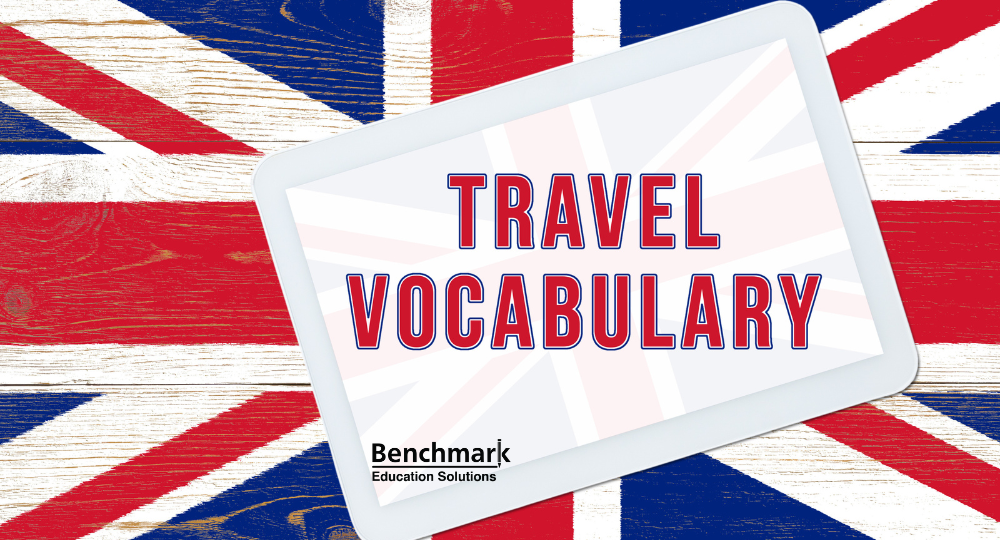 Questions about travel and tourist destinations are extremely common on the IELTS examination. This page contains essential words and phrases that will help you answer questions on the topic of IELTS travel vocabulary. There are exercises for you to IELTS practice with real questions.
1. Travel Vocabulary
Attraction – A place that entices visitors because it is interesting
Backpacking – To travel, often to more than one destination, with your belongings in a backpack
Camping – A holiday spent in a tent or camper van
Cruise – A sea-based trip taking a pre-planned route that involves visiting several ports
Excursion – A short trip usually taken whilst on holiday
Flights – Journeys that are taken through the air on an aeroplane or helicopter
Footfall – The number of people who enter an area/shop
Frugal – To be economical and sparing with money
Heritage – Objects and characteristics that are valued because of their cultural or historical significance
Holiday/Vacation – An extended period of recreation/leisure spent away from home
Homeland – The country you were born/brought up in
Hostel – Similar to a hotel but cheaper and often caters for young people, travellers, and students rather than the typical tourist
Hotel – An establishment that provides rooms and food to paying guests
Itinerary – A detailed plan of a route or journey. It usually includes times, dates, prices etc…
Luggage – The collective name for the suitcases/bags that you take on a trip
Luxurious – Of high quality
Safari – A type of holiday/trip to observe or hunt animals. Most common in Africa.
Seasonal – Only occurring at certain times of the year
Scenery – The natural features of a landscape
Sightseeing – The act of visiting different attractions or sights
Souvenir – Something you keep as a reminder of a place
Storey/Floor – A part of a building with all the rooms are on one level
Suitcase – A case with a handle used for carrying clothes or possessions on a trip
To travel by… / OR – on a plane/bus/boat/train/bike/the metro – To move from one place to another in a car/taxi
Traditional/Quaint – Old-fashioned and attractive
Travel agent/agency – The person who helps reserve you a holiday/The place where you reserve the holiday
Travel arrangements – The plans/preparations that go into making a trip/journey
2. General Travel Vocabulary Activity
Read Full Answer
Have you done much travelling?
Yes, I have done a decent amount of travelling. During my childhood, we generally went on cruises because my parents love the sea and they wanted to go to more than one destination during the same trip. When I was 21, I went backpacking around Central America for three months. I had to be quite frugal because I didn't have much money but staying in shared rooms in hostels rather than hotels made it affordable. It was definitely not as luxurious as being on a cruise ship because you have to carry your entire luggage around when you move from city to city. However, the scenery I saw when I went to the volcanoes in Nicaragua and Guatemala made up for the lack of comfort because it was so dramatic.
3. Travel Idioms, Phrasal Verbs, and Collocations
There are many collocations, idioms and phrasal verbs used to discuss travel and destinations. Using them correctly will make your answers sound completer and more natural. Here are some common words and phrases that you can use in the IELTS examination, followed by exercises for you to practice using the words in context.
Affordable destinations – Places that are within a person's financial means. Not expensive/luxury
Affordable travel – Trips that are within a person's financial means
All-inclusive – A trip where all food, drink, and accommodation are provided
Around the world – A large proportion of the world. Many destinations/continents.
Bed and breakfast – A type of accommodation that provides a room and breakfast
Breathtaking view – A view that is extremely beautiful or amazing
Bucket list – The places you want to visit and things you want to do in your lifetime
Get around – To move from place to place
Get away – To go on holiday/vacation/ (n) The holiday/vacation itself
Guided tour – Part of a trip where tourists are taken from place to place and given information by a guide
Head for/towards – To go in a certain direction or the direction of a specific place
Holiday destination – Place where people go on holiday/vacation
Itchy feet/Wanderlust – The desire to travel
Long haul/Short-haul destination – A destination far away from your home/ close to your home
Long haul/Short-haul flight- A flight that takes 6 + hours / A flight that takes -3 hours
Middle of nowhere – A place that is remote and far from civilisation
Off the beaten track – Away from where the tourists normally go
Out of season – The part of the year when it is not very busy
Package holiday – A holiday where the flight and accommodation, and often food, are included
Peak season – The busiest time of the year. For example, school holidays and Christmas
Swarming with tourists – Lots of tourists in a particular place
Tour guide – The person who leads guided tours to visit attractions and sights
Tourist trap – A place that attracts and exploits tourists
Travelling light – To go on a trip with little bags or luggage
When in Rome (do as the Romans do) – When you go to a place you should follow the customs/rules of the local people
4. Travel Idioms, Phrasal Verbs, and Collocations Activity
Read Full Answer
What do you like to do when you visit new places?
When I visit new places I like to spend as much time off the beaten track as possible because I don't like places that are swarming with tourists. When I do actually manage to get away from my job here at home, I like to go on my own to the countryside and go camping in places that have breathtaking views and scenery. I travel light because I just take a small rucksack with enough clothes and food for a few days. While I am there I enjoy just heading for a random point on the map in the middle of nowhere and seeing what I find. The spontaneity of it all satisfies my wanderlust.
What is the best season to travel to your country?
I would say that the best time to travel to my country, the UK, is in peak season, which is the summer months. You will definitely find a more affordable trip during the off-peak winter and autumn months, but there are less attractions and the weather is much worse. During the summer it is much easier to get around on trains and buses because there is no risk of snow causing delays. You should also be warned that some parts of London in summer are a bit of a tourist trap and it can feel like everyone is trying to get you to spend extortionate amounts of money!
For more practice, Visit IELTS vocabulary for Transportation.