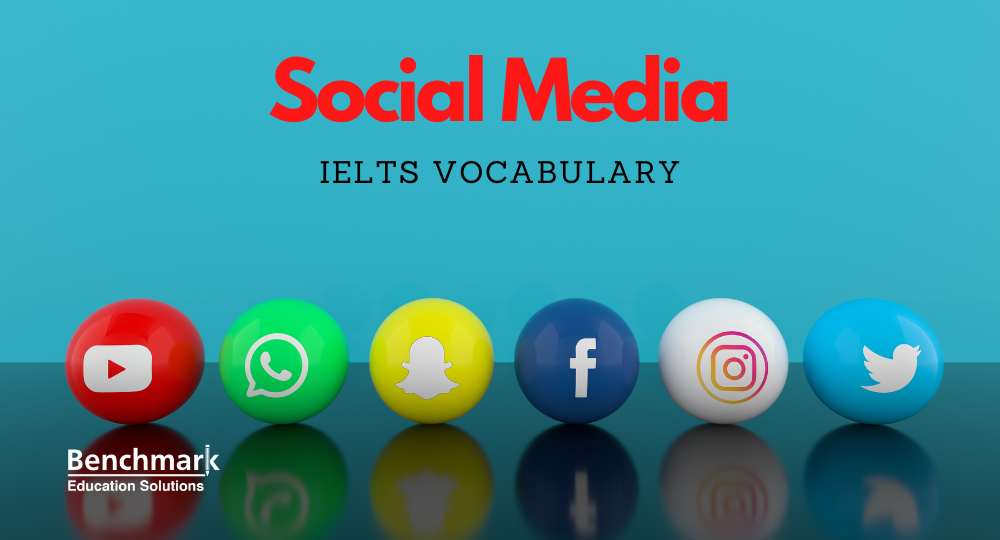 Social media has become a part of everyday life for entertainment, news, business, and much more. Therefore it is understandable that IELTS questions on social media are quite common. You must be aware of the different words and phrases used to discuss the use and impacts of social media. This page contains words and phrases that will help you provide more professional-sounding answers in the IELTS exam. There are activities for you to IELTS practice with real questions.
1. General Social Media Vocabulary
Blog – A regularly updated page or website that is usually managed by one person or a small group
Clickbait – Internet content where the main intention is to draw attention and persuade users to click on a link to a particular webpage
Crowdfunding – Funding projects by using lots of small donations from internet users
Cyberbullying – Using the internet to send threatening or intimidating messages
Data Privacy – How private your user data is kept
Ecommerce – Businesses and transactions operating on the internet
Hacker – A person who gains unauthorised access to information/accounts online
Influencer – A person who influences consumers online by promoting or discussing products/services
Meme – An illustration/photo or text that is intended to spread jokes/amusing ideas
Phishing – Sending fraudulent emails to entice people into providing personal information or money
Premium Content – Internet content that must be subscribed to and paid for
Sensationalism – Exaggerated news that is designed to get people's attention by shocking them
Streaming – The live continuous transmission of video/audio content
To block – To prevent someone from using or seeing a particular account or service online
To browse – To view different web pages on the internet
To follow – To subscribe to the page of a person or organisation on a social media platform
To scroll – To move up and down on a screen
To swipe – To move from left to right on a screen
Trending – Something that has become extremely popular online
Troll – A person who deliberately offends or upsets other people online
Tweet(v) – To make a post on the social media site Twitter / (n) A Twitter post
Viral – A story or post that has become extremely popular online
2. General Social Media Vocabulary Activity
Read Full Answer
Do you use social networking sites?
Yes, I regularly use Facebook and Twitter to keep up with what is trending in the news and media. In the evenings, I often spend hours just scrolling up and down Twitter reading tweets from the people I follow and looking at funny memes that people post. I don't believe everything I read on social media because I think on many occasions posts use sensationalism to produce clickbait that is designed to shock and outrage. If I see something too controversial I tend to block the person or company that posted it, so I don't have to see that kind of content.
3. Social Media Idioms, Phrasal Verbs, and Collocations
Using idioms, collocations, and phrasal verbs correctly when discussing social media will make your answers sound more professional and concise. This page contains some of the most common words and phrases that you can use to enrich your IELTS answers on social media. There is an activity for you to practice using the words with real IELTS questions.
Add a friend – To give access to your profile to a person a Facebook and gain access to their profile
Alternative media – Media content that is generally independent and non-mainstream
Come across – To find something by accident
Get hooked on – To become addicted to something
Internet/Online safety – The process of staying safe from fraud, exploitation, or other malicious acts online
Jump on the bandwagon – To like something because it is popular with other people
Killing time – To engage in an activity aimed at wasting or passing time
Log on/Log in – To go through the process of entering a computer system/program/website
See eye to eye – To agree or have similar attitudes or views
Send an attachment – To send a file/document/photo with an email
Spread the word – To communicate information/messages to lots of people
Take by storm – To become highly successful very quickly
Take off – To become successful
To crash – To suddenly stop working
Unfriend – To remove the access someone has to your Facebook and delete your access to their profile
Update your status – Post new information about your current state/situation on a social media site
Virtual friends – Friends that have only met online and not in-person
4. Social Media Idioms, Phrasal Verbs, and Collocations Activity
Read Full Answer
What are the advantages and disadvantages of social media?
I think that one of the main advantages is that it allows people to kill time when they have nothing else to do and allows them to make virtual friends, regardless of their geographical location. Another advantage is that for businesses, it is much easier to spread the word about your products and services to large numbers of people at a low cost. In terms of disadvantages, I think the main one is the issue of online safety and how to protect people from coming across unsuitable or explicit content. There is also the problem of young people becoming hooked on social media and spending their entire day chatting to friends rather than doing something more productive.
What frustrates you the most about social media?
I think that the most frustrating part of social media is the trolls, who are intent on causing offence to others. Even though I am aware not everyone sees eye to eye on every topic, some people are capable of rational debate, whereas others are just intent on cyberbullying anyone and everyone they come across. Another thing that frustrates me is the fake news that is pushed by alternative media sites. Most often they just jump on the bandwagon of whatever controversial story happens to be in the news and then twist it to suit the narrative of their supporters.
Visit here to learn more IELTS vocabulary for Population.