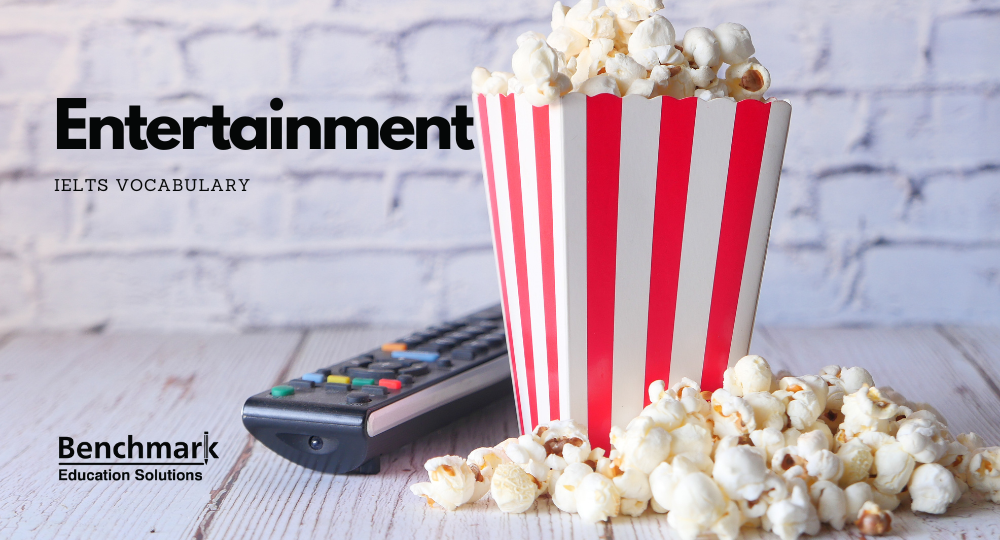 Questions about different types of entertainment such as films, TV, and music are common on the IELTS exam. It is important you can discuss the ways in which you or other people entertain themselves. This page contains words and phrases that will help you make your answers sound more advanced and complete. There are some practice activities for you to IELTS practice using the words with some real questions.
1. General Entertainment Vocabulary and Music/Film/Book Genres
A gig/show – A performance by musicians or comedians
A musical – A film or theatre production in which dancing and singing play an integral part
A play – A theatre production/performance
Absorbing – Something that is extremely interesting and captivating
Audience – The people watching a particular show/event
Background music – Music that is played as an unassuming compliment to another activity. For example, music that is played in restaurants, elevators, shopping centres etc…
Band / Group – A group of people that join together to play or perform music
Cinema/Movies/Pictures/Flicks – The place where people go to watch films with a public audience
Classical – A musical genre that uses traditional instruments and follows established principles and convention
Comedy – A film/book/play designed to make people laugh
Director – The person in charge of actors and crew during film or theatre productions
Drama – A genre that involves stories containing conflict and emotions
Dubbed – When a film/TV show has different audio from the original and in a different language
Electronic – A musical genre that involves the electronic production and processing of sounds
Folk – The traditional music of a country or region / A genre using traditional acoustic instruments that experienced a revival in the 1960s
Genres – Categories of either film, literature, plays, or music that are similar in style/composition
Heavy metal – A musical genre of highly amplified harsh-sounding rock music
Hip Hop/Rap – The cultural movement associated with rap music / A musical genre where the words are spoken rather than sung
Horror – A genre that is designed to scare or shock the audience
Jazz – A musical genre associated with improvisation and brass instruments
Lyrics – The words of a song
Melody – A satisfying sequence of musical notes
Mystery – A genre that tells stories that are puzzling or confusing. They are very often crime stories
Orchestra – A group of people playing classical instruments
Overrated – To have a higher prestige or opinion that is deserved
Plot – The sequence of events in a play/film/book
Posthumous – Occurring or being released after the death of the originator
Record label – A company that produces, records, and sells music
Reggae – A musical genre that started in Jamaica and which is influenced by Rastafarian ideas
Rock – A popular musical genre that typically involves guitar, bass, drums and a vocalist
Star – A famous person
Streaming platforms – A TV-based entertainment source that broadcasts movies/TV shows/events to paying subscribers
Subtitles – The text that appears at the bottom of the screen to translate the audio into different languages
Thriller – A genre of film/book/play that aims to excite the audience
To binge-watch – To watch several episodes of a TV show in quick succession
To chill – To relax
To improvise – To create or perform drama or music spontaneously
Venue – The place where an event takes place
2. General Entertainment Vocabulary Activity
Read Full Answer
Are foreign films popular in your country?
Yes, foreign films are extremely popular in my country mainly because of the growth of streaming platforms like Amazon and Netflix, which show films from abroad. I think that fewer people go to the flicks these days, which has also meant that they watch more foreign films. People enjoy them so much because they like to see stars that they recognise or watch films from well-renowned directors, whose films they have seen before. I personally enjoy watching them as long as they have subtitles. I feel it is difficult to understand the plot when they are dubbed into a different language because you can't hear the original voice of the actors.
Do you think older and younger generations prefer different kinds of music
Yes, I think that in general, people tend to prefer the genre they listened to when they were in their late teens or early twenties. For example, my parents listen to a lot of folk from the 60s like Janis Joplin or Bob Dylan, or they listen to rock acts such as Led Zeppelin or Jimi Hendrix. I think that the days of the traditional rock band are over. The people I know from my generation prefer to listen to more modern genres like rap because they enjoy the poetic qualities of the lyrics and how they rhyme. Electronic is also popular with youngsters because that is what they hear and dance to in nightclubs. The advancement of technology has also meant that this type of music can be made easily on a computer in someone's bedroom.
3. Entertainment Idioms, Phrasal Verbs, and Collocations
Using idioms and phrasal verbs correctly on the IELTS test will make your answers sound more advanced and natural. Here are some essential words and phrases you can use to enrich your answers on the topic of entertainment. There is also an activity for you to practice using the words in context.
A cliff-hanger – An ending that leaves the audience guessing or in suspense
A crowd-pleaser – A thing or person that holds substantial popular appeal
A popcorn movie – A film that is entertaining and easy to watch but with low artistic merit
A sell-out – A person who betrays their original cause/integrity to gain popular appeal
Be into something – To have a general interest in something, for example, a musical genre, the films of a specific director etc…
Couch potato – A person who spends lots of time on the sofa watching TV
Critical acclaim – Very good reviews from critics
Gave me food for thought – Something that makes you think
Get into something – To become interested in a specific book/film/play/TV show
Go downhill – To gradually get worse
Heart-warming – Something that creates happiness, sympathy, or an emotional reward
Hit the big time – To become famous
Hit the headlines – To be focused on in the press/media
In the limelight – To receive a lot of attention from the press/media
Music to my ears – Something that is pleasant or gratifying to hear
On the edge of your seat – In a state of excitement
Play by ear – Proceed instinctively or spontaneously according to what happens rather than following a plan
Put something on – To make something start on a device such as a TV, CD player etc…
Show stopper – A performance that receives long and enthusiastic applause from the audience
Star-studded – Containing lots of famous people
Steal the show – Attract the highest amount of praise and attention
Take up – To start something such as a musical instrument or hobby
To be tone-deaf – Someone that is not sensitive to differences in musical pitch
4. Entertainment Idioms, Phrasal Verbs, and Collocations Activity
Read Full Answer
Describe an interesting animal you have seen
Even though she wasn't the headline act, she completely stole the show and got the biggest applause of the night.
2. I really dislike it when bands have a little bit of success and then sell out by releasing songs that are just designed to sell as many records as possible.
3. When I go out I don't like to plan things too rigidly, I would rather play it by ear and see what happens.
4. I think that many musicians should give up and retire before their musical output starts going downhill.
5. Some famous people do not like the attention that comes with being in the limelight.
6. If I go to the cinema with my kids, we tend to see popcorn movies because they are too young to understand anything deep.
7. I find it incredibly difficult to get into books. I usually read 20 pages, get bored, and then end up turning the TV on.
8. The thing I enjoy about Netflix series is that they always have cliff-hanger endings that keep you on the edge of your seat and wanting more.
For more practice, Visit IELTS vocabulary for Animals.