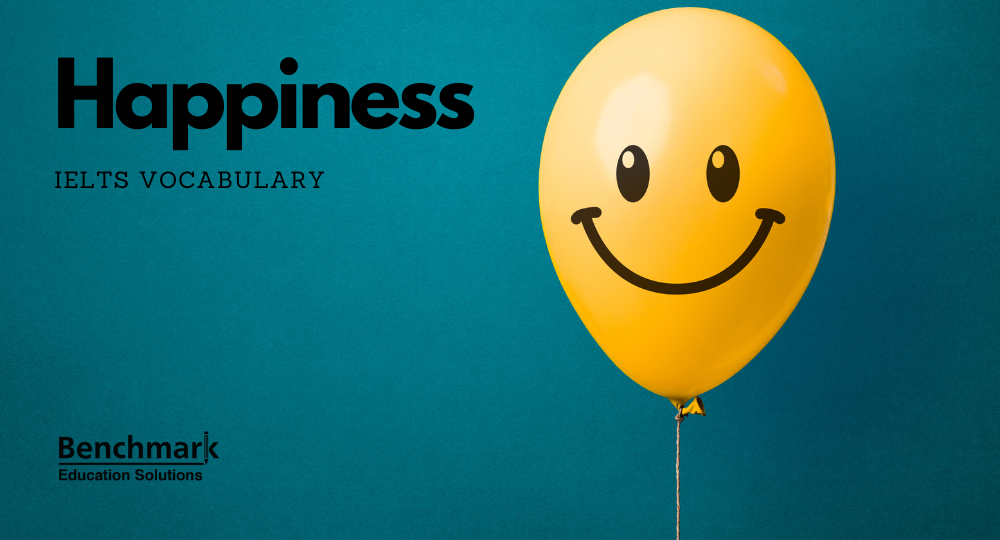 Questions about feelings and happiness are common in the IELTS examinations and you are often asked what type of activities or situations make you feel happy. If you are able to use a more diverse and comprehensive of words to describe your feelings your answers will sound more advanced and concise. This page contains useful words and phrases that will make your answers sound more natural. There are also activities for you to IELTS practice with some real questions.
1. General Happiness Vocabulary
Amused – To find something entertaining or funny
Content/Satisfied – In a state of peaceful happiness
Delighted – To feel a high amount of pleasure
Depend on/Rely on – To need something or someone for help or support
Ecstatic/Elated/Euphoric – To feel overwhelming happiness or excitement
Exuberant – Filled with energy or excitement
Free time/Spare time – The time a person has available to engage in recreational activities
Jolly – Happy and cheerful
Jubilant – To feel great happiness or triumph, often after a victory or success of some kind
Loved ones – The people close to you. I.e. family and close friends
Mental well-being – The state in which an individual copes or manages the stresses of life
Optimistic/Pessimistic – Someone who always has a positive/negative outlook
Satisfaction – The fulfilment of wishes, hopes, needs, or expectations
Serene – Calm and peaceful
To adore – To really enjoy or love something
To loathe – To hate something intensely
To tackle – To deal with a problem or task
Workload – The among of work a person performs in their job/life
2. General Happiness Vocabulary Activity
Read Full Answer
What are some of the things that make you happy?
There is nothing that I adore more than spending time with my wife and children.  I have quite a heavy workload from my job, which involves me travelling a lot. So, when I do eventually get spare time, which is rare, I like to spend as much of it as possible with them. The specific activity we engage in is not so important to me, as long as I am with my loved ones, I am content.  Generally, I am quite an optimistic person and I always try to look on the bright side of things. However, with all the stress of my job I rely on that valuable time with them for my mental well-being
3. Happiness Idioms, Phrasal Verbs, and Collocations
A fool's paradise – A false state of happiness in which a person is either unaware of problems or chooses to ignore them
A state of bliss – To be in a state of complete happiness or joy
Choke up – To be unable to speak because of feelings of sadness and the urge to cry
Circle of friends – A group of friends
Down in the dumps – To feel very sad or disappointed
Financial burden – A responsibility related to paying money
Fly off the handle – To lose one's temper and become angry
Grinning from ear to ear – To have an extremely big smile
Happy-go-lucky – Cheerful and unconcerned about the future
Hot under the collar – To become embarrassed or angry
In stitches – Laughing uncontrollably
Jumping for joy – To be extremely happy
Lash out – To respond aggressively to someone
Let off some steam – To do something that helps you get rid of strong feelings of energy, stress, or tension
Light up – When a person's face suddenly looks happy and joyful
Look forward to – To be enthusiastic about a future event
Mental breakdown – A period of intense mental stress that impairs a person's function
On cloud nine – To be extremely happy
On top of the world – To be extremely happy
Part and parcel – A necessary and basic part of something
Settle down – To start a steady and stable life with a job, house, and family
To lose it – To become extremely angry and lose one's temper
Walking on air – To be extremely happy
4. Happiness Idioms, Phrasal Verbs, and Collocations Activity
Read Full Answer
Do you think money leads to happiness?
I think in some respects it can make people a little more happy-go-lucky becuase worry less about their financial future. However, I think that stress is part and parcel of life, regardless of whether you are wealthy or not. There are plenty of rich people who are miserable or experience mental breakdowns, even though they have lots of money. One positive factor concerning money is that it offers you a wider choice of recreational activities to engage in when you want to let off steam and destress. On the whole though, when a person has an excess of money, it leaves them with little or nothing to look forward to or aim for in the future.
What do you think will make you happy when you are retired?
When I retire I believe that the things that will make me happy are my family and my circle of friends, whom I value very much. I hope by that age I will have settled down, which doesn't necessarily mean getting married, but I want to own a nice property in the countryside, with no additional financial burden, except for food and living costs. I would feel like I was on cloud nine if I woke up every day to hear the beautiful sound of nature. Being able to let off steam every day by walking or cycling would put me in a pure state of bliss!
For more practice, Visit IELTS vocabulary for Communication.