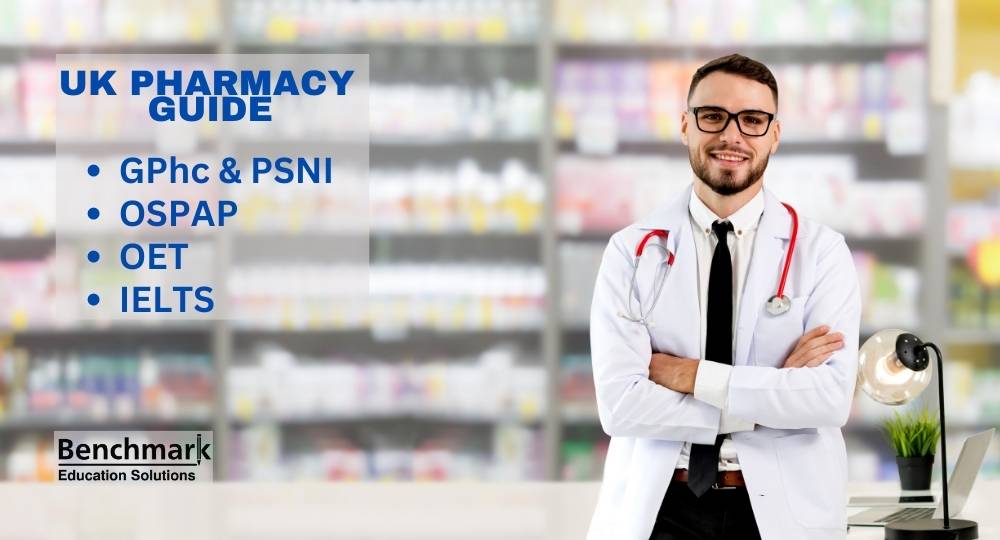 UK Pharmacy Licensing & Migration Guide
The United Kingdom has been known for excellent medical system and attracts thousands of overseas medical professions from across the world. Recently, there has been significant migration of pharmacy specialists relocating to the UK for study and work purposes.
This article will be focusing on foreign trained pharmacists who desire to move to the UK using the Pharmacy OET (English Proficiency Test).
1. GPhC & PSNI
The General Pharmaceutical Council (GPhC) is an independent regulating body for pharmacists, pharmacy technicians and pharmacies in England, Scotland and Wales and is in charge of registering every pharmacist including pharmacists from overseas.
It's important to note that the Pharmaceutical Society for Northern Ireland (PSNI) is the council that oversees the regulation of pharmacists in Northern Ireland exclusively and so pharmacists who intend to relocate to Northern Ireland would have to follow their own guidelines.
All protocols and requirements are developed by GPhC and the route to follow is called the Overseas- Qualified Pharmacist Route.
2. Overseas-Qualified Pharmacist Route
According to the GPhC, registration with the council to enable practicing pharmacy in the UK would involve:
2.1. Completion of an Overseas Pharmacists' Assessment Programme (OSPAP)
This is a course offered by some universities in the UK accredited by GPhC which involves intensive training from 9 months to 1 year (depending on the institution) in order to prepare them for internship and consequently practice.
Application for OSPAP is NOT organized by the GPhC and therefore is the sole responsibility of the applicant to secure a slot to an accredited university. It is advisable to do this before applying to the GPhC because the feedback is important in applying for eligibility for OSPAP course.
The OSPAP application fee is £687 takes a duration of eight (8) weeks. It's good to note that all documents are sent as hard copies and should be done via a courier service.
2.2. Foundation Program
A 52-week internship/foundation programme which can be done in England, Wales or Scotland and signed as satisfactory by the supervisor.
2.3. A GPhC registration assessment with a pass result.
Completing all of these (in this particular order) does not guarantee the pharmacists entry to the UK or a job after registration with the council. Such pharmacist still has to apply for visa and search for job vacancies. Also, applications for training is done through Oriel
3. Eligibility To Apply for OSPAP Course
The General Pharmaceutical Council assess every overseas-qualified pharmacist who wishes to register and work in the UK if they are eligible to take the OSPAP course. This requires an application form to be submitted which includes questions about one's qualifications, work experience in home country, fitness to practice and proof of English Proficiency must to be attached.
As stated earlier, the applicant has to have recent update from the prospective university as regarding available opening for the OSPAP course before applying for assessment for eligibility for OSPAP by the GPhC. The list of accredited universities are shown here.
Currently, accredited universities have stopped offering admissions for the programme in 2023 and 2024 due to unprecedent and high demand of applications from 2021 so it is not likely to obtain a place for study.
4. English Proficiency
Proof of English Proficiency accepted by the GPhC includes:
4.1. The Pharmacy Occupational English Test (OET)
The OET is an English Language Test which is specific for professionals in health care systems as it tests using real life communication scenarios in health care settings.
One of the benefits of using pharmacy OET is that the tasks given mimic everyday work scenarios encountered by the pharmacists in their workplace. For instance, in OET speaking subtest, candidates are given a role play similar to a consultation with a pharmacy customer.
Also, the test is available both on paper format, known as OET on Paper, and online format, known as OET on Computer.
Pharmacists taking this test would be required to score at least a B in each of the four sections: Reading, Writing, Listening and Speaking in English in a sitting of the test, to meet the level of English language ability required.
The recent guidelines on the evidence of English Language skills say that a pharmacy OET score that is more that 2 years old may be accepted if proof can be shown that the candidate's English competency was maintained during the time.
4.2. International English Language Testing System (IELTS Academic)
The council also accepts recent proof of English proficiency via the IELTS as an alternative. The individual must have at least an IELTS band score of 7.0 in each section to give an overall band of 7.0 at least in a test sitting. Validity for this test is 2 years but the above guidelines apply to it also.
Read OET vs IELTS guide to understand the difference between both the tests and understand which one is best for you.
In summary, the whole process of relocation can be expensive for one who is just starting in their resident country and so a lot of adequate planning and possible sponsorship is needed.