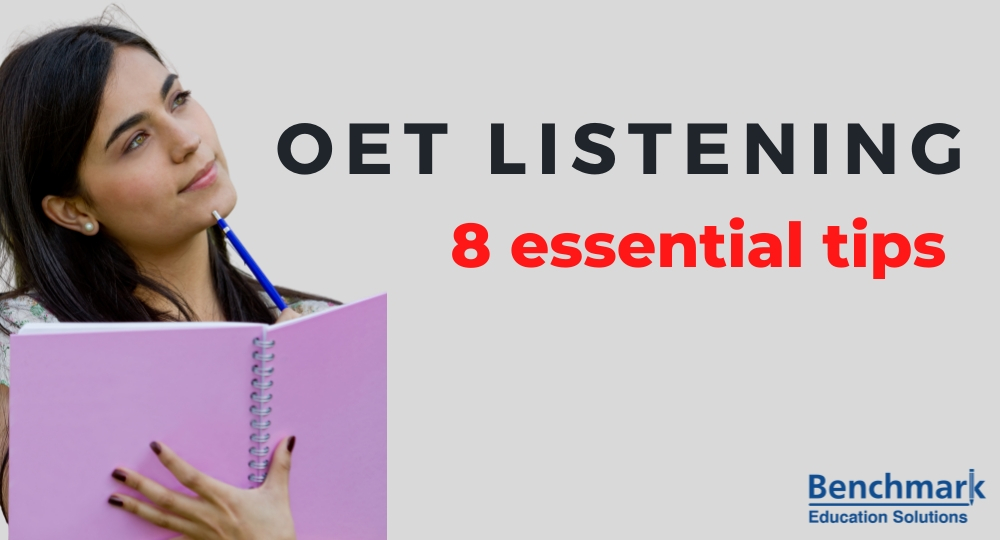 This article contains a mixture of advice about how to improve your listening skills for the OET listening paper as well as things to take into consideration about the format of the listening paper itself.
1. Get familiar with different areas of medicine or healthcare
As a nurse, doctor or perhaps another type of healthcare professional, you are very familiar with the medical topics that you deal with on a day-to-day basis. However, you may be a little rusty when it comes to other specialities. For this reason, it is recommended that you become familiar with other medical occupations and what they do. You might want to consider reading up on cardiology, oncology, ophthalmologist, as well as topics related to nursing, medicine, etc.
2. Get familiar with the format of the exam
In addition to learning more about other areas of medicine, you also need to get to know the format of the OET exam. For example, you will have time to review your answers after each section. If you are aware of this set of instructions, you can really take advantage of that during the OET listening test. Also, knowing the rules related to the test will mean that you are more focused on test day. Finally, becoming familiar with the OET test regulations, which are rules related to all parts of the test, is also recommended as they contain information about topics like accepted identifications and special arrangements.
3. Read questions before listening to the audio
If you have done sample tests or taken a look at OET listening test instructions, you have likely seen that before each part, there is some time to read through the questions. The amount of time is based on how much text you need to read. It is very important that you use this time to read the questions so that you can make predictions about what you are going to listen to as well as be ready to listen for keywords in the audio.
4. Speak up if you cannot hear
When you are at the test venue, a member of staff will do an audio check if you are taking a paper-based test or they will have you do an audio check if you are doing a computer-based test. If you cannot hear the audio well, then you need to notify the staff member or the remote proctor as soon as possible. You are not advised to try to resolve the problem yourself. If you have a documented hearing problem, you may want to ask for special arrangements. However, this must be done prior to the OET test date. For more information, you can consult the OET Test Regulations.
5. Move on with the listening
Like other listening tests, the audio of the OET listening test goes in order with the questions. That is to say that the first question about an audio will be answered early on in the audio, and the information for the last question will come near the end of the audio. It is important for you to know this so that you can move from question to question with the audio. If you get stuck on a question while listening and do not move on to the next, you are likely to miss several questions in a row.
6. Be familiar with common abbreviations
Healthcare is a profession with a lot of commonly used abbreviations, such as BP for blood pressure and A&E for accident and emergency department. It is important for you to be both familiar with these abbreviations when you hear them used in everyday conversations between doctors and nurses, but you should also be able to use them appropriately. In Part A of the OET listening test, you need to take notes about a patient, and using abbreviations in those notes will help you to avoid spelling mistakes and it will also reduce the amount of letters you need to write.
7. Decide on the format right for you
Due to recent circumstances, the OET is now offered in a new format called OET at home. This means there are now three ways to take the OET, paper-based and computer based, both of which are taken at a test venue, and then the OET at home, which is home-based and proctored remotely. While all formats of the exam have the same cost and are the same when it comes to the tasks, the system that will be used to deliver the OET at home may offer accessibility features helpful to anyone with hearing difficulties. The OET is still in the process of releasing information about OET at home. You can join our OET Course if you really want to practice OET on a computer.
8. Listen to health podcasts or videos
Listening to health podcasts or Youtube videos is an excellent way to improve your listening skills and get more familiar with a variety of topics in medicine at the same time. The greatest thing about them is there is no cost. You can subscribe to a variety of podcasts or channels on your phone and have easy access to them whenever you have a few free minutes to practice.
If you need practice test papers, you can get the Benchmark OET Listening Practice Tests here.