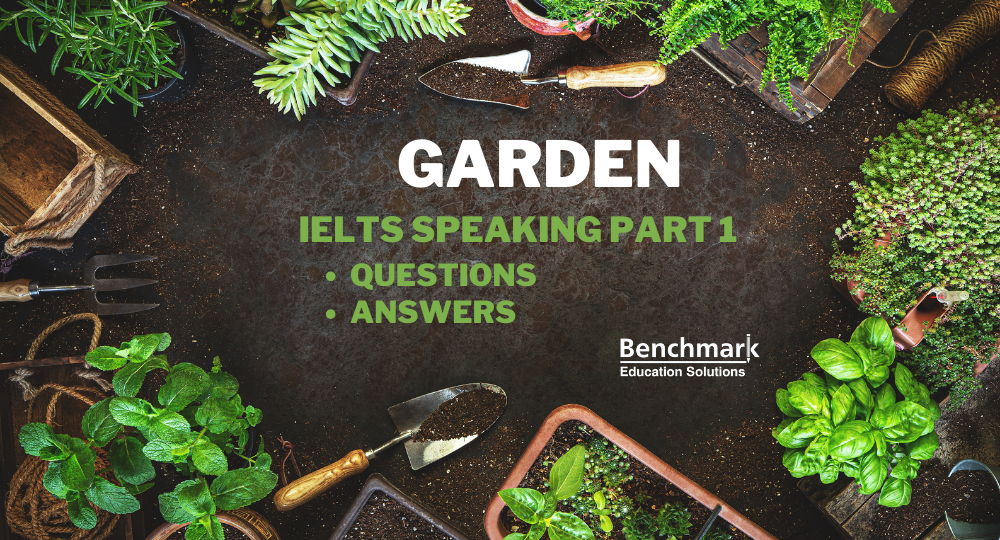 Garden is a topic that often comes up in the IELTS speaking part 1. Below you will find a list of some example questions and answers that you could encounter during part 1 of the IELTS Speaking test.
The questions below are based on the real IELTS speaking exam. They serve as a great IELTS Speaking Part 1 prediction questions to help you prepare better before your test.
Garden / Parks Speaking Part 1 – Set 1
Did you go to parks often?

These days I don't have time to go to parks because I am busy with my Dad's business, and at the gym. I should make it a point to jog at the neighborhood park once in a while though. There's nothing like fresh air to rejuvenate a man's soul!

Do you like visiting parks now?

Yes, I do, but as I said, my busy schedule doesn't give me the time to do so. And it's a shame because there's a gorgeous lake-facing park right by my home. It's possible to enjoy jet skiing at this lake too.

What do you like better, to visit a park or someone's house?

That's an unusual question. It depends on whose home I am visiting. I generally avoid nosy relatives and fair-weather friends. I do, however, like visiting my grandparents' home. They are warm, welcoming, and great fun to be around. We have jam sessions together – granddad plays the guitar, granny and I sing!
Garden / parks Vocabulary Speaking Part 1 – Set 1
Nosy– showing too much curiosity about other people's affairs
Fair-weather – refers to someone who offers help to someone, or who takes part in a particular activity, only when it is easy or pleasant for them to do so.
Other IELTS Speaking Part 1 Topics
Here are other common topics that you could come across during the IELTS Speaking Part 1 test.
Set 2
Are there public parks or gardens?

Yes, there are several small parks that are handy for walking the dog or going for a jog. We don't have many big, green spaces but the area is surrounded by beaches and mountains. The parks are used by family and dog walkers mainly.

Do you enjoy going to the park?

Yes, I use the park to do exercise classes sometimes like yoga. Other times, I run through the park or on the beach. Occasionally, in the summer a group of us will sunbathe and have a picnic – hang around and relax.
Set 2 Vocabulary
handy– convenient
a jog – a slow run
hang around – participate
Set 3
Do you like parks?

Yes, I love spending the afternoon in the park, eating a picnic or having a kick-about. In the summer, my family and I prepare a packed lunch and take blankets to the park near us and watch the world go by. It's the perfect way to spend the day.

Do you prefer to visit a park or a garden? Why?

Overall, I prefer visiting a park because it's a lot more spacious and of course it is free for everybody. Visiting a garden is more formal, having said that I do enjoy it if there's a special event or a fair.
Set 3 Vocabulary
watch the world go by – with a small amount of money
a fair – an area with market stalls
Set 4
Are parks and gardens common in your country?

Yes, they are. A famous park is Havlyst Park, which is located at the birthplace of renowned painter Edvard Munch. My family and I visited it a couple of weeks ago. It was beautiful!
Set 5
Do you sometimes go to parks?

There are some beautiful parks in Paris so I often take a stroll in the park on a Sunday afternoon. It is also a great idea to take a picnic and a blanket and sit in the sun with your friends and take it easy.

Did you play in a park when you were younger?

Of course, I remember running around the park with my little brother, playing ball games and climbing trees. It was great to be outside and a good way to burn off some energy. Sometimes, we would find a playground and play there with other kids.
Set 5 Vocabulary
take it easy – relax
to burn off – to use energy
Set 6
Do you enjoy going to parks?

I do. There are many parks around where I live. I find them to be quite peaceful. After working inside a building and utilising all kinds of man-made equipment, it's nice to reconnect with nature.
Set 7
Do you like parks or gardens?

I prefer gardens, if I had to choose. I unfortunately never had green fingers for gardening, but I was brought up in an area where everything is green and peaceful parks and gardens remind me of my childhood.

Are there any parks or gardens near your home?

Not exactly. There is a huge regional park very near where I live, a vast extension of forest, ideal to go for a stroll in the early morning or at twilight in the summer months.

Do you visit that place often?

No doubt, it is my first choice. My favourite spot is a beautiful animals cemetery, although the idea might sound a bit eerie, the atmosphere is very quiet. A promenade after breakfast is highly recommendable.
Set 7 Vocabulary
To have green fingers – to be good at gardening
Remind – cause someone to remember
Stroll – peaceful walk
Eerie – frightening
Promenade – a stroll