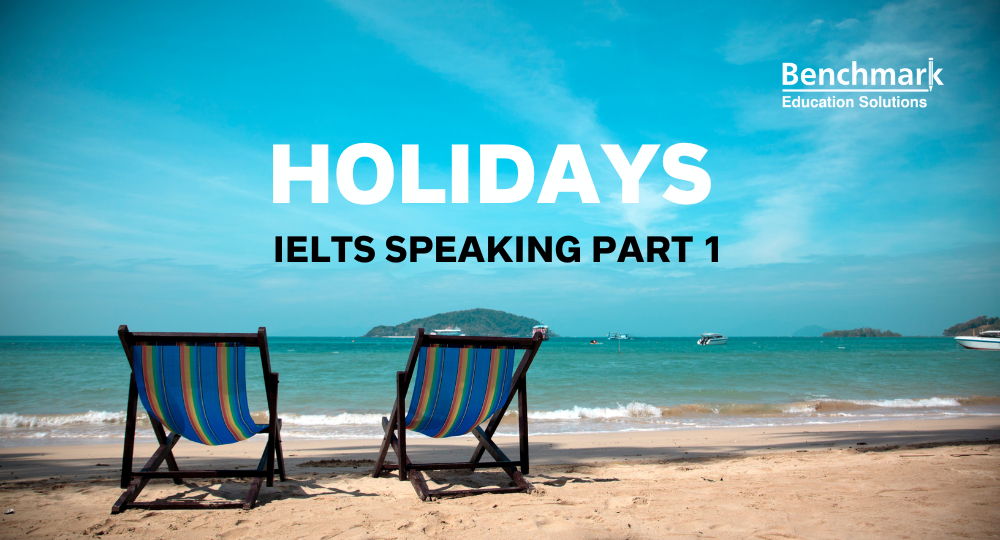 Holidays is a topic that often comes up in the IELTS speaking part 1. Below you will find a list of some example questions and answers that you could encounter during part 1 of the IELTS Speaking test.
The questions below are based on the real IELTS speaking exam. They serve as a great IELTS Speaking Part 1 prediction questions to help you prepare better before your test.
Holidays Speaking Part 1 – Set 1
Are you someone who enjoys public holidays? Why/Why not?

I enjoy them very much! I particularly like Halloween. I appreciate taking a stroll in the late afternoon to see all the decorations and the lights that people have put up.

Do you think there should be more public holidays? Why/Why not?

I think that if they are added, they need to be reasoned out. For example, if it's in celebration of a significant historic moment, then it could be a good idea.

What do people in your country normally do on public holidays?

A lot of people try to spend family time. They might go to a park, weather permitting, or out for a meal. But it does depend on the public holiday, as there are different activities for different occasions.

What did you do on your last holiday?

Last holiday, I went to visit my family in Cleveland, Ohio, for Christmas. We had a ball celebrating together, and the attendance was very high, what with my aunts, uncles and cousins joining us that time.
Holidays Vocabulary Speaking Part 1 – Set 1
taking a stroll – going for a walk
reasoned out – explained
weather permitting – if the weather is good for it
we had a ball – we had a great time
attendance– the number of people who come to a specific event or location
Other IELTS Speaking Part 1 Topics
Here are other common topics that you could come across during the IELTS Speaking Part 1 test.
Set 2
Do you take a long holiday or some short breaks?

Personally, I prefer to take short breaks as then you can visit different places during the year instead of just being in one place for a few weeks. I live to go sightseeing in different cities and just get a snapshot of life there.

What do you do during your holidays?

When I take time out, I like to book an airbnb in a new place and visit monuments and explore my surroundings. I sometimes go off the beaten track and love discovering little shops or hidden beaches.

Do you take a nap during the holidays?

In fact, it is the only time of the year I nap, usually I find it very difficult. However, when I'm on holiday I like to take advantage of the time I have and have a short sleep during the hottest part of the day to re-energise.
Set 2 Vocabulary
get a snapshot – to see a small part of something
off the beaten track – to go to unexplored places
Set 3
What public holidays are there in your country?

Like many countries around the world, we celebrate new year day on January first. January sixth is the Epiphany, which celebrates the Kings. Many people, including myself, exchange their Christmas gifts that day. I think that day is my favourite public holiday!

Do you think the number of public holidays you have in your country is enough?

We have fourteen public holidays in Spain, which I believe to be a good amount. They are pretty well spread out throughout the year, with most of them happening in December, including Christmas. I believe that any more would be too disruptive for people's lives.
Set 3 Vocabulary
disruptive – interrupting something
Set 4
What do you do during public holidays in your country?

During public holidays, I like to drive back home to see my family. They live up North, and I try to use this time off to spend quality time with them.

Which places are most crowded in your country over the holidays?

Definitely the bigger cities. London is packed with people over holidays such as Christmas. Christmas markets are very popular around the holiday season, and, prior to the Covid-19 outbreak, many people gathered in those venues.

How do you feel about crowded places?

I enjoy spending time in crowded places. I am more wary of them now due to the pandemic, but I still appreciate being surrounded by people. It makes cities look less deserted and feel more welcoming.
Set 4 Vocabulary
packed– crowded
deserted– empty, without people or any form of life