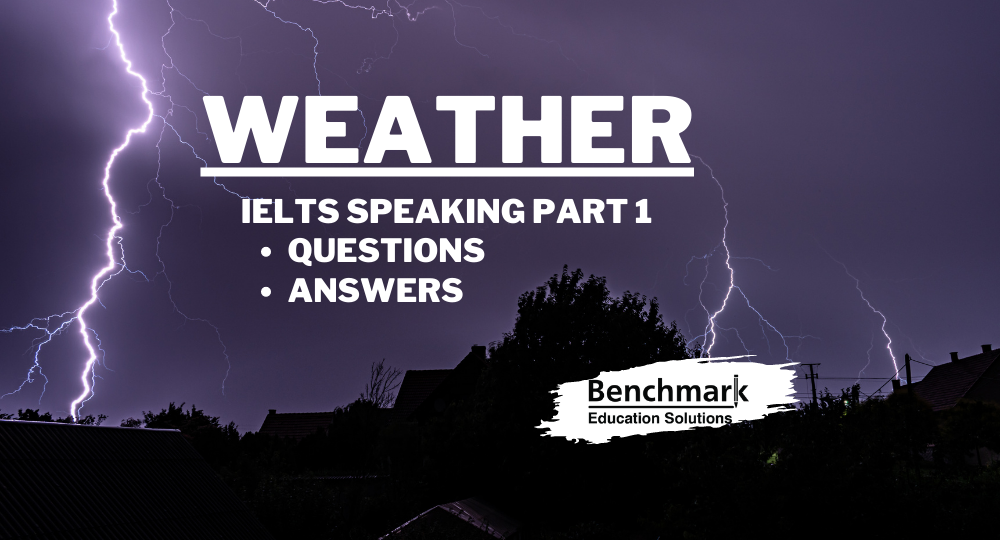 Weather is a topic that often comes up in the IELTS speaking part 1. Below you will find a list of some example questions and answers that you could encounter during part 1 of the IELTS Speaking test.
The questions below are based on the real IELTS speaking exam. They serve as a great IELTS Speaking Part 1 prediction questions to help you prepare better before your test.
Weather Speaking Part 1 – Set 1
What kind of weather does your home country have?

Hmm, it depends on where you live actually. The country is huge and so the northern states of Jammu & Kashmir, and Himachal Pradesh are quite chilly and the air is fresh and crisp, whereas the southern states are terribly humid. Rajasthan meanwhile is the desert state with an extreme climate.

Do you like this type of weather?

Hmm, I personally prefer cool and rainy weather and can't stand summer heat and humidity so I head to the mountains whenever I get a chance. Delhi is well-connected to several hill-stations by overnight bus so it's easy for me to plan a short escape over the weekend.

Do you prefer a warm or a cold weather?

Like I said, I prefer cool weather and overcast gray skies. It just helps me stay refreshed and focused on creative hobbies like writing or playing an instrument. Warm weather drains me of all my life energy and I prefer to avoid it at all costs!

What is the weather like in your country?

Well, India is a huge country and there is no single kind of climate as such. In fact, my country has one of the most diverse climates in the world. Southern India has a tropical climate while the northwest is an arid, desert region. There's glaciers and snow in the north, and the islands have hot and humid weather almost all year around.

Do you prefer cold or hot weather?

I actually don't like both. I find that summers deplete me of my energy and I get tired doing absolutely nothing. I lack motivation to hit the outdoors or even play sports. Biting cold winters are equally annoying because I really dislike warm, woolen clothing, and central heating. I'd say I am more of a monsoon person!

Do you think people should be able to choose the weather they like?

This is a strange question. I don't think it is within the power of the people to alter weather patterns. Of course, they can migrate to regions where the weather matches their preference. But they can do nothing about the weather in general.
Weather Vocabulary Speaking Part 1 – Set 1
Arid– (of land or a climate) having little or no rain; too dry or barren to support vegetation
Other IELTS Speaking Part 1 Topics
Here are other common topics that you could come across during the IELTS Speaking Part 1 test.
Set 2
What is the weather like there?

The climate is comfortable most of the time. However, we have warm summers and very cold winters. It can be freezing between December and March. Sometimes we have a cold snap in the spring and it can rain a lot.

What type of weather do you prefer?

I am going to sit on the fence and say I like both hot and cold weather. My favourite type of weather is when it is warm, with mild temperatures and a light breeze. I can't stand rainy, grey days. If I can see the sun, I feel happier.

Do you think the weather affects how people feel?

Absolutely! If the weather is miserable, I feel really gloomy. I think a lot of people do. After a spell of bad weather, the sun appears and everybody cheers up. In Northern Europe a lot of people suffer from depression in winter.
Set 2
a cold snap – a period of cold weather
sit on the fence – don't make a decision
gloomy– miserable
a spell of – a period of time
Set 3
What is the weather like in your hometown?

The seasons are quite extreme. In the summer, it can get very hot and humid, and in the winter, we sometimes get snow. Unfortunately, the snow does not stay for very long!

Do you have a preference for hot or cold weathers? Why?

I think that each type of weather has its advantages. When it's hot, it's a good excuse to go swimming, which I thoroughly enjoy. During cold weather, however, I like to wrap myself with a blanket and drink hot chocolate.

Would you be able to work in a foreign country that has a completely different climate?

Good question. I think if it's constantly hot or cold, I may not be able to handle it as well as I would like to. If the weather changes regularly, however, I might find it more manageable to work there.