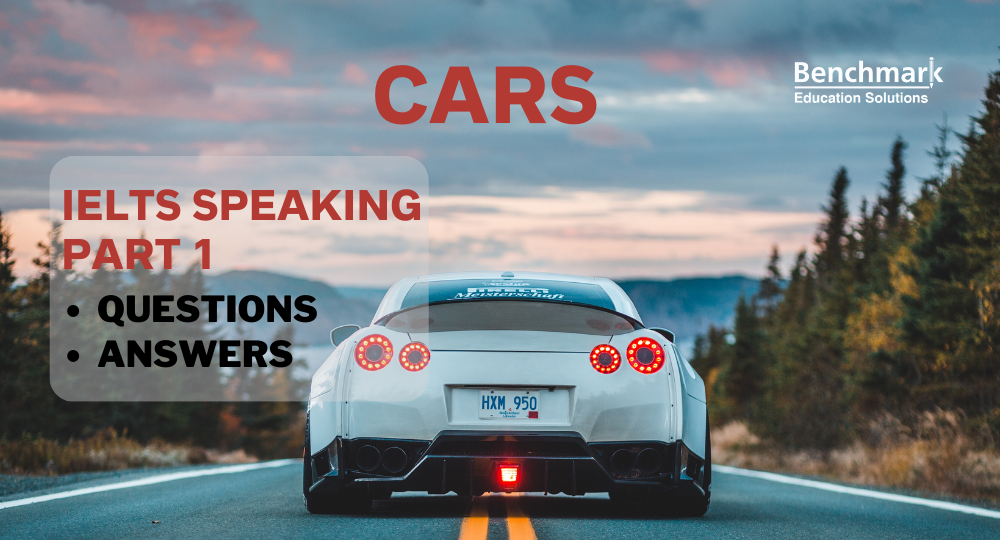 Cars is a topic that often comes up in the IELTS speaking part 1. Below you will find a list of some example questions and answers that you could encounter during part 1 of the IELTS Speaking test
The questions below are based on the real IELTS speaking exam. They serve as a great IELTS Speaking Part 1 prediction questions to help you prepare better before your test.
Cars Speaking Part 1- Set 1
Do you think the color of a car matters?

Not really, although I have a preference for silver or black cars. I think colors go through fashions, everyone likes white at the moment. I heard that some car colors are safer than others as you are more visible and other colors are more likely to be in a collision.

What kind of car would you like to own?

If money was no object I would have a Tesla with all the mod cons. It has a computer system that practically drives the car itself and lots of technology to assist you. They are really expensive though so I don't think I'll be getting one soon.

Do you enjoy traveling by car?

I find it a little tedious to be honest because you have to focus on the road and it can be quite exhausting. I prefer to travel by train as you can get some studying done, read a book or just zone out until you arrive.

Do you prefer being a driver or a passenger?

I prefer to be the driver as you can be in control of the car and the time passes more quickly. Ideally, if you can share the driving on a long journey with somebody else. You can both have a nap and refresh before arriving.
Cars Vocabulary Speaking Part 1 – Set 1
if money was no object– if money was no problem
zone out – relax
nap– a short sleep
Other IELTS Speaking Part 1 Topics
Here are other common topics that you could come across during the IELTS Speaking Part 1 test.
Set 2
Do you enjoy driving?

I actually do not have a driver's licence. Luckily the public transportation system here is quite efficient. I use buses to get to most places.

Do you like going on long car trips? Why/Why not?

I do. My study schedule is pretty hectic, so when we get some time off, my friends and I explore new places. Long car rides provide me with a sense of freedom, and gives us all plenty of bonding time.

What was the longest trip you have ever taken?

The longest trip I have been on was over summer break, before I started my Chiropractics course. Myself and three other friends travelled all the way to southern France. The landscapes were gorgeous and we had a delightful experience.
Set 2 Vocabulary
hectic – extremely busy
gorgeous– extremely beautiful
delightful– charming, very pleasant
Set 3
Are car colours important to you?

Only from a practical perspective. Black cars are more likely to attract heat from the sun, and so they may be a little more inconvenient to drive. Apart from that, I don't assign particular importance to car colours.