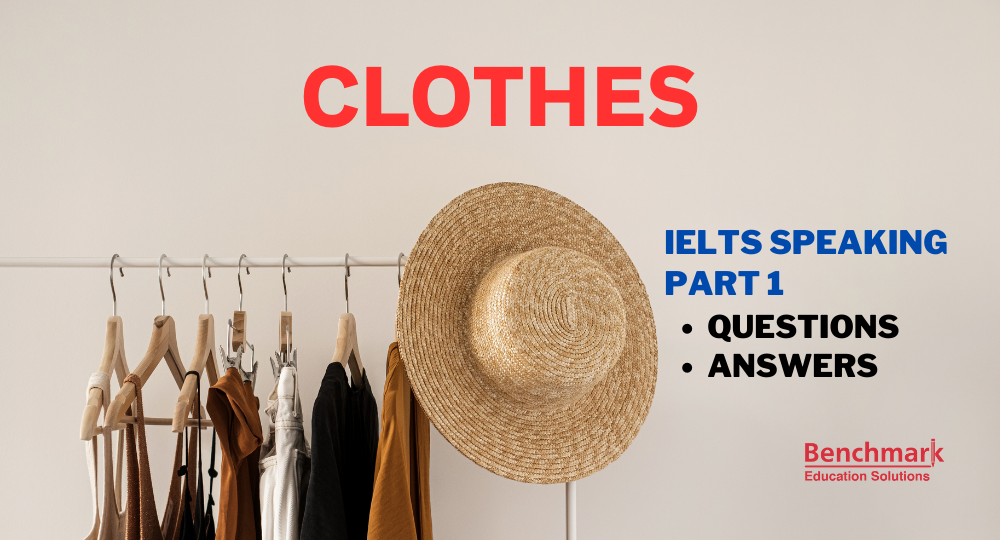 Clothes is a topic that often comes up in the IELTS speaking part 1. Below you will find a list of some example questions and answers that you could encounter during part 1 of the IELTS Speaking test.
The questions below are based on the real IELTS speaking exam. They serve as a great IELTS Speaking Part 1 prediction questions to help you prepare better before your test.
Clothes Speaking Part 1 – Set 1
Do you purchase clothes without checking how you look in them in the mirror first?

I never buy clothes without first checking how I look in the mirror. I don't like inconveniencing shop-keepers by returning the next day to exchange clothes so I think I'm happier just getting it right the first time around.
Other IELTS Speaking Part 1 Topics
Here are other common topics that you could come across during the IELTS Speaking Part 1 test.
Set 2
Would you ever buy clothes without checking how you look in a mirror?

I always check out the clothes in the mirror of the changing rooms when trying on clothes. You need to make sure that they fit well and more importantly that they suit you. Of course, you can't do that when shopping online so I end up sending things back.
Set 2 Vocabulary
suit somebody – looks good on them
Set 3
How often do you wear special clothes?

I don´t dress up very often, student life is very casual. However, for special occasions like weddings or communions I wear smart clothes like a suit or trousers and a shirt. It is nice to dress smartly every now and then.

Do you remember wearing special clothes in your childhood?

I recall wearing smart clothes when we attended a family party because my mum and dad like to dress me and my twin brother the same. Also, we would go to a fancy dress party at Halloween and dress up as a vampire or monster.

When was the last time you wore a special outfit?

A few years ago I went to a friend's party and I dressed up as the Joker from the Batman films. It was funny because people didn't even recognise me under all the makeup. I wore a suit and a green wig and looked quite frightening.

Do you like wearing traditional clothes?

My preference is to dress casually and occasionally smart. In Spain, we have a lot of festivals so I have occasionally worn something traditional which made my parents happy and it felt good to be part of an event.
Set 3 Vocabulary
dress up – to wear best clothes of a costume
a fancy dress party – a costume party
wig – false hair
Set 4
Do you like dressing up in special clothes?

I love dressing up to go out and I look forward to it every time. I make my own clothes so I am able to wear the latest fashions for a fraction of the cost. Any opportunity to put on something special, I take it.

When was the last time you wore special clothes?

Last weekend, I celebrated my sister´s birthday so I dressed up in a beautiful dress with matching jewellery and we had a party. I might have stolen the show a little, but my sister didn't mind as I give her lots of clothes too.
Set 4 Vocabulary
a fraction of the cost – a small price
stole the show – attracted the most attention
Set 5
Do you enjoy clothes shopping? Why?

To be quite frank, most times, I go clothes shopping out of necessity. Some people consider it a hobby, but I personally find it quite laborious and exhausting. Very rarely do I go shopping for fun.

What clothing items do you buy most frequently?

When I do go clothes shopping, I tend to buy t-shirts. I mostly like to buy plain, yet colourful t-shirts. I may sometimes choose some t-shirts with designs on them, but more often than not, they are monochrome.
Set 5 Vocabulary
laborious – requiring a lot of time and effort
more often than not – most of the time
monochrome – one colour