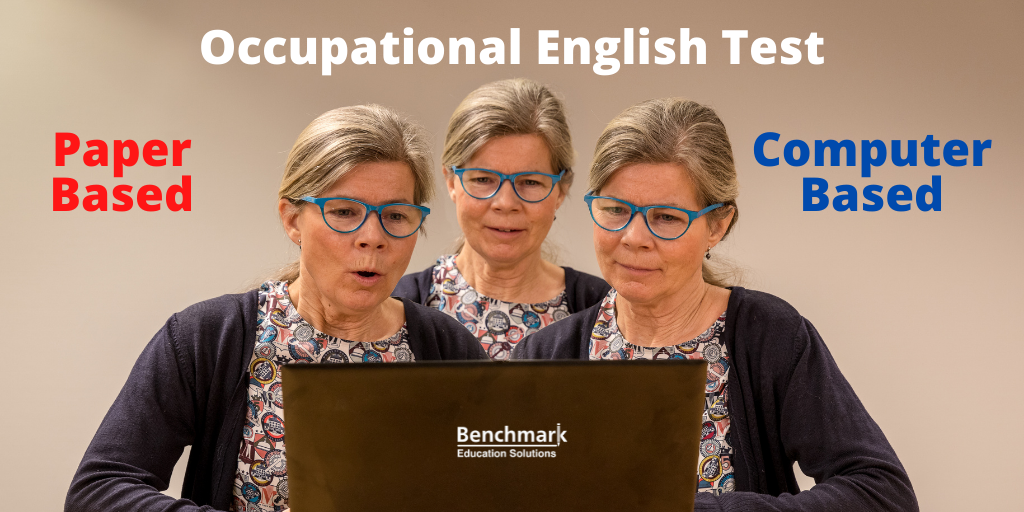 You've probably heard that you can now take the OET on a computer, instead of taking the paper-based test. But which one should you take? Is one better than the other?
The choice is still up to you. The test is the same, and you are scored in exactly the same way. But there are a few differences, and you should choose the test you feel most comfortable with. Let's answer some questions you might have about OET on Computer.
1. Do I have to use OET on Computer?
It's still completely optional to complete your OET test on a computer. If you don't feel confident using a computer, you should sign up for a paper-based test. You don't have to do the computer-based exam if you don't want to.
2. Do I have to prepare differently for OET on Computer?
The format of the questions and the time allowed for OET on Computer are the same as for OET on paper. The tests are marked the same way, by the same experienced assessors. The way the assessors score your exam is also identical.
Because it is the same test, the level of English assessed will also remain the same. Therefore, the way you prepare for the OET exam doesn't need to change if you choose to take the test on a computer instead of on paper.
3. How does the OET on Computer test work?
With OET on computer, you will still go to a testing venue, but instead of completing the test on paper, you will complete the test using a computer.   You will only take the Listening, Reading and Writing sections on a computer at the test venue. You will take the Speaking test at home (or any other chosen location), using the video conferencing app Zoom on your own computer or tablet. However, if you don't have a webcam and microphone on your device, you won't be able to take OET on Computer. OET on paper will be your only option.   Taking the speaking test on your mobile phone is not allowed. Make sure the screen on your device is large enough to allow you to view the speaking role play card easily.
4. How does the speaking test on Zoom work?
With the advent of the novel coronavirus, many actual medical consultations have moved online. In this way, it is helpful to learn how to use Zoom. If you are unfamiliar with it, make sure you download, install, and practice with Zoom before test day. Try a sample Speaking Mock Test on Zoom with one of our experienced OET trainers!
Will I be Speaking with an Interlocutor?
The Speaking sub-test will involve an interlocutor conducting the role play, as they do in person when you take OET on paper at test venues. You can do the Speaking portion of the test at home or at any other location that is convenient for you. Just remember that you are not allowed to use a mobile phone to take your Speaking sub-test.
How do I Sign up for a Speaking Test Time?
You will sign up for your Speaking test time when you book your OET exam. Even if you can't get a Speaking time on the same day as your test, don't worry. It's treated as part of the same test by the test regulators, even if it is before or after your Listening, Reading, and Writing tests.
5. Are there any advantages to taking OET on Computer?
Yes, you may find that OET on Computer is a very comfortable and convenient way to take the exam, and you will know exactly what you are being asked to do. Here are some other advantages to consider:
Even though you won't have a spell checker, you will be able to highlight text as you read, so you can find it and refer to it more easily. Highlighting replaces the need to take notes with a pen and paper, which is not allowed
during the Reading, Listening, and Writing sub-tests. However, you can use a blank piece of paper and a pen to take notes during the Speaking sub-test.
You will also notice that there is a word counting function you can use as you write your OET letter. Many OET candidates find this extremely useful! Again, taking time to practice writing sample letters will help you learn how
to use this tool to your advantage during your exam.
OET on Computer may soon be available in areas where the OET on paper was previously not available.
Because you are allowed to take the Speaking test at home, you may feel more confident in a setting that is comfortable for you.
6. What if I can't type well?
The OET exam is focused on testing your English skills, not your computer skills. However, if you aren't familiar with using a computer, or typing on an English keyboard, it may affect your performance. But don't worry – take time to practice your typing skills and it will help you both during the OET exam and also in your work.
Try Using a Typing Tutor Program
There are some advantages to taking OET on Computer, even if you don't type well. Check out this video for more information about typing skills and the OET on Computer.  Try using a typing tutor program to practice and improve your typing skills, since you will be using these skills more and more often as you continue to work in medicine.
Be Sure to Take a Sample Test in Your Chosen Format
We also suggest that you try a sample test, in both paper and computer formats, to see which one works best for you. Click here to take a sample test – make sure you don't have any surprises on test day.
7. Is OET on Computer accepted by my organization?
OET on computer at test venues is currently accepted by ECFMG for doctors going to the USA, and by the UK's General Medical Council and Nursing and Midwifery Council.
Be sure to check the requirements with the organization you wish to apply to, and make sure that OET on Computer is accepted. Currently, if you wish to apply to Ahpra, in Australia, you must take OET on paper.
8. How do I book an OET on Computer exam?
OET on Computer is offered on the same dates as OET on paper. Remember that the option to book your OET on Computer exam closes 10 days before your chosen test administration date. This is different than the closing times for OET on paper (25 days) or OET at home (7 days).
Is It Available Near Me?
OET on Computer is currently available in more than 200 cities around the world, and the list of cities is constantly growing. Check the OET website for up-do-date test dates and locations.
I'm a Veterinarian. Can I Take OET on Computer?
At this time, OET on Computer is only available for doctors and nurses, but when the test is accepted by other regulatory bodies, you will have access to OET on Computer for other professions as well. In the meantime, try some practice tests for medicine or nursing. Even if you can't answer all the questions correctly, you will become more familiar with how the computer test works.
9. What If I Need Special Accommodations?
If you require any special testing accommodations for your official OET exam, you will need to arrange these with OET and provide supporting documentation, such as a medical certificate. We strongly suggest that you book early to make sure your special needs can be accommodated.
10. Final Thoughts
There's no question that the world is changing because of the coronavirus pandemic. Moving the OET Exam to a computer format is one way to keep up with all the changes, and help OET facilitate medical interactions in today's global society. Take an OET on Computer sample test today!