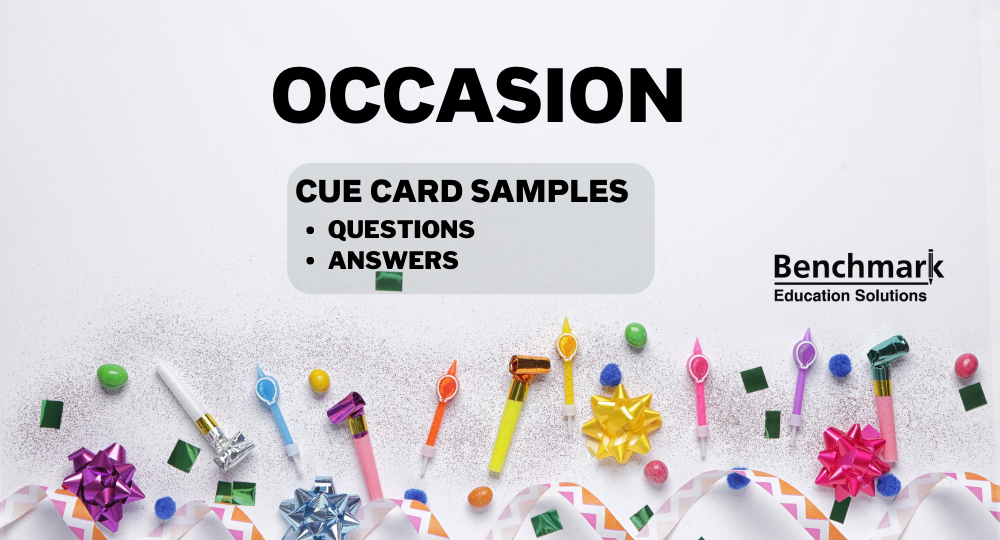 Occasion is a cue card topic that often comes up in the IELTS speaking part 2. Below you will find a list of some exam questions and answers that you could encounter during part 2 of the IELTS Speaking test.
The questions below are based on the real IELTS speaking exam. They serve as a great IELTS Speaking part 2 cue card prediction questions to help you prepare better before your test.
Occasion Speaking Part 2 – Cue Card 1
Talk about a cake you received on a special occasion. Please say
You should say:
what occasion it was
what kind of cake you received
who was there with you
and explain why this occasion was special.
what occasion it was

I've received tons of cakes in my life but today I'm going to talk to you about the one I received on my 21st birthday.

what kind of cake you received?

To be honest, dark chocolate is my favorite flavor so I was a bit disappointed when my family surprised me with a fresh cream fruit cake. Well, it looked really beautiful with those brightly-colored kiwi slices, pomegranates, and chunks of apples and oranges sprinkled  on the top. But my heart was set on a dark chocolate truffle cake. I hid my disappointment and smiled because I did not want to appear like an ingrate.

Who was there with you

At the time, I was surrounded by my parents, brothers, cousins, uncles, and aunts. My best friends Karan and Chiras were present too, and my little dog Rina. So I felt quite loved, and was willing to forgive my folks for not getting me a chocolate cake!

and explain why this occasion was special.

This birthday was so special because I fell in love with a cake that was NOT chocolate. The moment I sank my teeth into it, the fresh cream just oozed into my mouth. It was light, creamy, and not too heavy or sweet. I'd never imagined that fresh cream fruit cake could taste this divine.

Ever since, I kind of ditched chocolate cake, and would myself surprise family, friends, and colleagues with a fresh cream fruit cake. That birthday was also special because my mother handed me an extra set of keys to drive her brand new car. I was 21 and she wanted to show me that she trusted me. Well, I came through for her and looked after her car quite well. In fact, she insists that I drive her in it even today!
Occasion Vocabulary Speaking Part 2 – Cue Card 1
Ingrate – an ungrateful person
Other IELTS Speaking Part 2 Topics
Here are other common topics that you could come across during the IELTS Speaking Part 2 test.
Cue Card 2
Talk about a time when you had to get up early. Please say
You should say:
when did you have to get up
why did you have to get up early
what did you do after getting up
and explain how you felt about it
When did you have to get up?

Generally, I detest getting up early in the morning. Yet last year, I had to get up really early, about 5am, in order to go on holiday with my family. We went to bed really early the night before so that we didn't oversleep the next day.

Why did you have to get up early?

We had to take a taxi to the airport so that we could check in and board a flight to America. We were travelling abroad to visit my aunt and uncle and to go sightseeing in New York and Washington. It was a really long day as it took ages to get there.

What did you do after getting up?

My alarm went off at 5am and I had a shower and checked my suitcase again. I checked my passport and boarding pass were in my hand luggage and made some breakfast to eat on the way to the airport. Just before leaving the house, I turned off all the lights and closed the doors and windows.

And explain how you felt about it?

Despite the early night the day before, I felt absolutely exhausted. I could not keep my eyes open on the way to the airport in the taxi. I had a quick nap before we arrived and had to queue to go through check in and security. Once we were on the plane I was able to relax and I remember feeling excited about the trip. I managed a few hours of sleep before we landed in New York and woke up feeling groggy. By the end of the day, I really did feel worn out and made sure I had an early night so I was refreshed to go out sightseeing the next day
Vocabulary for Cue Card 2
oversleep – sleep later than planned
sightseeing – the activity of visiting places of interest in a new location
hand luggage – a small suitcase to carry onto a plane
groggy – tired and weak, difficult to wake up
worn out – tired/exhausted from activity
refreshed – with new strength and energy
Cue Card 3
Talk about an occasion when you persuaded someone to do or not to do something. Please say
You should say:
who was the person
when and where was it
how did he/she respond to your suggestion
and what happened in the end
I am going to talk about a time I persuaded my brother to come on holiday with me to France. It was a few years ago after I had graduated when I had the opportunity to spend the summer in France helping out at a campsite. The problem was I was a bit shy back then so I was a little reluctant to go on my own. So I decided to try and persuade my brother to come along with me for the ride.
We met in the pub and I brought up the subject immediately. At first he was opposed to the idea as he had a steady girlfriend that he didn't want to be away from all summer. I argued that we would have a good time and his girlfriend could come and visit, we would get paid and have the holiday of a lifetime at the same time. After much toing and froing, he eventually gave in and said he would fly out to France with me and see how it goes for a month or so.
A few months later, we arrived in France and started work at the campsite which was a beautiful place and I did feel a bit smug. My brother and I had a great time working a few hours and having the freedom to go off camping and exploring. I didn't say 'I told you so' but I was glad it worked out in the end. My brother ended up splitting up with his girlfriend anyway.
Vocabulary for Cue Card 3
come along for the ride – take part in the experience without serious interest
steady (partner) – a partner you can depend on
the holiday of a lifetime – once in a lifetime experience
toing and froing – going between one person and another
smug – very self satisfied
told you so – to say you are right
Cue Card 4
Talk about a situation when you couldn't use a mobile phone. Please say
You should say:
when was it
where was it
why you needed to use a mobile phone
and how did you feel about this situation
I am going to talk about a time when I wasn't able to use my mobile phone. It was a couple of years ago when I travelled to Spain to visit a friend who lived there. We had made an arrangement to meet at the airport, outside in the pick up area. I agreed to call my friend when I had landed.
When I arrived at the airport and turned on my mobile phone, I was unable to make calls or send messages. I tried several times and decided to wait a few more minutes as it was connecting to an overseas network.
By the time I came through the arrivals area, my phone still wouldn't work so I couldn´t contact my friend. I started to lose the plot because the area was huge and there were lots of people, cars and buses. I had a look outside but couldn't see my friend anywhere. In the end, I had to go round the houses and find a payphone. I phoned a friend in the UK who contacted my friend in Spain to tell them where I was. Eventually, she tracked me down and we were on our way to her house for the holiday. According to the phone company,  I needed to change a setting in my phone to use it abroad so I will try and remember that next time. It just shows how much we depend on our phones to communicate, what on earth did they do before mobile phones?
Vocabulary for Cue Card 4
to lose the plot – not have the ability to cope or manage a situation
go round the houses – indirectly
track somebody down – find somebody
what on earth – to emphasis shock
Cue Card 5
Talk about a celebration you were recently invited to. Please say
You should say:
what type of celebration was it
what was the celebration for
who joined the celebration
and how did you feel about it
What type of celebration was it?

I am going to talk about my best friend Robert's university graduation celebration. His graduation happened this summer at his campus and Robert had asked that I come early, as he found this occasion quite nerve-racking. He is an introverted and timid person, and he does not like to be in the spotlight very much, so he needed a friend to help him get through those emotions.

What was the celebration for?

Robert had actually graduated with honours, and his parents wanted to have a big celebration to congratulate him. He had worked really hard throughout the course, and I could not have been prouder of him for getting such recognition. His parents booked a table at his favourite restaurant, ordered a lovely cake, and we all cleared our schedules for the rest of the day, so he could choose how he wanted to spend it.

Who joined the celebration?

His parents had planned a surprise party for him and decided to invite all his friends. Because they knew how close him and I were, they thought it would be less suspicious if they were to invite only me for a meal after graduation, so he didn't think something big was planned. I was a little nervous about this plan, knowing Robert's personality, but I knew what friends were invited, and I thought he might not feel so out of place with them there.

And how did you feel about it?

I was really moved by Robert's reaction when we got to the restaurant and everybody was there. He had a huge smile on his face when he saw everyone. Everybody showered him with love and gifts, and whenever I look at the pictures we took that day, I can see the sparkle in his eyes which warms my heart.
Vocabulary for Cue Card 5
nerve-racking = making someone feel very nervous
introverted = shy and reserved
timid = shy
be in the spotlight = have all the attention on one person
cleared our schedules = made sure we had no plans
suspicious = (in this case) having doubts about something or someone
showered = (in this case) covered
sparkle in his eyes = phrase used to express great joy
warms my heart = fills my heart with love and joy
Cue Card 6
Talk about a party you recently attended. Please say
You should say:
where and when did the party take place
what was the reason for the party
who was with you at the party
and how did you like it
Where and when did the party take place?

I am going to talk about a baby shower I went to last week in Madrid. It was a lovely party that took place at my friend's house. The living room was decorated with pastel-coloured balloons and congratulatory banners. There was a buffet that served treats with clever names relating to the occasion. I was blown away by the set-up, as I could really feel the love that had been put into the planning and the execution of the party.

What was the reason for the party?

My friend had already had two children before that, with a two-year gap between them, but this baby shower was extra special, as this time she was having twins! As a matter of fact, all the decorations came in pairs. Two balloons tied together in each spot, two colours on each banner, and of course, from the guests' side of things, two gifts per person.

Who was with you at the party?

I knew a lot of the people who were there at her shower, but not all of them. Some people who attended the party were work friends of hers, whom I had not previously met.

And how did you like it?

I thought the shower was spectacular! Her family and best friend organised the event, including music and games we all got to play. Everything was tasteful, and you could tell they knew her very well. She seemed to be overjoyed by the party and people's encouragement, love and support. That was the best part! The party started around noon and went on until ten o'clock in the evening. I had to work early and so I stayed until about six o'clock in the afternoon, then called it a day. I had a ball and I can only hope she did, too!
Vocabulary for Cue Card 6
baby shower = party to celebrate a soon-to-be-born baby
buffet = a style of dining where people help themselves to food from a range of dishes.
blown away = amazed
execution = (in this case) the way something is done
as a matter of fact = in fact
spectacular = amazing
tasteful = appropriate, not offensive
overjoyed = extremely happy
called it a day = decided to stop doing something
had a ball = had a great time