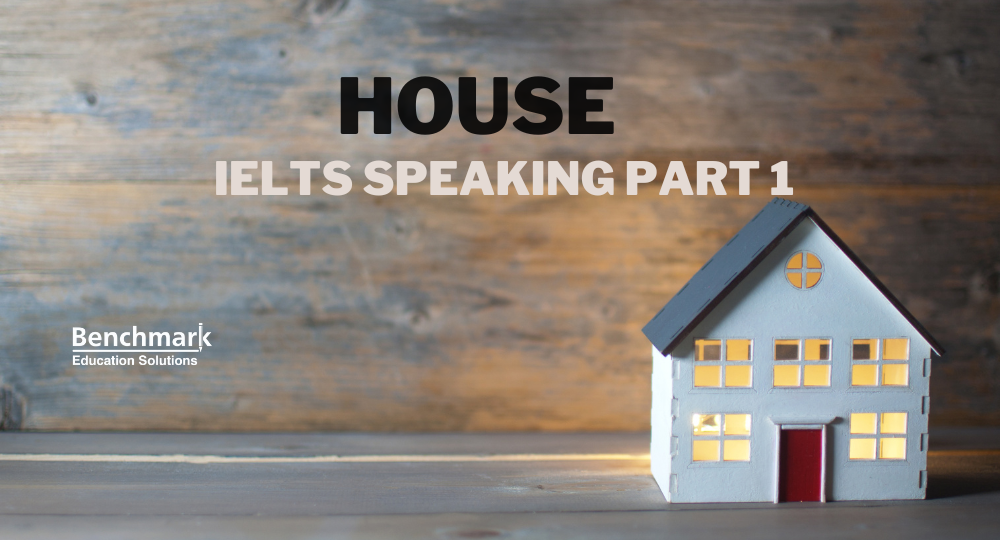 House is a topic that often comes up in the IELTS speaking part 1. Below you will find a list of some example questions and answers that you could encounter during part 1 of the IELTS Speaking test.
The questions below are based on the real IELTS speaking exam. They serve as a great IELTS Speaking Part 1 prediction questions to help you prepare better before your test.
House Speaking Part 1 – Set 1
Where are you from?

I come from Lisbon, in Portugal. Lisbon is the capital city of Portugal and a touristic destination. It has a myriad of museums and it is full of history.

Do you live in a house or in a flat?

I live in a flat with my long-term partner. It's a two-bedroom flat, perfect for having guests stay over. It's the perfect fit for us.

How long have you been residing in that flat?

We have been living there for four years now. The location and the cost of living works very well for us, and that's why we decided to stay in this property all this time, although it feels like we only moved in yesterday. Time flies!

Has anything changed in your area in the four years you've lived there?

Some restaurants we liked have closed down. Luckily for us, some of the owners opened new ones in a different part of the city, so we still get to enjoy their delicious food!

How do you feel about that?

It's always a little heart-breaking to hear about the restaurants closing down, but, like they say, out with the old, and in with the new! Most of those restaurants have been replaced by new businesses, some of which we go to quite frequently.
House Speaking Part 1 – Set 1
myriad– range
time flies – time went by quickly
out with the old, and in with the new – leave behind old ideas or things to make room for new ones
Other IELTS Speaking Part 1 Topics
Here are other common topics that you could come across during the IELTS Speaking Part 1 test.
Set 2
Where are you from?

I am from the borough of Gettysburg, in the state of Pennsylvania, in the United States of America. Gettysburg was a famous battlefield during the Civil War, and it is also where President Abraham Lincoln gave the renowned Gettysburg Address.

Do you live in a house or in a flat?

I live in a house with my husband. We moved in about four years ago, and we truly enjoy the area we live in. It is so accessible and the neighbours could not be any kinder.

Do you have a favourite room around the house?

I think my favourite room is the living-room. My husband and I are avid readers, and we decorated the living room in a way that would make us feel comfortable and in the mood for reading.
Set 2 Vocabulary
renowned– famous
calling– what I was destined to do
avid readers – people who are passionate about reading/who read extensively
Set 3
Do you stay in an apartment or a house these days?

These days I live in a studio apartment in the city center. It is self-contained with just a tiny kitchenette, a single bed, a bathroom, and a study table. I live alone so I am quite comfortable here.

In your home, which room do you love the most and why?

Well, I don't have too much choice as there's just one room! This is where I eat, sleep, study, and meet family and friends. Oh yes, I have a pet cat too! I love my studio because it's cozy and intimate, and I can tidy it up in no time.

Where do you spend the most time in your house?

As I said, there's just one room. I do miss my parents' home in the village though. It is so spacious and I love hanging out in my grandparent's room which faces the green fields and river. There are some nostalgic memories there!

How did you make your room look nice?

Hmm, I like soft yellow lighting so I avoid bright, white lights. I have pretty lampshades, and my walls, curtains, and bed covers are all in shades of cobalt blue and white. I have a pretty good aesthetic sense, I have to admit!
Set 3 Vocabulary
Intimate – private and personal
Nostalgic – longing for or thinking fondly of a past time or condition
Set 4
Tell me about your favourite room in the house where you live.

My favourite room is the kitchen because I love cooking. It is bright and modern and has all the mod cons. Most days, I spend a few hours there preparing meals and looking at recipes in my cookbook collection.
Set 4 Vocabulary
mod cons – modern conveniences
Set 5
Where are you from?

I live in Valencia but I am originally from Madrid. It is a city in Spain, the third biggest city. It is a busy city with lots of tourism, people taking city breaks and sightseeing.

Do you work or study?

I am studying at Valencia university to be a translator. I have to attend lectures and seminars and complete a lot of exams and practices for my course. It is hard work but also rewarding when I achieve good marks.

Do you live in an apartment or a house?

I live in a flat with 3 other students. It is spacious and located in a student area of Valencia so the rent prices are quite reasonable and there are plenty of places to go. I have my own room but I share the kitchen and bathrooms with my flatmates.

Do you like living there?

Yes I enjoy living with other students and socialising together. We get on pretty well and are respectful of one another. Occasionally, we fall out because someone has left of mess or been really noisy late at night.

Would you like to move somewhere else?

I love where I am living right now and it really suits my current lifestyle. In the future, I would like to try living in another European city, like Paris or London. I am only young so there is plenty of time to travel and if I qualify as a translator the job could take me anywhere in the world.
Set 5 Vocabulary
rewarding – providing satisfaction
flatmates – people who share your apartment
fall out (with somebody) – to argue and not be friendly
suits somebody – to be acceptable and convenient
Set 6
Describe your house or flat.

I live in a shared flat with 3 other people who are also students. They are studying nursing and medicine. The flat is quite spacious and has a large living room, modern kitchen and we all have our own bedroom space to be able to get away from it all when we need to.

Do you have a good view from your windows?

Not at all, my room overlooks the wall of the next block of flats so there is really nothing to look at. In the living room there is a view onto the communal gardens and it is light and airy. If you want views in London you have to live very high up.

How do you relax?

To relax, I like reading, walking and spending time with friends. I recently took up running which has helped me burn off some energy and reduces any stress. At the weekends, my friends and I will go for a few drinks to chill out.
Set 6 Vocabulary
to get back on their feet – to be healthy again after illness
to get away from it all – to disconnect and relax
to overlook something – a view from above
to take up – to start a new activity
Set 7
Tell me a little bit about the house you grew up in. Did you like it?

I grew up in a two-storey house that has three bedrooms. It has an old-fashioned design. There is an elevated veranda in front overlooking the long street and the other houses. Fruit-bearing trees, flowers and bushes surround the house. The house is very much to my liking.

What did you like about it?

There is a lot to like about that house. Firstly, every room is spacious. It was easy to move and play around. Secondly, the house had a good ventilation as it had big windows. Lastly, I liked the serene atmosphere surrounding the house as it was comforting to hear the sound of birds chirping, the leaves being blown by the wind and the like.

What about the house you live in now? Do you like it?

I do like the house I live in right now. It is smaller and more modern than the one I grew up in though.
Set 7 Vocabulary
serene – calm or peaceful
Set 8
Do you live in a house or an apartment?

I live in a house with my wife and two children. We have a lovely garden where the children can spend time outside in the fresh air. My wife and I also greatly appreciate gardening, so it's perfect for us.

Do you recycle at home?

Yes. We have separate bins for different types of materials. We strive to teach our children eco-friendly behaviours and respect for the natural world around us. They are the future, so they need to learn such comportments early on.
Set 8 Vocabulary
eco-friendly behaviours – habits that help preserve nature and the environment
Set 9
Describe the house/apartment where you live.

I live in a flat on the 4th floor. Luckily, it is in a quiet street. I live there with my mum and my sister, I have my own bedroom and we hang out together in the living room. There is also a communal area with a pool and play area for kids.

What are the main features of your house/apartment?

The best feature is the large terrace overlooking the communal garden. As we are quite high up, we have views of the city and park. We also have a really modern kitchen that was renovated last year. It has all the mod cons including dishwasher and microwave.

How long have you been living there?

I have lived there for as long as I can remember as I was only a small child when we moved in. My sister and I have grown up in the apartment and we know all the neighbours and local kids. I can't imagine living somewhere else now as we are close to family there.

Which room is your favourite?

Personally, my favourite room is my bedroom as I have my own space to chill out. I have decorated it to my own taste and have posters of the bands I like. It is a place where I can kick back and relax, it is important to have your own space.
Set 9 Vocabulary
hang out – spend time with people
mod cons – modern conveniences
kick back – relax
Set 10
Where do you live?

I live in London, but on the outskirts. I can travel to work on public transport and at weekends I am able to hop on the underground to go into the city and meet friends for a drink or a meal.

Describe your home.

My home is a small apartment in a block. It has two bedrooms, a kitchen-diner and one bathroom. It is modern and has access to a communal garden. I am renting and I get on well with the landlord.

Do you like it?

Overall, I really enjoy where I live. The apartment is clean and recently renovated and my neighbours are talkative. The downside is the cost, it is really expensive to live anywhere near London and buying is extortionate. I will have to save for a long time to get my own place.
Set 10 Vocabulary
landlord – the owner or a property who rents it to others
downside – disadvantage, negative
Set 11
What kind of furniture do you have in your house?

We have several different pieces of furniture from beds to drawers. Basically, everything essential to one's home. The ones in the living and dining rooms are Victorian style and the furniture inside the rooms are modern and yet minimalistic.

Which piece of furniture is your favourite? Why?

I guess I would pick my bed. I just love lying down and sleeping on it.

What kind of furniture would you like to buy in the future?

I love reading and collecting stuff related to my hobbies so if I were to buy a furniture I would probably invest in standing shelves and display cabinets for all the books, figurines, and albums that I might buy in the future.
Set 11 Vocabulary
minimalistic – using simple elements or at a minimal level
invest – to spend money on something that would be beneficial in the future