OET Training With Benchmark Education Solutions
The Occupational English Test or OET is meant specifically for healthcare professionals who are already qualified to work in a country and want to seek registration in another country where English is the primary language of communication. The governing bodies in countries like Australia, New Zealand, Singapore and Dubai are among the prominent ones to recognize this language test. To be precise, OET benefits many organisations like government, healthcare boards & councils, universities and education providers, Teachers & Preparation Course providers.
The candidates can appear for the test once in every month, from any of the 35 countries in order to fulfill the language competency standards required to practice their profession. Sensing its importance, our OET Coaching in Adelaide prepares the students to clear the OET test successfully and make them fit to communicate fluently in the demanding healthcare environment.
Who is the OET test for?
As part of the requirements for registration to practise as a health practitioner in Australia, overseas-trained health professionals from non-English speaking backgrounds must pass the Occupational English Test (OET). The OET applies to the main-stream health professions, including medicine, dentistry, nursing, pharmacy, physiotherapy, veterinary medicine, occupational therapy, dietetics, radiography and others. In addition, some professions (notably nursing) require recent graduates of non-English speaking background from Australian universities to pass the OET. OET is a profession-centred examination, utilising the language of specific health professions, and so may be a more natural test of English proficiency for overseas health professionals to use than IELTS.
"Most medical professionals prefer OET over IELTS as it is profession specific"
Training available for:
Our Teaching Methods
Time Efficient – 20 Hours of Intensive training per week covering of all modules and a Mock Test
Training Program – Strategically designed Training Plan
Resources – Loads of Practice materials available including audio files
One-On-One Feedback – Feedback provided to every student after each practice test
Facilities – Modern facilities with all audio / video equipment for better practice experience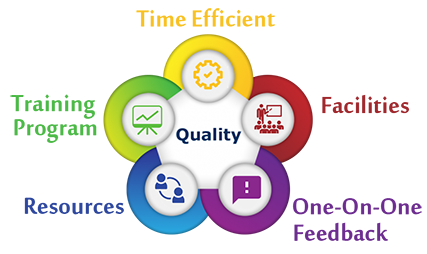 How we help?
Our OET coaching Adelaide grooms and gears up the professionals for the test to make way for efficient results:
Industry best OET preparation course: The superior quality courses at our OET coaching classes help health professionals effectively in preparing for OET test.
Keep pace with the changing trend: We keep our OET preparation course updated as per the latest exam format to usher the best results.
Interactive coaching: Our OET coaching institute in Adelaide conducts interactive classroom coaching to spill the beans on the insights of the tests.
Experienced faculty: The professionals at our coaching class receive to-the-point English training from our internationally acclaimed OET instructors having sound medical knowledge and credible experience.
Top 10 USPs of our OET coaching Adelaide
Complete classes: Coaching for OET reading, writing, listening and speaking
Letters of all forms: Letter writing class for a variety of forms including, patient referral/reminders/discharge letter, formal, informal letter, hospital admission letter, and more.
Speaking class: Due emphasis on tone, diction, accuracy, fluency and speaking volume, along with speed reading and comprehension.
Language command: Coaching on ensuring the use of correct pronunciation and language while dealing with people in private clinics, hospital settings, etc.
Command on functional language: Apt coaching on using functional language while dealing with the patients, such as when noting down patient history, giving advice or explanation, reassurances, etc.
Understanding specific purpose: Class on how to read for some specific cause, which includes precise understanding of the test and the ability to answer text related questions.
Limited seats per OET batch: For better and more personalized attention to professionals during coaching.
Flexible class options: Different timings as per your suitability to attend the coaching.
Customized OET course: To tailor the coaching as per your preference.
All these major attractions of our OET coaching classes prepare international health practitioners from different professions to succeed in the exam with flying colours. These include Dentistry, Medicine, Optometry, Nursing, Pharmacy, Physiotherapy, Podiatry, Radiography, Dietetics Speech Pathology, Occupational Therapy and Veterinary Science.
Contact our OET team today
Feel free to contact us if you aspire to clear the OET test at the earnest and ensure a bright career in the foreign land.
| Course Type | Type | Duration | Class Duration | Batch Timing | Course Materials | Student Login | |
| --- | --- | --- | --- | --- | --- | --- | --- |
| Comprehensive | Group | 5W | 2h | 10-12pm, 4-6pm | Yes | Yes | Enquire Now |
| Regular | Group | 3W | 2h | 10-12pm, 4-6pm | Yes | Yes | Enquire Now |
| Urgent | Group + 1-on-1 | 1-2W | 3h | 10-1pm, 3-6pm | Yes | Yes | Enquire Now |
| Writing Only | Group + 1-on-1 | 5 days of choice | 1h 30m | On demand | Yes | Yes | Enquire Now |
| Speaking Only | Group + 1-on-1 | 5 days of choice | 1h 30min | On demand | Yes | Yes | Enquire Now |
| Custom module | 1-on-1 | 1 | 1h 30min | On demand | No | No | Enquire Now |