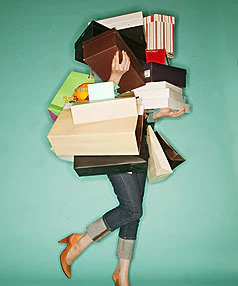 Shopping is dangerous because it makes people selfish and careless with money. Do you agree or disagree?
Change is the necessity of life. Every individual, be it young or old, likes to change his lifestyle either by changing his attire or having a makeover done. In this modern era, shopping has become an integral part of one's lifestyle. I disagree with the provided argument and my reasoning is twofold.
Firstly, it is fallacious to say that people only shop for themselves and which makes them selfish. People shop for their loved ones too and as a result spread happiness within their surroundings. For example, a new dress on the birthday eve for a child is like a gold dust to him. It is this gift in the form of a dress, which makes his special day even more adorable and makes him feel on the top of the world. Hence, shopping creates happiness and spreads love amongst people and should not be treated as dangerous.
Secondly, it is incumbent on the person to look at the available monetary funds with him or her during shopping. There is an adage that a prudent person never spreads his leg beyond the bed sheet he has. Similarly, a responsible individual should manage his funds shrewdly while carrying out shopping. Shopping not only teaches an individual, how to manage his funds but also teaches him self- control/restraint. Therefore, it's acceptable to say that shopping enriches many vital traits among human beings and hence should be refrained from being termed as dangerous.
To conclude, I would recommend people to continue shopping as it spreads happiness and love amongst people. During shopping people learn traits such as self-control or money management, which play an essential role in their future endeavors.