Venue: Adelaide, South Australia
Date: January 12, 2018
OET Nursing letter in January 2018 was relatively easy with no real surprises. Here a patient suffering from Parkinson's disease was moving to a nursing home. A standard OET letter format was required.
Below are some of the case notes reproduced from our students' memory. These may not be complete but fully capture the essence of what OET Writing section was about on 12th January exam in Adelaide, Australia.
You can use Benchmark Writing Correction Service to get your letter corrected for mistakes and OET writing tips.
Name :  Jeremy
Age      :  76 years
Status: Divorced
: Retired manager
Diagnosis: Parkinson's Disease
Past Medical History
• Pneumonia -> 2017 -> Hostpialised
• Insomnia
• Sleep Apnoea
• Difficulty Swallowing
• Blood Pressure – 150/90
• Low Salt + Carbohydrate diet
• 2018-> Parkinson's disease (PD)
Levodopa
Carbidopa 25mg 3 X daily
Health Clinic Follow up 2018-1-12
Subjective
• Mood off, unable to drive
• Limited social activates
• Slow
• Forgets to take medication
• Manage to do ADLs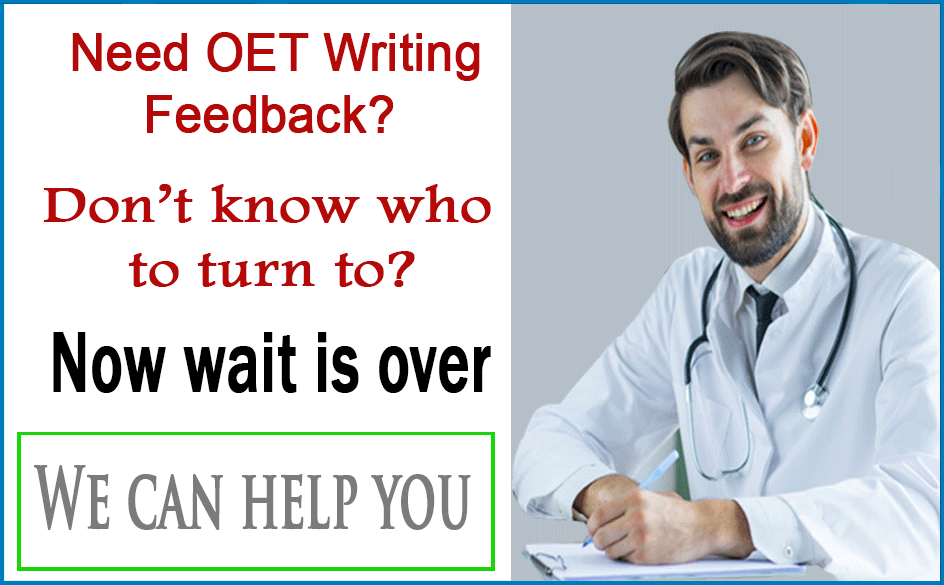 Objective
• Physically weak
• Mentally alert and sharp
Treatment Plan
• Medication Compliance
• Note side effects of drugs
• Need to see health professional for any miss doses of meds
• Dietitian referral
• Physiotherapy referral
• Require assistance to escort during visit
• Require regular exercise according to physiotherapy
Write a letter to a manager in Richmond Nursing Home where the patient is going 1st time to stay.
In your answer:
• Expand on the relevant case notes into complete sentences.
Do not use note form.
• Use letter format
The body of the letter should be approximately 180-200 words.
Need feedback on your writing – CLICK HERE