Venue: Adelaide, South Australia
Date: October 6, 2018
OET Writing Topic, this time was a bit different as the nursing test takers had to write a letter on behalf of the patient's daughter. Also, in addition to medical issues, the patient had certain concerns regarding the treatment and from whom to receive it. Overall, if you read the case notes carefully principles of a referral letter could be easily applied to this letter as well.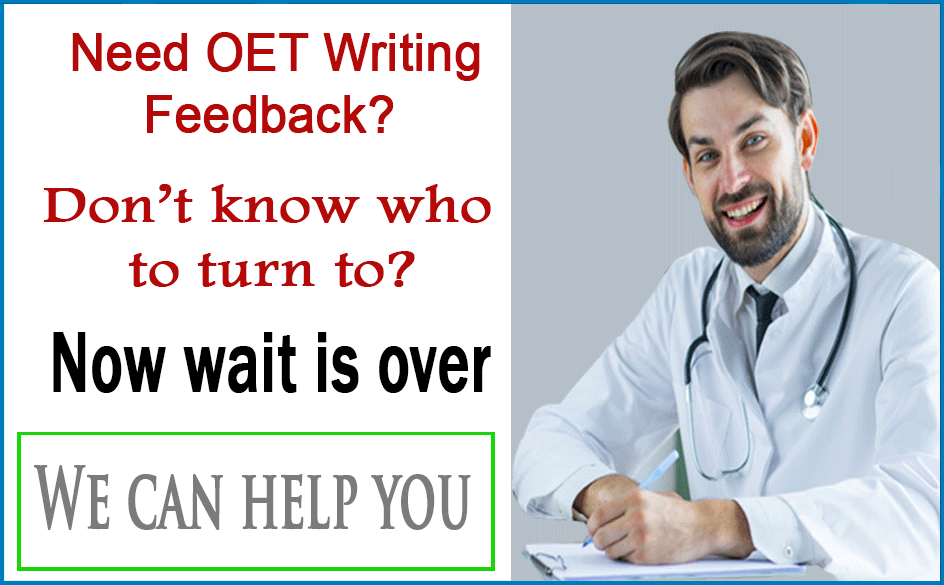 Below are some of the case notes reproduced from our students' memory. These may not be complete but fully capture the essence of what OET Writing section was about on 6th October exam in Adelaide, Australia.
You can use Benchmark Writing Correction Service to get your letter corrected for mistakes and OET writing tips.

Mrs Woot is the mother of your patient (Ms Y). Ms Y wants you to write a letter to a doctor as she is worried that her mother might have breast cancer.
Name: Mrs (First Name Missing) Woot
Age: 59 years old
Status: Widow (lives alone)
Children: 2 daughters
Medical History
Menopause
No family history of breast cancer
Moderate hypertension
Medication:
mixture natural medicine practitioner (xx,yy ingredients)
06/10/2018
Ms Y brought her mother to your health centre. Pt has lump for 6 months
Assessment (after long discussion)
lump in right breast (increasing in size); started medication for lump 3 months ago
diameter 5cm
not painful
hard
fixed
bloody discharge from nipple
Physically fit and active
Rr 16; BP: 140/90
axillary no node palpable
Concerns of the patient
unidentified lesion in right breast
refused to see doctor
does not want mammogram as she is afraid of machine
worried about radiotherapy and chemotherapy
Management:
Agreed to see GP
Only wanted to see female doctor
To advise pt: doctor pharmaceutical/non-pharmaceutical treatment options
Advised pt: decisions to emphasis on accepting treatment in her opinion. without doctor's coarse
Pt agrees to review her BP in 3 months
Pt's welfare: tried to build trust & show empathy
Write a referral letter to a Dr XXX (female name) regarding the patient's breast lump assessment and management while emphasising empathy to the patient's concerns.
In your answer:
Expand on the relevant case notes into complete sentences.
Do not use note form.
Use letter format
The body of the letter should be approximately 180-200 words. 
Need feedback on your writing – CLICK HERE
Related Links: