What is the OET?
OET stands for Occupational English Test. It is designed specifically for healthcare professionals to assess whether their English skills are sufficient for them to safely and proficiently work in a healthcare setting in an English-speaking country. As well as testing general English language proficiency, the OET focuses on language skills that are specific to the sector and necessary for a variety of health-care roles. The OET is often a requirement to gain registration in your chosen field and it is the most used English language test in the medical sphere. In this article, we will give you all the information you need to prepare for the OET so that you get the scores you need, get registered and gain your desired employment as soon as possible.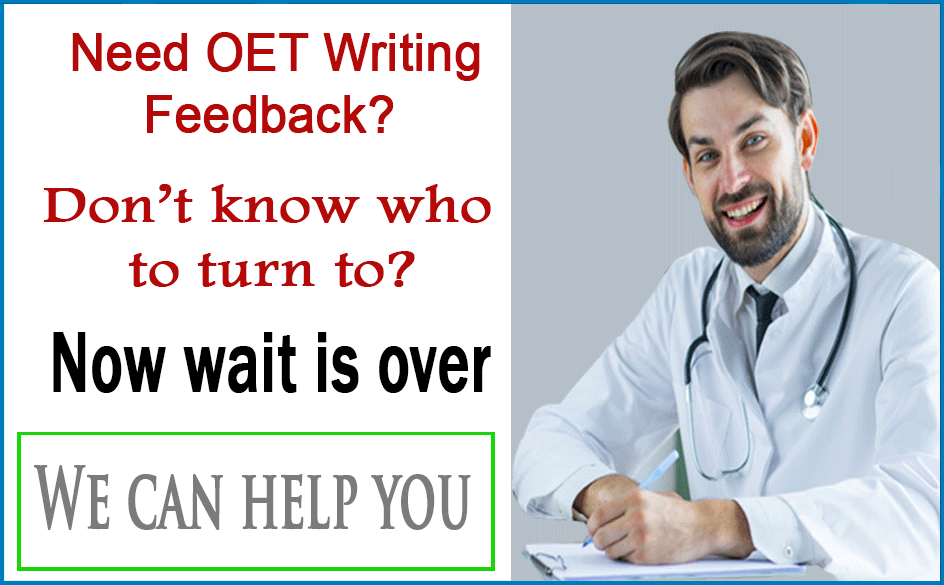 What is the structure of the OET?
As with most English language tests, the OET covers the 4 key components of language: reading, writing, speaking and listening. The timing for the tests is as follows: speaking- up to 20 minutes, writing – 45 minutes, listening – 45 minutes, reading – 60 minutes. The tests are graded from A-E and you are awarded an overall score based on your performance in the 4 areas. Below is the score guide: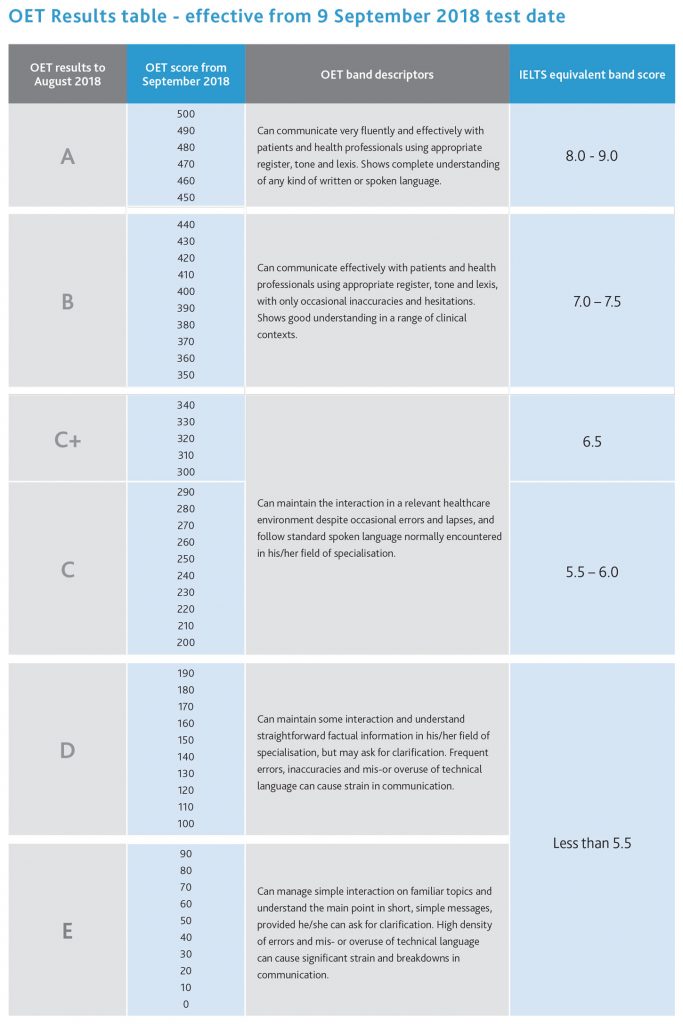 What is the pass mark?
Different institutions may require different scores for their entry level. It is worth finding out the requirements for the bodies that you are applying to so that you can bear this in mind when you are revising and taking practice tests. This way you will know what you are aiming for and which areas you need to improve to achieve your targets. However, B is widely considered to be a safe grade.
How long will I need to prepare for the OET?
Preparation time needed will depend on a variety of factors. Of course, what stage you are at in your English language proficiency is the main variable. However, it is also worth considering how much time you will have on a weekly or monthly basis to work towards the OET, taking into account the extent of your other responsibilities. We would suggest that at least 2 months preparation time would be a sensible place to start.
What kind of things do I need to revise for the OET?
You will need all of the basic English skills that you would need for any other English test such as the IELTS including vocabulary knowledge, comprehension skills, grammatical awareness and writing skills. However, for the OET, you will need to build up a comprehensive bank of vocabulary related to the healthcare field as well as the skills needed to communicate effectively, in terms of speaking and writing, within a healthcare setting. There are many revision materials available to guide you with where to focus your attention when studying.
Will I need to take practice tests?
Yes, yes, yes! Practice tests are the key to passing the OET. Having good English skills is not enough as you need to be familiar with the format and style of the tests and the requirements are quite specific. Your preparation structure should be based around revision then practice tests, then more revision based on the feedback…and then more practice tests. This is particularly important with the writing test where feedback from a professional can make all the difference. As you continue with this model, you will see gradual improvements until you are achieving the scores that you need and are ready to take the test. There can be no other better practice tests than what we offer here for writing and reading.
Tips for the Writing Test
You will be given detailed case-notes and instructions for writing your referral or discharge letter. It is very important that you take the time to read all the notes thoroughly. Next you should identify the relevant information that you will need to include in your writing and which parts of the notes you can leave out. These key case-notes will then need to be organized in the appropriate structure that you can find in sample letters and revision notes, taking care to use the style of writing suited to the purpose. Check out this excellent sample letter with step-by-step guidelines
Tips for the Speaking Test
Communication is key in any workplace and in the healthcare setting, it is crucial. The OET assessor will play the role of the patient or patient's next of kin in a scenario and you will, of course, be the healthcare professional. Your use of language will need to be appropriate for the situation given, you will need to ask suitable questions, show a good understanding of the responses and be adaptable during the conversation. You will not know what the assessor is going to say but, with practice, you can get an idea of the type of things they are likely to say so that you will be prepared.
Tips for the Listening Test
The listening test is now in 3 parts. In part A of the test, you will be tested on your aural comprehension of two patient led dialogues. In part B, you are played a recording of 6 short dialogues or monologues in a healthcare setting and finally, in part C, you will be played two long presentations or interviews with health professionals. You will be required to answer questions and give information from the recordings. The main tips are to stay focused, take brief notes if this works for you and keep an eye on the time.
Tips for the Reading Test
The updated reading tests also comprises three sections. Your comprehension will be tested via the three following tasks:
Task A – a fast reading task based on 4 short texts on a healthcare theme with 20 questions in various formats testing your ability to locate information. Time given is only 15 minutes.
Task B – a careful reading task with 6 short workplace extracts from each of which, you should identify the key point in a multiple-choice question.
Task C – a careful reading task with 2 longer texts on a healthcare theme from which you must identify detailed meaning and opinion; also assessed using multiple-choice questions.
Strategies for the reading test include underlining key information and keeping a good pace without rushing. Also, complete one task before moving onto the next so that your focus remains on that topic. If a question is tricky, you can go back to it when you finish the task rather than wasting time. Keep a time check as you go along as there is quite a lot to complete in the time allotted.
What should I do the day before the test?
Like with any exam, it is so important to be feeling your best on the day of the test. If you have been preparing over a few months, there will be no need to panic-study the day before, so you can take it easy, have a look over your notes and get a good night's sleep. With all those practice tests under your belt, you can take the exam feeling calm and confident and get those scores that you have worked so hard for.